Every web designer, web developer, and online marketing specialist will enjoy a vast selection of digital assets featured in the ONE by TemplateMonster subscription service. It's more cost-effective and convenient to get instant access to a growing collection of ready-made web themes, graphics, audio, video, 3D items, and a range of other products from one service. ONE Membership provides you with unlimited downloads of everything that you need for website construction at the cost of one premium website template. The subscription service is intended to help you streamline your workflow and build outstanding web design projects for your clients.
There are many reasons why the subscription service is worth a try. Let's check out why ONE Membership is worth a try.
Intro to ONE by TemplateMonster
ONE is the ultimate web design subscription service that features an ever-growing collection of products suited for all types of businesses and online projects. ONE Membership includes more than 66,000 high-quality web design assets. The choice keeps growing every week as more authors join in and upload their web design assets to the subscription service.
ONE by TemplateMonster provides you with unlimited downloads of the best products you can find in the TemplateMonster digital marketplace. For example, by subscribing to ONE, you get Monstroid2 multipurpose WordPress theme, Woostroid2 multipurpose WooCommerce theme, Eveprest eCommerce template, Imperion business website template, BeClinic multipurpose WordPress theme, and thousands of other items. The Membership includes an ever-growing collection of responsive web design templates, WordPress themes, CMS and eCommerce templates, presentation templates, graphics, audio, video, 3D assets, plugins, and more. The selection of products continually expands with new types and categories, which all subscribers can use whenever new items are added to the Membership.
If we speak numbers, ONE includes 1400+ WordPress themes, 9,000+ presentation templates, 1500 HTML templates, 3800+ CMS templates, 34,000+ graphic design assets, and more. The collection features high-quality web design assets suited to all businesses and all types of projects. All products are fully editable. For example, most WordPress themes include drag-and-drop page builders that let you apply the needed changes to ready-made layouts code-free.
ONE features an impressive collection of graphics that you can use for all types of niche-specific projects. There are graphic design assets suited for such topics as fashion, business, beauty, medicine, society, people, food, computers, and other types of websites.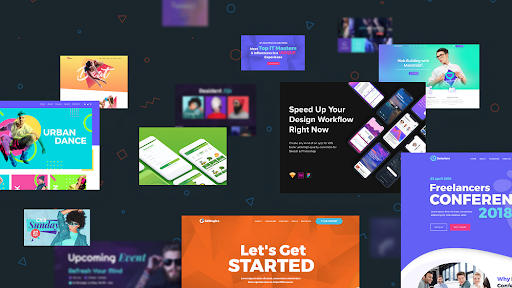 ONE Membership is easy to navigate. An intuitive structure of the website and advanced product filters let you come across the right types of products that match your search intentions.
Everyone who subscribes to ONE can download as many products from the collection as they need. There are no restrictions in terms of products' use on personal or business websites. Besides, all subscribers can pick all web themes, graphics, and other added assets once they subscribed to the service and use all web design assets that are added to the membership after they paid for the chosen plan.
Why Join ONE by TemplateMonster
ONE Membership includes one of the most significant collections of web design assets in the market. It also lets you use a range of additional features that will benefit everyone working on website construction. Some of the main reasons why ONE by TemplateMonster is worthy of your attention include the following.
It's more cost-effective to subscribe to ONE than to pay separately for every item you want to download from the digital marketplace. It's especially beneficial to those webmasters who work with clients and launch multiple web design projects monthly. While subscribing to ONE, you pay once and get access to the entire collection of premium and free products at the cost of one premium web theme from the digital marketplace.
Before adding new products to the subscription service, the review team carefully checks everything that authors upload to ONE. It guarantees that all items from the Membership meet the latest web design requirements and lack of issues that could affect your workflow.
While downloading web design assets from ONE and using them in your web design projects, you may be sure that all websites that you launch will always remain up-to-date due to regular free updates. The best thing about this feature is that your products will continue getting updates even after your subscription expires.
Whenever you have any issues or questions, you can rely on professional 24/7 support from ONE. All authors providing web themes, graphics, plugins, and other web design assets as part of the subscription service deliver support to every client who selects their web design solutions.
ONE also delivers a collection of extra services that subscribers can order at an additional fee. For example, whenever you need help with website maintenance and SEO improvement, website installation, online store configuration, etc. – you can always pick the respective service from ONE.
If you change your mind about the service, you can cancel the subscription and get your money bank. You would get a refund if you did not download anything within 14 days from the day of purchase.
TemplateMonster digital marketplace welcomes everyone passionate about web design to join their MonsterOne Affiliate Program and start making money from every order referred. Every affiliate earns a 30% commission from the first order and a 10% revenue from returning customers' orders. It lets you make money as you promote products from the TemplateMonster digital marketplace and ONE Membership.
The latter provides you with more income. If we speak numbers, an affiliate partner earns an average of $50 every time a referred customer subscribes to ONE and about $25 affiliate commission when a user buys a premium web theme from the marketplace. So, it's more beneficial to promote ONE by TemplateMonster as part of your affiliate marketing campaign.
To help affiliates multiply their earnings, the TemplateMonster affiliate team provides a collection of free affiliate tools, reliable support, a handy admin panel that lets you track sales and traffic, and much more.
What's the Cost of the Subscription
There are plans suiting different budgets and needs. You can get started with the free-all-items plan, which includes a collection 200+ free web design assets. While choosing this plan, you won't be able to download premium digital assets from ONE. However, you will be able to get as many freebies as you wish. The free items are available in such categories as graphics, presentation templates, HTML templates, and audio files.

Besides, ONE has three premium plans, which include:
Creative – worth $82/year – the best choice for creative graphic designers working with graphic and design assets, presentation, audio and video files.
All-in-one – $179/year – best suited for web designers and web developers looking for high-quality web themes suited for multiple web platforms and CMS projects.
All-in-one lifetime – $599 – provides you with unlimited lifetime access to the growing collection of items included in the ONE.
In Conclusion
ONE by TemplateMonster is the real deal to everyone creating web design projects for their clients. The service will appeal to web designers, web developers, and online marketing experts looking for high-quality graphics for their promotional campaigns. The ever-growing selection of web design assets provides you with unlimited downloads of web themes, graphics, plugins, 3D, audio, video, and other types of products that will be added to the service after you pay for your plan.
ONE Membership is the solution worth trying for those who value quality web designs and looks for a cost-effective opportunity to enrich the web design toolbox with many items without breaking the bank.
Want a 5% discount? Use Promo Code CREATIVEBEACON when joining. Click here to join now.