Do you create website templates or feel passionate about working with graphics? You can become an author in the TemplateMonster digital marketplace to generate more profit and enjoy many other rewards. For many years, TemplateMonster has been well-known as the leading source of website templates suited for all purposes and types of web projects. The company moved further and became a digital marketplace that invites creative professionals to join and start selling to more than 2 million active customers. So, suppose you would like to join the community of TemplateMonster authors and start selling website templates, graphics, plugins, audio, video, and 3D designs in the digital marketplace. In that case, the following information is for you.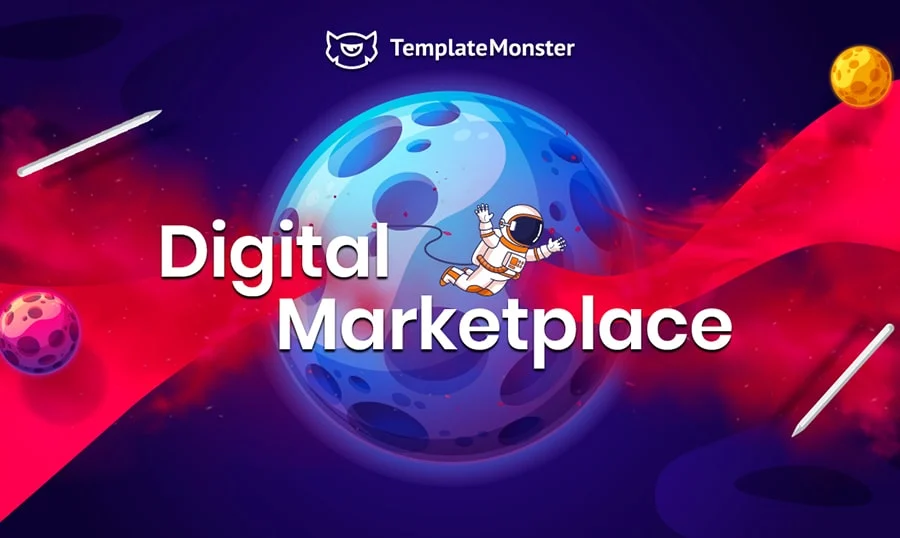 TemplateMonster Digital Marketplace – Few Historical Facts
TemplateMonster was launched in 2002. First, it was a small web design studio that was creating custom websites for clients. As they were taking their first steps in the field, it seemed fine to devote several months to creating a single website. However, as time passed and the number of orders from clients started to grow, the company needed to develop a new approach to running their business. They started to work with ready-made designs for website creation. Such designs are better known as website templates. It's considered that TemplateMonster was the first company that presented such products to the online community.
As the number of websites increased, the company decided to sell them on their official website. In 2003, the first HTML templates became available for download to TemplateMonster customers. Soon, other types of products were added. Year by year, the collection of web themes from the company went bigger and more diverse.
The company continued to grow bigger and became one of the leading web themes for all types of CMS and eCommerce platforms. They started to receive requests from other web design agencies and webmasters who also wanted to join and sell at TemplateMonster. As the number of such requests continued to grow, the decision was made to transform TemplateMonster to the digital marketplace. It happened in 2017, and now the company continues to welcome more creative professional and web design agencies to register and sell to millions of TemplateMonster customers.
Today, TemplateMonster is known as one of the biggest digital marketplaces featuring a collection of about 90,000 website templates, graphics, plugins, and other items that will come in handy to you during the website creation. In 2010, the 10K templates milestone was reached, but the company didn't bask in the sun. Their in-house web designers and web developers continued to craft high-quality web design assets that made the company competitive and highly-demanded.
During more than 18 years of its history, TemplateMonster has seen both rises and falls. They changed the business model several times and became one of the biggest digital marketplaces in 2017.
Let's take a quick look at the most notable events in the TemplateMonster history in the following chronology.
TemplateMonster was launched.
The company became the leading provider of HTML templates.
TemplateMonster Affiliate Program was introduced.
The first eCommerce template was added to the TemplateMonster inventory.
MonsterPost Blog launched & TemplateMonster reached the 10K templates milestone.
The era of WordPress themes started at TemplateMonster.
TemplateMonster reached the 20K templates milestone.
30K templates milestone was reached.
The company launched localized versions of the TemplateMonster website (RU, DE, ES).
TemplateMonster became a Digital Marketplace.
TemplateMonster Studio was introduced.
TemplateMonster ONE Membership was launched.
More than 20K products from Independent Authors were added to the TemplateMonster digital marketplace.
In 2021, TemplateMonster digital marketplace continues to grow. More authors join and start selling their web design assets to more than 2 million active TemplateMonster customers. There are more than 90,000 products available at templatemonster.com. There are products featured in WordPress themes, eCommerce templates, ready-to-go web design products compatible with popular CMS and presentations software, and plugins, graphics, audio, video, 3D, and other solutions apt for different topics and purposes.
In the marketplace, authors can sell items independently or add them to the One by TemplateMonster. It's the ultimate subscription service that will come in handy to webmasters, web design studios, online marketing specialists, and everyone else related to the process of website construction and promotion. ONE provides subscribers with unlimited access to more than 65,000 web themes, graphics, presentation templates, 3F, audio files, and video assets. ONE lets users choose from a free plan and several premium subscription options.
Authors Are Welcome to Join
TemplateMonster digital marketplace welcomes more authors to join and start selling their web design assets on the platform. You can submit items to such categories as website templates, graphics, audio, video, 3D, plugins, and other types of web design assets. An author can also suggest adding a new type or category of products that have never been available on the platform before.
There are many reasons for authors to join the marketplace:
You can sell exclusive and non-exclusive items from the same account.
If you sell exclusive products, the author commission can make up 50%-65%. The commission for non-exclusive items varies from 40% to 65%. The commission from selling exclusive items also depends on the sales volume – the more you sell, the more you earn. If your sales volume is $0-$500, you earn a 50% commission, whereas $70,000+ sales volume brings you a 65% income.
Authors of graphics earn a 65% commission from selling exclusive and non-exclusive items.
TemplateMonster team provides professional assistance to authors whenever they need help while submitting items for review or promoting them in the community.
Recently, the marketplace added an author-driven pricing policy. It lets the authors of Shopify and OpenCart themes decide by themselves what cost their products will be sold at TemplateMonster. The cost may start from $29 to $999. In the TemplateMonster marketplace, the recommended Shopify Themes' pricing is $118 – $160 per item; the average price is $139. As for OpenCart Themes' Pricing, the price range is $67 – $91; the average recommended price is $91. Every author can decide on their templates' pricing.
TemplateMonster Affiliate Program
Besides selling in the marketplace or ONE Membership, authors can join TemplateMonster affiliate program and earn a 95% commission from every sale. It's simple math – you can earn up to 65% author commission and 30% affiliate commission for the first unique order placed by a customer via a referral link).
It's easy to promote your products with TemplateMonster affiliate program. You can choose from many free affiliate tools and ask your personal affiliate manager for a consultation. The affiliate tools include ready-made banners, articles, product showcases, landing pages, and many other solutions to help you drive more sales.
The affiliate program features a transparent payment system supporting such popular payment systems as PayPal, Bank/Wire Transfer, and WebMoney. It takes up to 5-10 business days after the request to process the payment. Every affiliate partner can also track sales via a personal account in the affiliate program. Whenever you need help, you can get in touch with an affiliate manager for a consultation.
Benefits and Rewards for Authors
The advantages for authors do not end here. There are many other reasons why TemplateMonster digital marketplace is the right place for you to join.
You join the community of 5,300+ other authors in the marketplace.
Your products are listed in the same collection with 90,000+ other quality web design assets.
You can sell to over 2 million active customers.
You can sell a wide range of products at TemplateMonster, including web themes, plugins, presentation templates, graphics, 3D, audio files, and video assets.
Authors can also choose to sell items in the ONE Membership.
There is a quick product review process. The review team will send you recommendations on product improvement whenever it's needed.
The marketplace also helps authors to promote their products through emails, social media, and featuring on the platform's homepage.
You can also refer other authors to the marketplace and earn additional commission.
Bottom Line
Wrapping it up, TemplateMonster digital marketplace is the right place for authors to become more recognizable in the online community and generate more income. It includes multiple rewards for freelancers and web design studios that decide to start selling at templatemonster.com. The marketplace features a wide selection of product types and categories. Their choice grows bigger and more diverse all the time. Recently, 3D, audio and video assets have been added to the digital marketplace.
Is there another category of items that you think is missing? Go ahead and submit it for review!