Skills to Pay The Bills
One of the biggest benefits of freelancing is the freedom to pick and choose your own projects. With that comes the responsibility to keep your skills sharp so you can do your best work and stay ahead of the competition. In this post I'll share 7 online resources I use to help keep my skills current.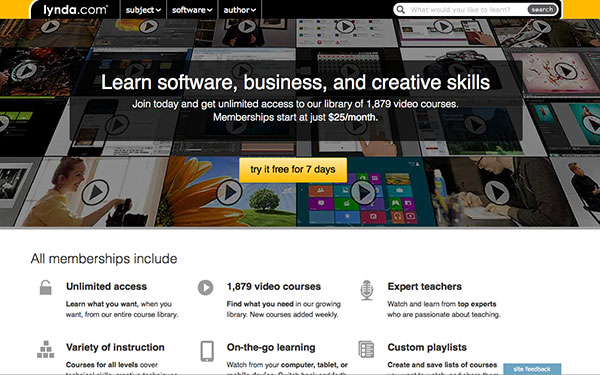 Lynda.com is perhaps the best-known online training website around. This powerhouse of skill development has over 1,886 video courses in everything from general business skills and negotiation tips to PHP programming and more.
Lynda.com courses are slickly produced. Videos are shot in professional studios with instructors that have tons of real-world experience. They focus intently on a unique combination of proven instructional design techniques, author expertise, and the desire to meet the user wherever they are, whether in front of a computer or on a variety of mobile devices.
The company offers monthly subscription packages starting at $25 per month.
Hot on the heels of Lynda.com is MacProvideo.com. You'd think by the name that it's just a video site, but think again. MacProvideo.com originally started out as the makers of N.E.D. (NonLinear Educating Device), the first dedicated tutorial-video player software available on the market.
Since that time, the company has morphed into an equal competitor to Lynda.com, offering both its N.E.D. software and web-based training tutorials. MacProvideo definitely holds its own when it comes to well-produced video tutorials on almost any creative or technological subject.
Besides a monthly subscription option, MacProvideo.com also offers individual purchase and download options using its N.E.D software.
Udemy is the newest player of the three and a real contender in the online education space. I'm a big fan of their iOS app. It's very light weight, user-friendly and doesn't take up much space on my iPad.
I've only taken one course on Udemy, and it was because I wanted to learn from a specific instructor. One thing I noticed was that it had a very DIY feel. While the other two sites seem to have more professionally produced content, Udemy seems more screencast-based.
The Tuts+ Network, owned by Envato, has grown to include 11 industry-leading websites on a range of technical and creative topics. For slightly less than the cost of a monthly subscription to Lynda.com or MacProvideo.com, you can get all sorts of creative and tech tutorials by paying $19 a month for a premium membership. You can also save money by purchasing an annual subscription plan.
Most Tuts+Premium content delves into application-specific issues vs. longer-form instructional content. Like Udemy, the content is a little more home-grown in production values. As a result, the overall quality of each course really depends on the instructor.
I just recently learned of Skillshare, and the concept is pretty simple. You sign up for individual classes, and most of them are around $20. You get a start to finish class on how to perform a real world skill. The concept is cost effective, because you only spend money on learning what you need or desire to learn, and you don't spend money on a subscription for classes you don't need or aren't interested in.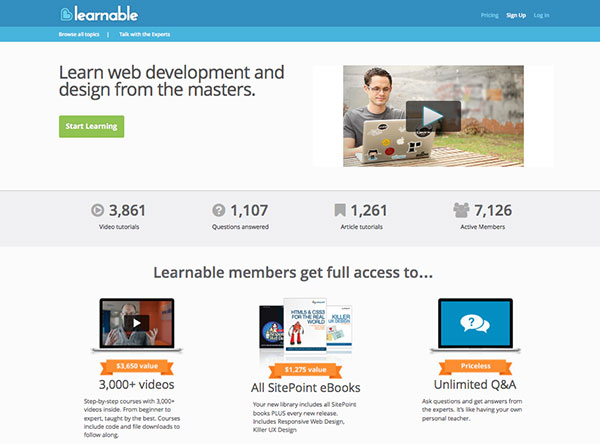 Sitepoint has been publishing learning books about web design skills for years. They still publish as many as ever, but now they have Learnable. Learnable is an online learning epicenter. Not only do you get access to all of their books, you get access to 3000+ videos as well. Where Learnable stands out is that you get the ability to ask questions on the site and get expert-level answers. I don't know of any other site that has this capability.
Treehouse is another great place to learn all sorts of great skills to make more money. You get access to professional level videos, and the format of the site is progressive, so you can build on skills as you go. Where Treehouse stands out is that you earn badges for completing areas, so it makes it fun to learn while you gain valuable skills that will make you much more money.
The Verdict
Of the seven sites, I'd say Lynda.com has the most depth, breadth of content and professional production values. I've taken an equal amount of courses on Lynda.com and MacProvideo.com and learned a ton from both. Opinions on production values aside, I think the material on all of these sites is totally worth the money.
Besides online courses, books, Slideshare presentations, user groups and the awesome tutorials right here on Creative Beacon are all excellent ways to gain more knowledge in your specific areas of interest.
How Do You Stay Sharp?
What are your favorite online tools and resources to help keep your skills up to date? Please let us know in the comments.