Your Freelance Website
As a freelance designer, one of the most important things you can have is your website. Having a quality Portfolio site will make or break you. That's why it is imperative that your portfolio features everything necessary to build trust, while showing off your professional skills. Your website can also be a great networking tool, and extra income if you incorporate a blog on it and it takes off. It's important to understand the concept of promoting yourself with your freelance website.
Build a Great Site
If you're a website designer, it's probably a good idea to have a great website of your own. It doesn't have to be groundbreaking or super innovative. It just has to show off your work and your skills. This isn't the place to experiment with unconventional navigation. It's also not a place to try out hard-to-use elements or interactions. Keep it simple, make it lightning fast, and update it often.
Tips for a great Portfolio Site:
Have a great project gallery.
For each project, name the client (if possible) and add a detailed description of the project.
Allow for enlarged images of your projects.
Have a working contact form on your site.
Have an in depth About page with Work History, Education, and other important information. (like an online resume)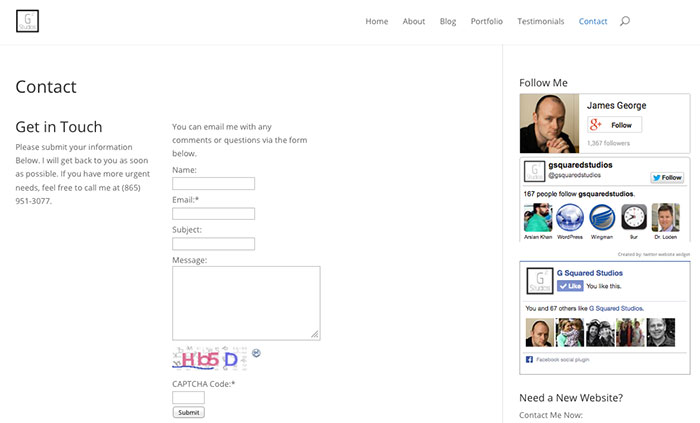 Leveraging a Blog
A blog is a great way to promote your business. Having a blog gives your site constant new content, and it brings in people interested in what you have to say. It helps you to build up your own authority, giving you the ability to show off and share your knowledge of the industry. People reading your blog will say "Wow, he (or she) really knows his stuff!"
Another reason a blog is a good idea for your site is that if you build up a big enough following and enough traffic, you can add ads to your site, making a steady monthly income on top of your regular income. Whether visitors become new clients, or they're just visiting, you'll still make money, just from the traffic.
Link Your Site With Social Media
You should definitely connect your site with your other social media accounts. Many people prefer to get their updates or information from Facebook. Many people check their Facebook accounts 5 or more times per day, so if you share information regularly on Facebook, people are more likely to see it. Google+ is another popular one. Your post or information can the +1'ed over and over again, getting it a lot of attention. Twitter is good, too, but you have to account for a few things on Twitter. One, the person needs to be looking at Twitter when you send out a Tweet, or you have to hope that they'll go back far enough in their history to see your tweet. Although, I personally get a lot of shares and retweets, it is most likely because I pick good times to post my tweets.
One thing you can do is take a screenshot of your best design ad Tweet it over Twitter, which can get you several retweets. The ability to include a Twitpic is handy for this. Also, Pinterest is a great way to show off your work, too. When you pin your work to a board, you can also link your twitter account, so that it tweets your pin, too.
Do you have any tips for promoting your work via your freelance website? Feel free to leave your thoughts in the comments section below.