Sprint Free Html5 Template
Bootstrap is a popular framework that many web developers like to use. When you're on the web, you can see Bootstrap everywhere you look. It's responsive and it's an easy framework to use. You can build some amazing websites just using Bootstrap. Everyone knows I like sharing free stuff, and this week I found a great free HTML5 template to share with you. The Sprint free HTML5 template is the template of the week. You'll love this free template because of its simple layout and beautiful gallery. To preview the Sprint free html5 template below.
The reason I like the Sprint free HTML5 template so much, is because it's a simple one page template. It doesn't have a lot of frills, but it has some nice touches that really pulls everything together. For example, I like the underline under the active menu item. The glowing green line, with the little circle is a great visual indicator of where you are within the site. The mix of green, black, white, and black and white photography really make this site stand out. When the green accent color is used like it is with the icons, it really makes you take notice of these items. The Sprint free HTML5 template has five separate sections. The first one is the gallery, the second one is a services section, the third is the new products section, the fourth is the section for all products, and the last section is the contact us section.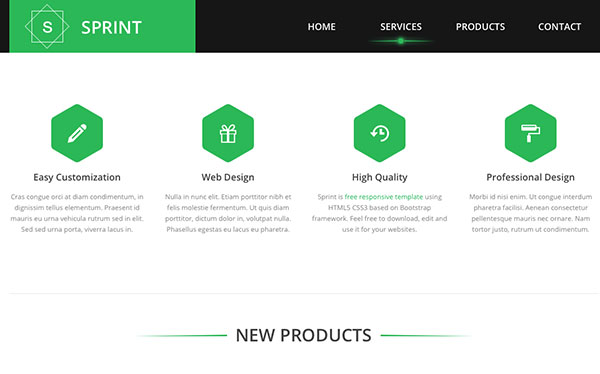 I like how the main gallery has little preview images below it. The active image is highlighted with the same underline that the menu system uses. This is a great way to unify your website. Also, I like the example where the new products section is, where you see you in a column on each side.
This shows you just how versatile the Bootstrap layout system can be. The product section is a simple grid. It has a four-column layout and the hover state over each image uses the same underline element that has been used previously throughout the site.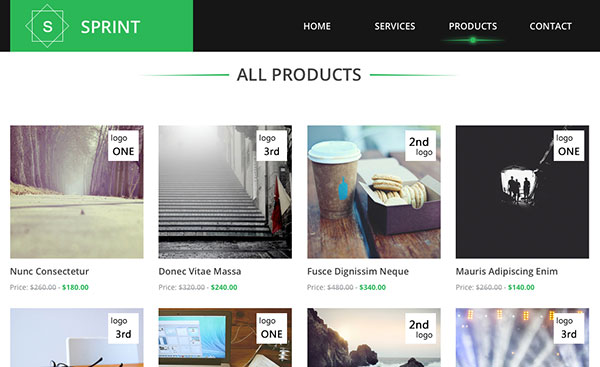 The contact us section is a simple section with a Google map on the left and a contact form on the right-hand side. The send message button is that same element that you've seen throughout the rest of the site. The footer of the site uses a simple copyright, and you'll find social media icons on the right-hand side.
Download the Sprint HTML5 template
The Sprint free HTML5 template by template metal is a simple website template that you can use for your website. It's free to use, it's made with the strap, and it's an LA and elegant example of a one page website. To download the Sprint free HTML5 template click this point below to be taken to the download page.