The Top 10 Email Marketing Services
When building your reader list, one of the key aspects to getting repeat readers is to sign up new subscribers via email. If you are just getting started, you probably don't know that you can't send massive amount of emails from a simple email client, such as Gmail or your regular internet service provider. You actually need email marketing services to handle this task for you. Trying to find one that fits your needs can be a challenge.
When you are first starting out, any type of business expense can set you back. If you can use a service for free up to a certain point, this is ideal. Once your grow your subscriber list to a few thousand readers, you should be generating enough revenue to pay for the email marketing service, with plenty of money to spare. Getting started at all can be tough, because you have to discover which service providers are available, and determine the differences between them so you can find the email marketing company that is right for you. Below is a brief review of each of the 10 best email marketing services available.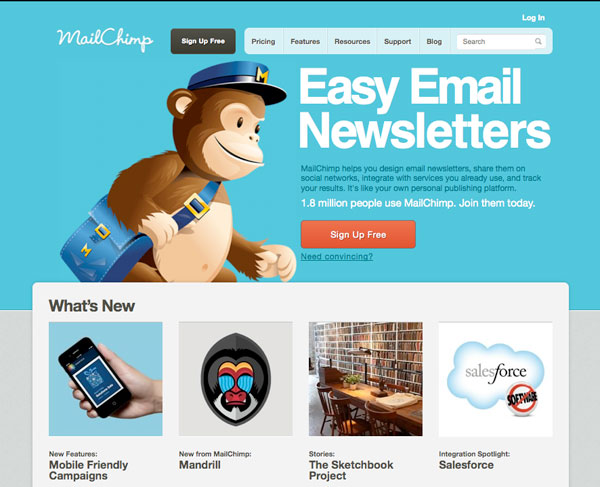 Mailchimp is one of the most popular email marketing companies out there. They offer a lot of great services, such as RSS to email, and they provide a lot of templates and integration tools for your convenience. They start you out with a Forever Free plan, which lets you send out emails to 2000 subscribers for up to 12000 emails per month. This means that you can send your subscribers up to 6 emails per month at full capacity. Schedule emails, set up auto responders, announce new emails via Social Media such as Twitter and Facebook, and more. Scheduling your emails for the right time is extremely important! For more information Read this post about the best time to send emails.
Aweber offers a lot of the same functions as other email marketing services. The only difference that I can really see is that you have to pay $1 to get started. They don't have a free plan, but you can send 500 subscribers unlimited emails. You can pay Monthly, Quarterly, and Yearly. They do seem to have a more designer-friendly signup form builder to integrate into your site, making your signup form more attractive. You can also animate your signup form, or even use different signup forms for different purposes.
Constant Contact
Constant Contact offers a 60-day free trial, letting you try their service before you buy. They not only have email marketing plans and capabilities, but they also show you how to market events as well. Constant Contact also has social media integrations and campaigns as well. They also have the abilities to help you build online surveys, so that you can learn more about your customers and how they feel about your services. After the trial, their pricing plans are reasonable, and scale well with the number of subscribers that you have.
iContact is another competitor that has social media integrations and the abilities to send professional campaigns. One thing they boast is that they have a higher deliver-ability rate than anyone else. They also work with Salesforce, which is something that no one else has seemed to mention so far. Their pricing is comparable to the other plans, starting at $15 and scaling with the number of subscribers.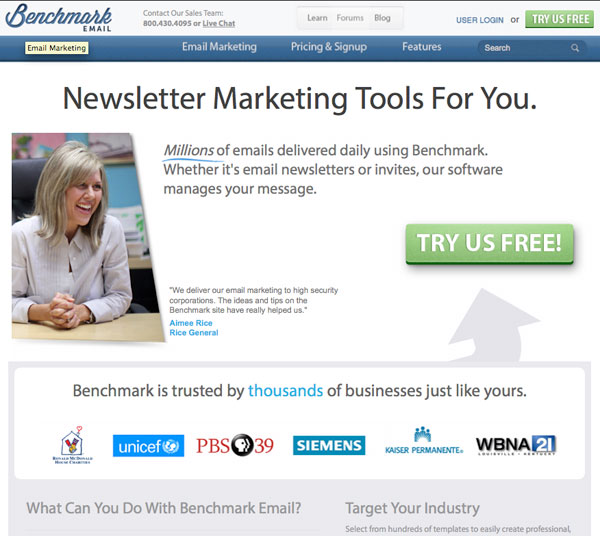 A business class service for sending professional emails and invites. Their services scale with the number of subscribers, and they have broken it down very distinctly, so there are no questions as to how much you will pay for your number of subscribers. One stand out feature is that they offer a service where they will do it all for you, but it isn't cheap, priced at around $150 per month. They also give a discount to non-profit organizations. They have a free account, but you cannot import your own list.
PinPointe
A B2b email marketing company, Pinpoint is cloud-based and offers a wide variety of services. They have the ability to send follow-up emails when a user clicks a link, and they track each user's activities, so you can create an email marketing strategy based on your subscriber's behavior. You can pay per month or every 6 months, and they have the capability to send massive amounts of email, even past 200,000 per month. A stand out feature they have is a pay-as-you-go plan, so you only pay for what you use.
Mailigen offers average plans that compare to the other services. They allow you to pay per month or per year, and they also offer enterprise packages for large volume emails. You can send emails, create online surveys and track subscriber actions such as opens and clicks.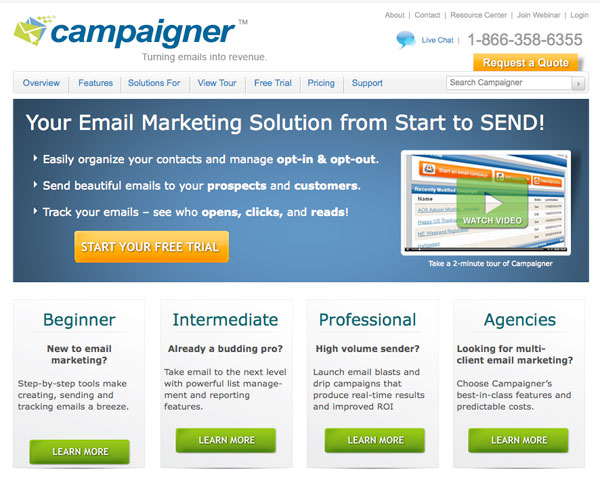 Campaigner is another good choice offering email marketing services that include emails, organizing your lists, and email templates that are based on and optimized for different business. Campaigner is a great tool for those that are looking for a great setup right out of the box. They also offer a 20% discount on stock photos, so your emails will look beautiful and professional. Their services are broken down for different user levels, so you can get the features that you need, no matter what your experience level is.
Vertical Response offers a variety of different services including email campaigns, Social Media campaigns, Event marketing, and online surveys. The only thing that is strange is that they request payments for each one. They show a price per email structure, but they don't show what the total will be for each tier, just the cost-per-email, making it difficult to judge how much each tier costs in total. Vertical Response also offers partner programs, so you can offer services as a reseller.
Emma offers great features, comparable to the others. Emma features drag-and-drop design capabilities, making newsletter design quick and easy. Emma also offers analytical capabilities with graphs and Google analytics integration. Emma offers a standout feature, which is the ability to host unlimited free surveys. There are no contracts and the pay scale is competitive with other email marketing services.
Conclusion
The email marketing services listed above all have similar features, but some have options that set them apart from other services. It can be difficult to make a decision as to which one is the best for your company, but being able to compare each one, understand their features and limitations will help you choose which of  the email marketing services are right for your business.
Do you use any of these email marketing services? If so, which ones, and what do you think about them? Do you use something different? Let us know in the comments section below.