Table of Content:
What to Look For in Sports WordPress Templates?
Best Sports WordPress Templates to Triumph on the Web
A Few Words in Conclusion
What do you like the most about sports? Maybe, it is the process of doing sports itself. Maybe, the thing is about the competitive spirit and achieving a victory. Or sports just got used to bringing people together. We can list a countless number of things that make people admire sports. Yet we are here to speak about one more thing connected with sports – a powerful website. Together with sports WordPress themes, everything is possible.
What to Look For in Sports WordPress Templates?
There are a few tricks that you definitely need to pay attention to in sports WordPress templates.
Some additional plugins to include pop-ups or sliders in your online-project.
An eye-catching Parallax animation to add the feeling of movement.
Lots of custom widgets to integrate a commenting system or social media buttons.
Of course, it is not the full collection of features to include in your sports website. You may think about getting a lazy load effect, testimonials, mega-menu, and so on and so forth. Are you ready to win the day on the Internet? In this case, let us give you a look at the best sports WordPress templates…
Best Sports WordPress Templates to Triumph on the Web
Name
Price
Main Features
Monstroid
$75

user-friendly wizard;
drag-and-drop builder;
JetPlugins;
WooCommerce package.

Spontaneo
$75

Elementor Builder;
Cherry plugins;
video support;
different animation effects.

Fight House
$75

all images for free;
Google Fonts integrated;
various blog layouts;
lots of plugins.

Primrose
$75

5 demos;
commenting system;
contact form;
background options.

ShapeForce
$75

Cherry Search;
blog layouts;
headers and footers;
WordPress Live Customizer.

FitSport
$75

blog layouts;
JetElements;
Google Fonts integrated;
powerful plugins.

FitPeople
$75

topical images;
Elementor Builder;
mega-menu;
newsletter subscription.

Cross Arena
$75

Cherry Plugins;
Google Map;
testimonials;
background options.

Namaskar
$75

WordPress Live Customizer;
headers and footers;
bonus images;
blog layouts.

Termifighter
$69

content modules;
layout options;
images are included;
custom widgets.
Monstroid2 – Remarkable Multipurpose Modular Elementor
Monstroid2 has everything you ever dreamed of. Everything you need to get a striking website ready.
audio and video players to inspire people with visual content;
a product carousel to increase your sales;
a wonderful events calendar and schedule to make people trust in your sports services.
Spontaneo – Amazing Personal Sports Blog WordPress Theme
You cannot even expect a power that hides in the package of this bright theme. It is possible to make a spontaneous decision of launching a creative website. It is possible to get your cherished success using this theme.
a powerful mega-menu to take a full control of your navigation;
social networks widgets to share sports tips and ideas all over the web;
an impressive WordPress Live Customizer to see all the changes in the design.
Fight House – Powerful Brutal Martial Arts Club WordPress Theme
Do you want your visitors to be fit and fast? Do you want your website to look strong and impressive? In this case, convince them of choosing sports using this highly-potential theme.
a visually-attractive Parallax effect to improve your design;
exclusive header and footer variants;
a delightful Cherry Search to send search requests without a page reloading.
Primrose – Modern Multipurpose WordPress Theme
It is completely possible to burst your website into blossom using this vibrant template. Without a doubt, a topic of sports will arouse a great interest in your visitors.
an excellent Elementor Page Builder that has a great set of customization options;
lots of eye-catching Google Fonts to pull the trigger and make them adore your articles;
different social options to spread the word about your sports website.
ShapeForce – Stunning Sports Studio WordPress Theme
Do you want to make your website become stronger and healthier? There is no need to leave out of account this template to meet this purpose.
nice-looking pages to improve a brand image of your company;
various Cherry Plugins to introduce sports to visitors and find like-minded people;
lots of modern bonus images.
FitSpot – Attractive Fitness Studio Elementor WordPress Theme
Together with this remarkable theme, you can create a digital spot where all sports-fans will gather.
four blog layouts to capture the attention within seconds;
a fully-fledged mega-menu to make sure that no one will get lost on your online-project;
a wonderful book appointment plugin to create schedules and make appointments on the Internet.
FitPeople – Vibrant Fitness Elementor WordPress Theme
FitPeople is an unusual theme that will present your workouts. It will also allow everyone to make an estimate of them.
an incredible live search to give people the greatest user-experience;
a powerful WooCommerce package to enhance your website with extra functionality;
projects and services to introduce your fitness club in the best possible light.
Cross Arena – Great Crossfit Studio Elementor WordPress Theme
Not an ordinary theme but a true horn of abundance. It will give you lots of advantages and excellent results in your sports career.
an unreal mega-menu to give people a smooth navigation;
different galleries and sliders to present your good-looking pictures;
various widgets and buttons to empower your future online-project.
Namaskar – Minimalist Yoga WordPress Theme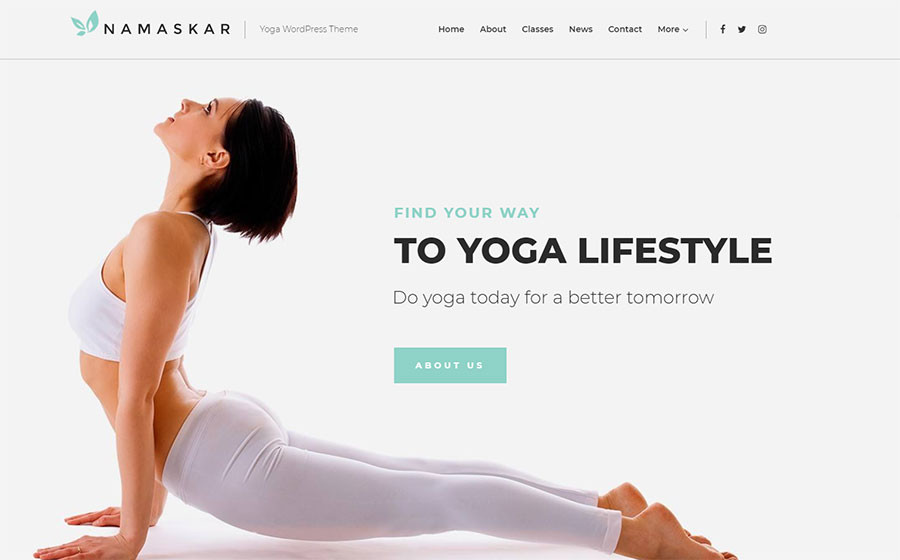 Yoga can become a lifestyle of lots of people together with this marvelous flat design.
various remarkable Google Fonts to give your website a stylish look;
a helpful Elementor Builder to have no worries with your design;
an essential contact form to receive messages from your interested visitors.
Termifighter – Impressive Martial Arts WordPress Theme
Do you need to promote your club of martial arts in all corners of your hometown? Or even in all corners of the world? Pay your attention to this powerful template to find out more.
a delightful TM Gallery to create beautiful sets of high-quality photos;
a wide variety of additional pages;
team members and testimonials to make people believe in your reliable services.
A Few Words in Conclusion
Victory is always sweet. Especially when it comes to sports. If you want to taste it in the near future, take advantage of this impressive sports WordPress templates. They will certainly allow you to be the first one on the web. Doubts are not for the winners. Throw them away here and now and thanks for reading!