Top Ranked WordPress E-Commerce Themes
The best thing about today's tech-led era is that it has provided everyone the opportunity to create virtual businesses. They can make money for them 24/7 in a fully automated mode. It wasn't possible with brick and mortar stores, but now you can easily set up an e-commerce site. You can automate everything to create multiple passive income sources using WordPress e-commerce themes.
If this is something that you've been trying to do for a long time, then 2018 is the best year to forge ahead. Design a beautiful online store that can generate thousands of dollars in revenues for you every month. What you can do is either hire a web designer who charges more than what you can afford or simply pick a beautiful theme and set up an impressive digital store yourself.
In case you're interested in opting for the second option, but not sure as to which theme can serve the purpose well in the long run, here are 25 highest ranked WordPress themes for e-commerce stores that you can check out. Take a close look at their features and pick one depending on your requirements and niche.
1. WooShop
Now, you can comfortably increase your sales revenues with a responsive, modern, and highly professional e-commerce theme. It's bundled with unique featured images, traditional grid layout, built-in support for WooCommerce, lightweight design, & multiple customization options. It has a world-class premium technical support to fix all your queries, doubts and errors.
2. JustFit
If you're a healthcare expert, gym owner, or fitness enthusiast, an e-commerce store designed where you can sell relevant health and wellness products is important. JustFit is your perfect option to go with. It's fluid responsive, search engine optimized, and loads fast on different devices. You can use its powerful options panel and make necessary changes in your site's layout for better conversion rate.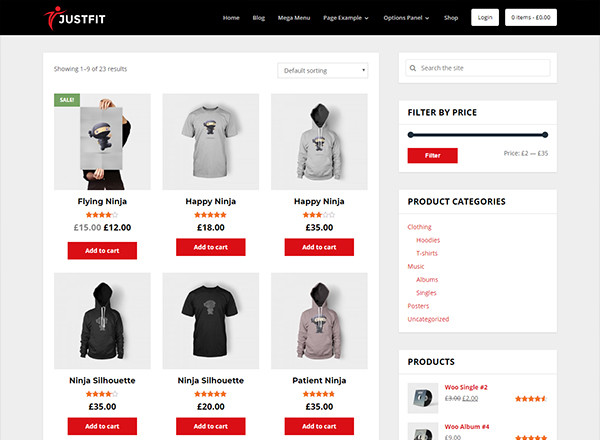 3. ShopIsle Pro
ShopIsle Pro is a modern WordPress e-commerce theme that goes well with all types of e-commerce stores. The video ribbons, subtle animations, smooth parallax scrolling, and dozens of other exclusive features of this premium theme present your products interactively and elegantly. ShopIsle Pro is translation ready, SEO friendly, and easy to install. It can boost your site revenue by a considerable margin in a short period.
4. Balance
Balance is a feature-rich and flexible WordPress theme for e-commerce stores and business websites. It comes packed with many eye-catching and exclusive features to wow users, and prompt them to hit the 'Purchase' button on your site. Balance is fully compatible with visual customizer & WooCommerce. it offers a retina-ready design for maximum user engagement.
5. Løge
This is a perfect e-commerce theme for online retail store owners. No matter if you're selling beauty products, high-street fashion or home accessories, Løge will make sure that your products stand out and capture the attention they deserve. It's packed with custom elementor modules, WooCommerce integration, and a highly customizable storefront. It has a minimal design, mobile responsive layout and dozens of SEO friendly features.
6. Shop Theme
It's the most powerful and ultimate e-commerce theme you will ever come across. Shop Theme focuses mainly on delivering the best-in-class performance without affecting your chances of multiplying revenue. With it, you get clean HTML5 and CSS3, custom header, multiple sidebars, gravity form styling, and organic shortcodes. it is built on a responsive framework, and has dozens of other SEO friendly features.
7. eCommerce
eCommerce is one of the most famous themes exclusively built for digital stores. Should you want to take your sales to all new heights this year, go for this brilliant theme without any second thought. It's packed with a vast featured image area, price ticker just below the primary menu, and eye-catching color combinations. It has a lightweight design, wish list, and many other features.
8. Erado
Erado is a responsive WordPress theme, exclusively designed for e-commerce stores. It comes loaded with over nine demo homepage layouts! Erado uses king composer, and has a full Ajax shop. It includes revolution slider, smooth payment gateway integration, and email templates. You can import/export products, add sales/coupons, and features product sorting filters, etc. to increase engagement and sales on your site.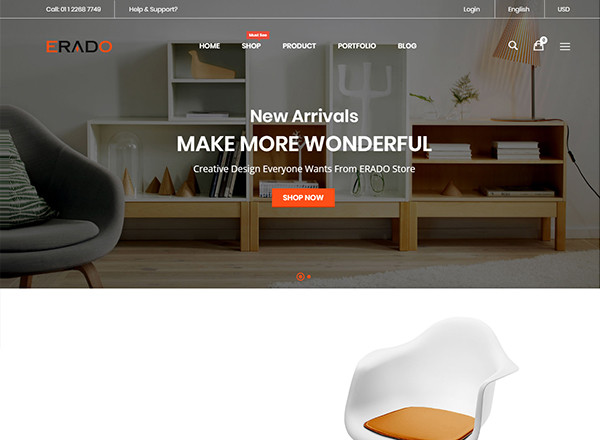 9. Saha
If you're into online apparel sale business and want to improve search rankings and sales, then take a look at the Saha WordPress theme. It's the best in the business with a spectacular homepage layout, flexible sidebars, and robust customization options. It has a lightweight design that performs well on desktops as well as smartphones.
10. Neto
Neto can transform your website into a remarkable e-commerce superstore that looks great. It renders a top-class performance regarding achieving first page rankings, getting tons of organic traffic and delivering a high CTR. Install it on your e-commerce website and watch the magic taking place right from the first day.
11. Flatshop
The Flatshop theme can help you transform any WordPress site into a high-performing online store using the WooCommerce plugin. It has a visually appealing design and lightweight layout. This theme features transition effects, such as fly-in animation and parallax scrolling for better user experience. Last but not the least, it allows you to customize each product individually to push its sales and in-store ranking.
12. Capri Pro
Capri Pro is a well-known multipurpose WordPress theme with a responsive design and attractive layout for e-commerce stores. You can use its RTL ready structure and multi-lingual support to target users from different countries. Capri Pro is search engine friendly and offers one-minute setup facility to help you get through the installation process comfortably.
13. Insight
Insight is a distraction-free and minimalistic magazine style WordPress theme for e-commerce stores, digital magazines, photography sites and general blogs. You can use it to transform your site's online appearance, add many world-class features to it, and improve product sales comfortably. Not to mention that you don't have to worry about your technical expertise as the installation process is quite simple.
14. Amely
Amely is a perfect e-commerce theme that can help you with designing your site in a unique manner without affecting its loading speed and features. It's powered by Visual Composer, so you can create multiple landing pages for high conversions. Best suitable for digital stores targeting hi-tech products, watches, clothes, books, furniture, luxury jewelry, and cosmetics items.
15. WooCart
A brilliant WordPress theme for sites selling gadgets, fashion accessories, clothes and other products. WooCart is lightweight, highly customizable, and comes with fantastic color choices. You can use its options panel and make any change in your site's design without a hitch.
16. Ultra
Ultra is claimed to be one of the best WordPress themes in the world. It's also the most potent theme ever created by Themify. It makes the site design and setup so comfortable that your technical inexperience never gets in your way of fulfilling your dreams. Ultra offers over 12 pre-built website layouts, many bonus builder add-ons, and 60+ layouts.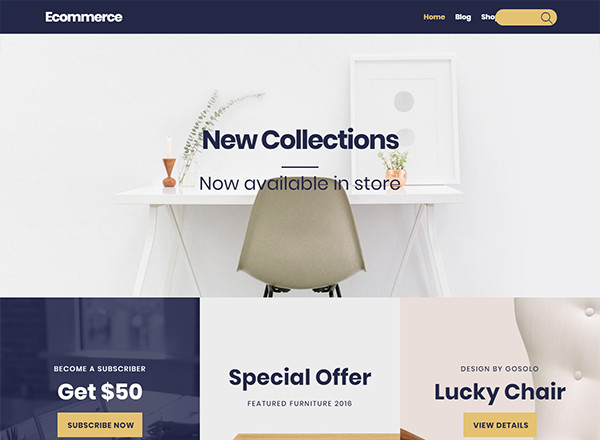 17. Shopy
Shopy is a minimalist WordPress theme for e-commerce stores. It can help you design a perfect online store and start selling products to users from all over the globe. Shopy comes with built-in support for WooCommerce plugin. Because of this, you can expect a smooth site setup and running experience.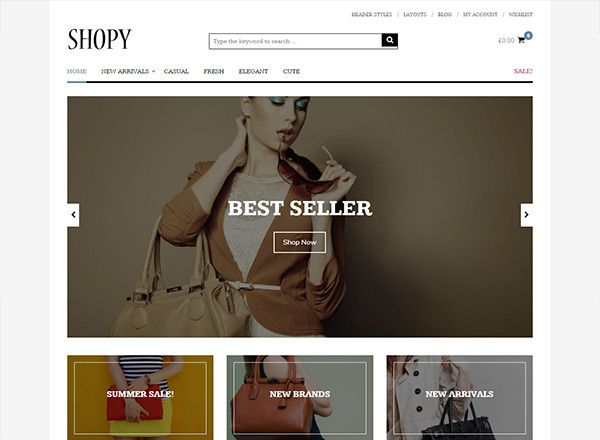 18. Shoppe
It's a multipurpose and WooCommerce supporting WordPress theme. Shoppe can help you create fully responsive digital stores in minutes. It features a drag & drop page builder, wishlist, Ajax cart,  and product image zoom. Shoppe has many other world-class features. Use it to give your e-commerce store a classic touch.
19. Velure
Valure is exclusively designed for young bloggers exploring fashion and lifestyle fields. It's attention to details and design will prompt your site users to make a purchase immediately after they arrive on your website. Give it a try and take your product sales numbers to greater heights.
20. Conj
Conj is a stunning e-commerce theme with world-class features. They include slider post type, mega menu, two-step checkout, hero product, header customizer, product count-down, and demo content install. Use it on your site to improve the storefront design and features by a substantial margin.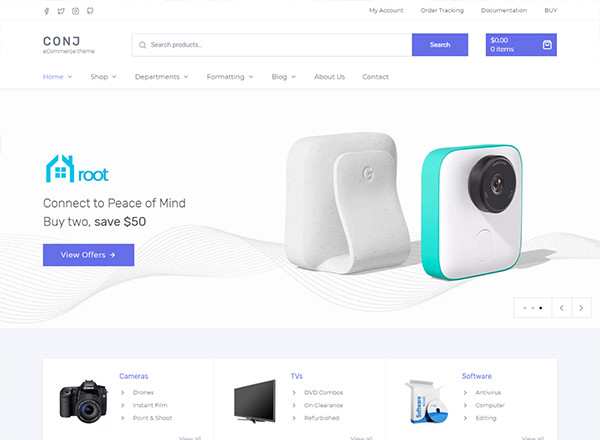 21. eMaxStore
Now you can conveniently sell your products online and generate a constant income on a month-on-month basis. It will al be from the help of this multipurpose theme. eMaxStore's Blog Feed feature lets you write high-quality content and use it to get organic traffic to your site on a regular basis. It has dozens of customization options that you can use and revamp your store's design.
22. Belise
Belise is great if you're a chef, food enthusiast or have a client related to restaurant/hotel business. If you want to get into online food delivery business, then Belise is a perfect option to begin with. It's bundled with many pre-designed layouts to ensure you never run out of options.
23. Salon
Take your salon business to new heights by setting up an online store. Here, you can sell your custom-designed hair and beauty products to users from different parts of the world. With the Salon WordPress theme, this task becomes as easy as you can imagine. Give it a try once, and you'll realize the difference.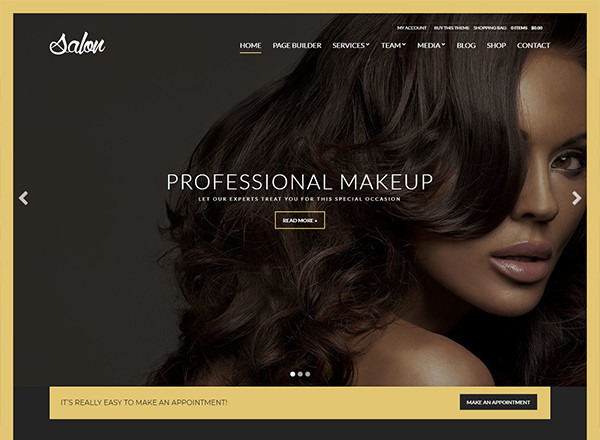 24. StorePro
This is the e-commerce theme you've been waiting for in order to take your online business to the top. It's lightweight, mobile responsive and clean-coded to make you stand out in the market. Try StorePro's unique features and taste the success without a hitch.
25. Coupon
This is one of the best theme to explore the coupon niche and receive positive results starting from day one. The Coupon theme features multiple homepage layouts. It has custom-built pages, lightweight design and mobile responsive structure. Install it on your site and improve the conversion rate by a considerable margin.
All these themes are good enough to improve your digital store's performance. So, take a note of them and choose any one as soon as possible.