WordPress Theme Makers: You Tend to Build a list of Favorites
I've been building sites based on popular WordPress themes for years. When you use a variety of WordPress themes on the market, you'll quickly learn which themes are well built and flexible, and which ones that are terrible, and have bad support. I thought I would take the time to share my top 5 favorite WordPress theme makers and why I use their themes.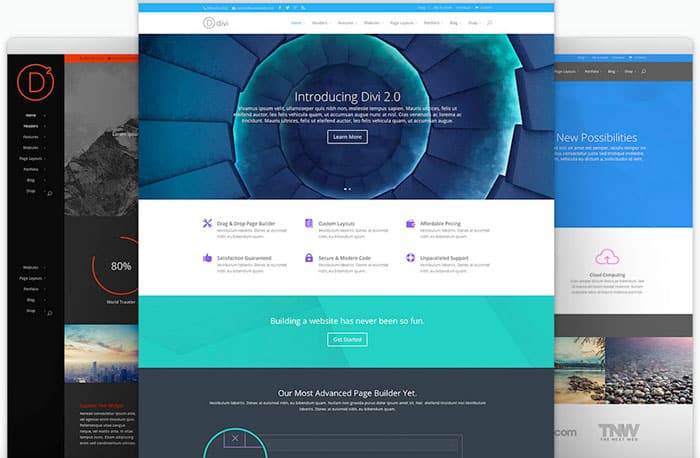 Elegant Themes is a juggernaut when it comes to theme building. I love their products, from Divi and Extra, to their earlier WordPress themes. As a part of your membership with them, you also get access to Bloom and Monarch, which are some killer plugins for email list building and social sharing. Divi and Extra have drag and drop page builders, which make creating layouts quick and easy. They utilize modules, which I love. There are many specialty modules for everything from call-to actions, email subscriptions, sliders, galleries, number counters, and just about anything else you can imagine.
Things of Note: You can add CSS to any module, enabling you to customize that specific module, without affecting the others.
You can create literally any type of layout for your website.
Tesla Themes are great because they are built well, and a life time membership is fairly affordable. Also, their themes have some truly unique layouts and designs that are much better than the normal themes you see on a regular basis. They also have some neat plugins, like their login theming plugin where you can customize the login screen for WordPress.
Things of note: Great support and a lot of unique layouts to choose from.
See Tesla's Themes and Plugins
MyThemeShop has been a staple for me for years. There are several sites I own that are based on MyThemeShop themes. They are fast, lightweight, clean, and super SEO friendly. SEO friendly WordPress themes are great for any site, but especially for blog-centric websites. They have some specialty themes, too, for specific purposes, like showing off an app or making a simple one page website. A membership gives you access to all of their themes, which is great if you have or plan on creating multiple websites.
Things of Note: These themes are really fast and lightweight.
Especially useful for blog sites.
The X Theme by ThemeCo is a great standalone product with a lot of mini extensions rolled in. You have a theme that is constantly evolving, and ThemeCo is constantly working to et more plugins and extensions included in the package. What I like about the X Theme is that it uses Visual Composer, and Cornerstone, which are front end editors. You can choose which one you like better and it gives you some flexibility. I also like that the X Theme has several pre-built layouts and styles built into it. This makes it easy to get a site set up in a hurry, where you can customize a simple concept. The X Theme is fast, flexible, and fairly easy to use.
Things of note: The Cornerstone front end builder is worth having the theme by itself. If you like the idea of designing in the broswer, the X theme is the choice for you.
See the X Theme and Cornerstone
Themify.me makes some really unique and fun themes. The all stars of the list are Ultra, which enables you to create an unlimited number of layouts. There are also the Split theme, the Parallax theme, Fullpane and Landing. Any of these themes are excellent for their purposes. Split is a cool theme for its split scrolling effect. They also make a number of plugins, too. This makes it well worth the membership.
Things of note: Themify.Me's themes are great for unique looks and specialty features. A great example is the Split theme which features a split scrolling effect.
See Themify.Me & Their Plugins
What are Your Top WordPress Theme Makers?
These theme makers are the top 5 best WordPress theme makers you'll find out there. They all provide excellent support, well-made, flexible themes and overall top-quality products. I want to hear from you. What are your favorite WordPress themes and WordPress theme memberships or clubs? Please enter your answers in the comments section.