At first, we see, then we read. This is the key rule of any advertising. Whether you create a billboard, a website or a banner, you properly choose the imagery that will make the design cohesive. It's really hard to find high-grade stock photos and all those Photoshop actions, Lightroom presets that will make your works look great and stand out. Now you have an opportunity to grab a good bunch of them from this post.

What are the images for? Cool photos grab attention, they work as triggers for the viewers. Show a WOW photo on the add, and it will make people interested in it. This power of visual content is a well-known one and is widely used in all types of media. Visuals are of a key importance when you designing a website. They determine the first impression and play a significant role in earning the visitors' trust.

Let's see what are the superpowers of visuals:

explain without words, of course, when the images are properly chosen.

evoke emotions, pictures speak better than words and can affect the viewers, touching their hearts.

set the overall tone of your work, if your site offers feminine products, all images in light pink or purple colors will call romantic emotions, so pleasant for women.
Of course, if you're a photo enthusiast, you can make tons of images every month. And all of them are professional and look amazing. In any other case, well-done stock images and wise tips for their post-production will help you to get catchy imagery for your projects. A variety of them you'll find in the photo deals at MasterBundles. Here you get special items to decorate the background and supersize it, play with images and create galleries. Cool actions and presets will help to turn any photo into an eye-candy one. There is no need to be heavy on wording when you have such stuff from MasterBundles.
By the way, this resource is rich for all you need for creative and trendy designs; graphics, resume and presentation templates, fonts, logos, stock photos, and much more. Fair prices make these materials even more valuable.

Well, photo deals are waiting for you. Let's see some of them just now!
Are you dreaming of a career based on your photography skills? Then try this comprehensive how-to bundle perfect for ultimate training in the field of photography. Featuring 3 courses, it will give you enough knowledge to become a good photographer and make people interested in your works. All 3 have lifetime access, and it means that you'll be able to see them any time you want, even in a year.
The bundle includes the following courses:
Certificate In Digital SLR Camera Photography

Certificate In Photoshop CS6 For SLR Photographers

Certificate In Starting your own Photography Business
Clear instructions, video tutorials, support and certificate on demand.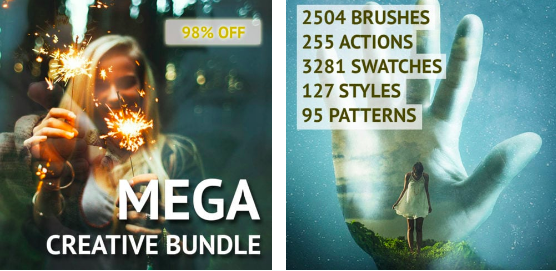 This creative toolkit is ideal for those who think out of the box. If you need awesome effects that will turn your designs into super cool, then try it. 2504 brushes, 255 actions, 3281 swatches, 127 styles, 95 patterns – and it not the end of the list. Grab this bundle just for $29, and enter the world of creative photography.
We all use stock images, but it's hard to find really good ones. The second problem is their high price. This bundle solves both of them and offers you a great choice of 500+ stock images for $59. All photos are grouped into categories, so you can quickly choose the one you need: animals, seasons, landscapes, seascapes, nature, mountains, people in landscapes, etc. All of them go in high resolution from 4928 x 3264 pixels to 7360 x 4912 pixels and are created using Nikon D800 and Nikon D810A.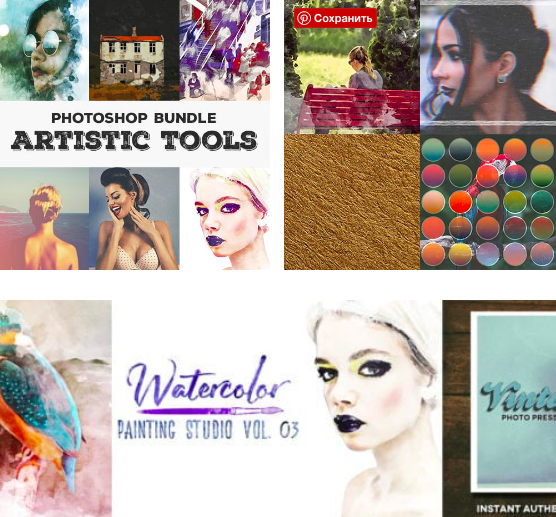 Talented photographer is an artist. Add an artistic touch to your photo works with the creative tools from the bundle below. Whatever you need to garnish your works are placed in this pack: gradients, various brushes, painting, and vintage effects, textures, templates and numerous text effects. Using them, you can do your work in twice the speed.
Want to create a cool photo effect just in a few minutes? Then go and get a must-have bundle for all photographers. It features 38 original dispersion actions and what more, and Illustrated guide for each action that will facilitate your work.
If you love playing with Lightroom, consider this ultimate pack of premium quality presents. Just imagine that you get 5900+ items in one box. Using them, you'll spend less time on post processing and get good results – awesome photos that catch attention the first time people see them.  
This bundle is created especially for nature lovers. If your project deals with tourism, traveling, hotels business or shows your love for hiking, this collection of beautiful forest photos is for you. $10 for 55+ photos for business and personal use.
To have an impact on the viewers, a photo should be impressive. Try amazing Photoshop black & white, high speed, cinematic, chrome, retro, light leaks, matte effects actions to magnify your photo content.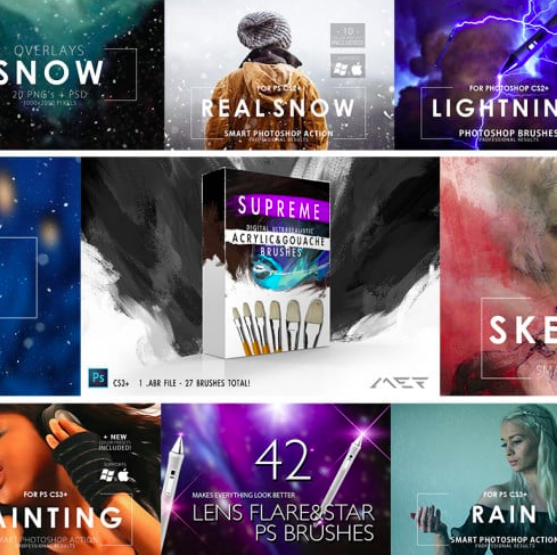 Want a huge pack of actions, brushes, overlays to master your photos? Get the one at a fair price. $19 for professional tools that will save your time and give your works a stylish look is a good deal.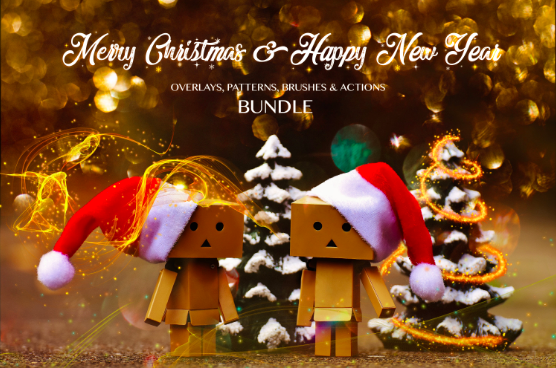 Xmas is coming and you will be ready for it with a complete set of wonderful holiday Photoshop stuff. Overlays, patterns, brushes, actions are what you need to add a holiday mood to your projects. $9 for all.
Over to You
Imagery has a great impact on viewers. People notice images at first and only then read. If you take it, as a rule, your design projects will always be impressive and interesting for the audience. To make nice photos you need a talent and a bunch of useful tools for their post products. All that effects, brushes, overlays can add the desired stylish touch to your works. And actions will make your work fast and easy. Choose any tools you need from this collection, and create your masterpieces easily.
P.S. Don't forget to visit Master Bundles blog, there you will find not only bundle compilation, but also tons of other design related information.