If you do online shopping, do it from Amazon. Otherwise, don't DO.
Yes, I am biased for this company, and there are several reasons for blindly having trust in them.
The company was initially founded as Cadabra, Inc., but later the name was changed to Amazon.com, Inc. Amazon.com's e-commerce store went live in 1995, and started selling books online only.
Today, look at Amazon, which has become one of the largest companies in the world. It has become a GIANT in the industry seriously.
In the first month of its launch, Amazon managed to sell books to people in all 50 states and 45 different countries.
And within 30 days, it had generated $20,000 per week in sales. Isn't that MASSIVE?
It has revolutionized the entire Retail industry after announcing to open a brick-and-mortar convenience store. And now they are heading towards Amazon Go… and much more is to be revealed.
Jeff Bezos, CEO – Amazon.com explains his company's thought process as,
"We see our customers as invited guests to a party, and we are the hosts. It's our job to make the customer experience a little bit better."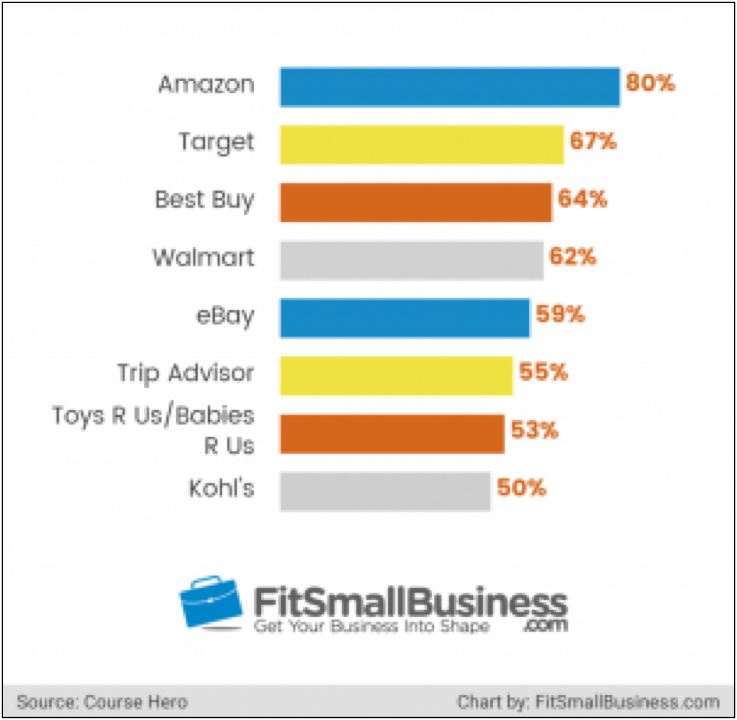 But in spite of all this, some rumors and predictions are going around by experts, which states that in 2020, Amazon might see its end or a massive failure.
Yes, it seems almost impossible to get understood, but let's discuss what both parties have to say in their favor.
Why Amazon in 2020?
Amazon has become synonymous with the online shopping world. And it's continuing to expanding its everlasting customer base.
According to Worldwide Business Research, the Seattle based retailer is an industry leader when it comes to innovative technology, and has revenue of $135,987 million, placing it at #12 on the Fortune 500.
Let's dig in more what it offers.
The Ever-growing popularity of Amazon
The popularity of Amazon is just incredible. It is ranked as one of the most popular shopping apps in the United States.
According to Statista, 145.2 million mobile users accessed the Amazon app in March 2019.
It brings a seamless experience to their customers, providing a stress-free and straightforward process. It enables us to create a strong relationship with their customers.
Not only this, but more than 63 million users accessed Amazon Sites exclusively through their mobile devices, making this platform the most popular among mobile-only online visitors.
Source: https://www.oberlo.com/blog/amazon-statistics
Massive Customer's credibility for Amazon
Customers trust Amazon-like anything. As per a survey, 89% of customers agree that they are more inclined towards buying products from Amazon than other e-commerce sites.
Gaining customer trust isn't an ordinary thing, but a core value behind making any company or brand successful.
Amazon has become the best in the business due to its consistent and transparent product experiences.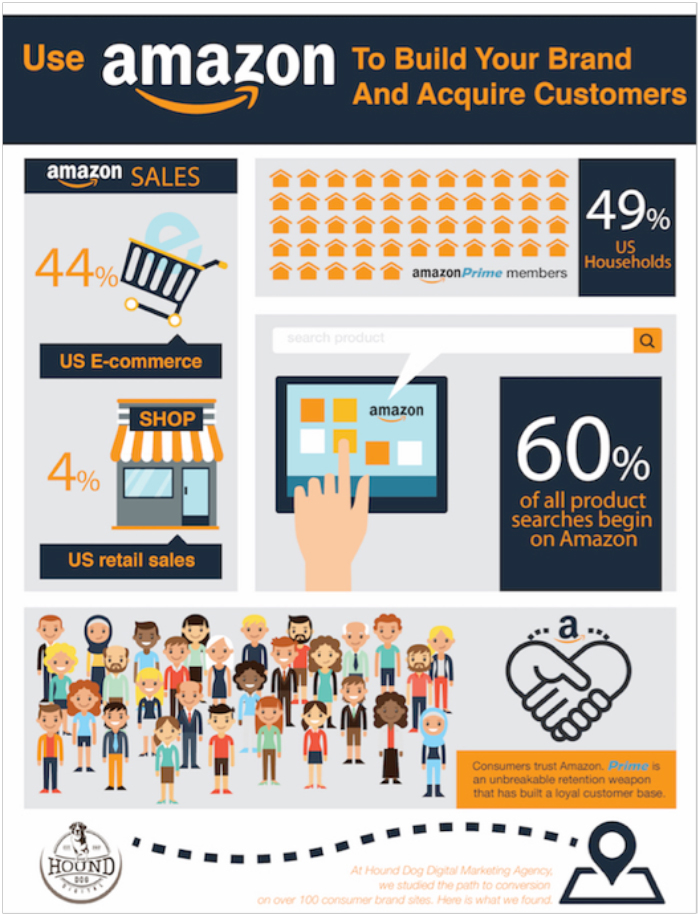 Source: https://www.crunchgrowth.com/2018/04/16/use-amazon-acquire-customers/
A massive number of Products on Amazon
Amazon has all those products that need to be covered with a massive count. Amazon.com has a total of 119,928,851 products, as observed in April 2019.
The most-largest product categories of Amazon are Books, Electronics, Home & Kitchen, etc.
Source: https://sellerengine.com/how-many-products-does-amazon-sell-amazon-marketplace-stats/\
A large number of devices access Amazon every day
67 percent of Amazon users prefer to shop via their desktop computer or laptop, whereas 24 percent of users preferred to buy using mobile devices.
The lowest usage was reported through Amazon Echo (voice-enabled device).
Moreover, current investments and planning in AR (Augmented Reality) are a real thing. Similarly, app updates are there that are enabling the process toward faster purchases (such as swipe-to-buy). It creates a hint in the direction of ease for the online shopper.
Source: https://www.oberlo.com/blog/amazon-statistics
Diverse sellers are present on Amazon
Every year, more than a million new sellers join Amazon with new hopes and inspiration for building an Amazon business like no other.
Amazon provides a significant number of resources, and a convincing environment to optimize success for your store.
Source: https://www.oberlo.com/blog/amazon-statistics
Why not Amazon in 2020?
These speculations came into life after the following statement which Galloway made,
"By 2020 Amazon will be our first trillion-dollar market cap company but don't begin celebrating yet, as soon after a district attorney will realize that the fastest blue line path to the Governor's mansion will be to go after Amazon and break them up as we begin to connect the dots and realize this amazing company is destroying jobs faster than we can recreate them."
The company has already denied all these rumors that there are no near-future plans of transmitting towards automation.
But on the other hand, we already see their opposite working processes like they recently tested Amazon Go.
It is a store with minimal human involvement. So, what Galloway said is seeming to be true.
Final Words
What's dangerous is not to evolve – Jeff Bezos
According to my observation, there's no stopping for Amazon in near-future.
53.8% of U.S. households with internet are now Amazon Prime members. Not only this, but Amazon is investing massively in warehouses located inter-cities.
The businesses close to the failure stage doesn't perform like this, no.
It was stated in a Bloomberg report, Amazon employs 351,000 people, which has increased up to 43 percent as compared to last year.
Their revenues have massively increased by up to 39% in the previous quarter. What else business wants?
Not only had this but the Amazon CEO – Jeff Bezos, announced the creation of 100,000 jobs in January. So, there's no chances of failure or being unsuccessful sooner, I guess.

Author Bio:
About Michelle Joe: Michelle Joe is a blogger by choice. She loves to discover the world around her. She likes to share her discoveries, experiences, and express herself through her blogs. You can find her on Twitter, LinkedIn, Facebook