Why I am Writing This Review
I don't normally purchase themes or theme services, mainly because I can build them on my own. I build custom themes and customize themes base on frameworks all the time. Recently though, I had the pleasure of winning a free 1 year subscription to Elegant themes. I was skeptical at first whether looking at their themes would be worth my time or not. After actually working with their themes and working with them, I am convinced that Elegant Themes is a valuable service.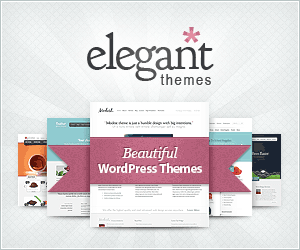 My Personal Experience
I have been really busy lately. Creative Beacon has really grown a lot recently. I decided to use my Elegant Themes subscription to give my site a fresh look. I chose the Divi theme, downloaded it and began to customize the theme to my liking. I added a few personal touches, and everything went smoothly. Everything was documented thoroughly, so that you could make your site look exactly how you want. They include a pdf for each theme that tells you how each part works, either via drag and drop modules or short codes.
The first thing I was impressed with was how fast my site loaded. Everything is optimized to be extremely fast and load quickly & efficiently. All of the features were present and everything went off without a hitch.
I was also impress at how easy it is to build pages. Everything is modular, and each module can have custom CSS applied to it via classes. It's as flexible as you need it to be, without hindering development.
Divi – The Ultimate WordPress Theme
This is huge! If you haven't heard of Divi, it is a 100% customizable, flexible, drag and drop WordPress theme. I haven't seen anything like it. There are tons of "supposed" drag and drop themes out there, but they stink. The page builder doesn't load, or the code is fragile and break easily. Not Divi! I have built several sites using Divi, and it works great. I use all of the plugins I have grown to love, without any conflicts. You can build anything with Divi. I mean literally anything under the sun.
It's super easy to use, it runs fast, and you can save and reuse layouts for other pages.
More About Elegant Themes and Their Services
Elegant themes has over 78 themes and they are all different. They all have different styles, and some of their themes are really unique in their functionality. Here is a breakdown of their themes:
12 Responsive themes – This means they are built to look great on large screens, tablets, and mobile devices.
12 Portfolio Themes – A wide variety of styles to make any creative's work look great online.
8 App Themes – These themes are dedicated to showcasing an app, which is great for a lot of startups.
22 Personal Blog themes – These themes are more for people or personal projects, but they would adapt well to any use.
22 Magazine Themes –  Want to start an online magazine? You have 22 themes to choose from to make your publication site look highly professional.
2 Ecommerce themes – These themes allow you to sell your goods online, saving you tons of money instead of having a professional site built.
25 Business Themes – Want a sleek look for your business? There are tons of themes to choose from to make your business look great.
13 Multimedia Themes –  These themes are built for hosting and showcasing videos and other digital content.
A Few Unique Goodies
A few of their themes do some unique things, so if you are a developer who has an idea for a website, their themes might be a good solution for you. Here are a duple of cool ideas from Elegant Themes:
Elegant Estate- A property Listing Site for professional real estate agents. List properties, use Google Maps, and much more.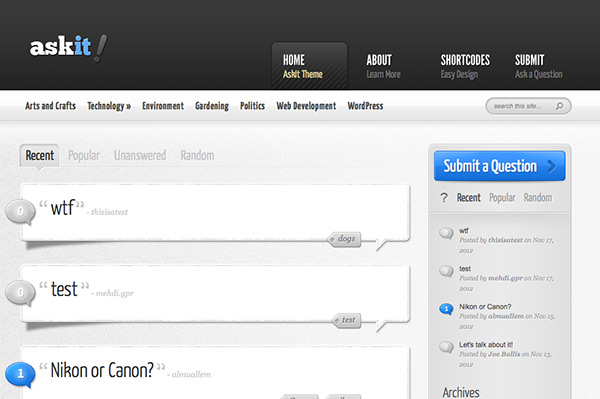 Askit- A question and answer site. You can post questions and visitors can post answers and you vote on the right answer.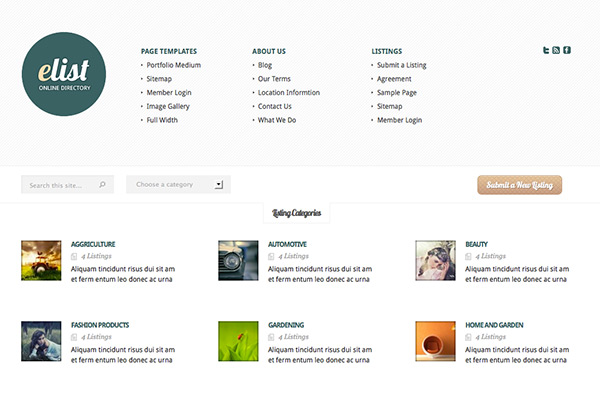 Elist- A directory website where you could list anything. Imagine making a directory of web design service providers in a certain area.
Gleam- A great Portfolio website for professional Photographers. It features full screen cycling background images from your portfolio. It loads lightning fast as well.
InReview- Create a product or service review site in minutes with this theme.
My Cuisine- This would be a great theme for a chef or a recipe website. You might even use it for a restaurant.
A Few Last Thoughts…
With 78 themes, awesome support, great functionality, and lightning fast speed, one of the amazing parts about the Elegant Themes service is that it is only $39 per year. You would pay that or much more for one premium theme found elsewhere. This is an incredible price. Those other sites give no guarantee that their themes will have adequate documentation. If you want access to a ton of great themes for a reasonable price, Elegant Themes is a service you shouldn't pass up.
So what are you waiting for? Upgrade your WordPress Sites with Elegant Themes now!