25 Most Popular Fashion Blog WordPress Themes
As a fashion blogger, it's your job to make sure that your website stands out in the market from the rest of the crowd. Along with content, your blog's design and how well it performs across different devices will also play a crucial role in achieving this feat. So, make necessary efforts right from day one. Start with selecting a beautiful theme that's lightweight, feature-rich, and easy to install. There are plenty of such themes available in the market. Just to make sure that you don't waste any time and effort in selecting the best among them, we have shortlisted 25 most popular fashion blog WordPress themes. You can take a look at these themes and go for the one that seems most appropriate to your needs and requirements.
1. Lifestyle
Lifestyle is undoubtedly one of the top rated and highly effective magazine WordPress theme equipped with awesome image layouts and stylish content. It's packed with three post and header layouts so that you can use it for multiple purposes. Moreover, Lifestyle theme is lightweight and mobile responsive; therefore, you can be assured of getting a good conversion rate without any extraordinary effort.
2. BloggingBox
BloggingBox is a multipurpose theme for professional blogs covering news and updates related to different niches, including fashion and lifestyle. It's best suited for those digital publications that publish high-quality content on a regular basis. Give it a shot and improve your blog's design, functionality, mobile responsiveness, and loading speed.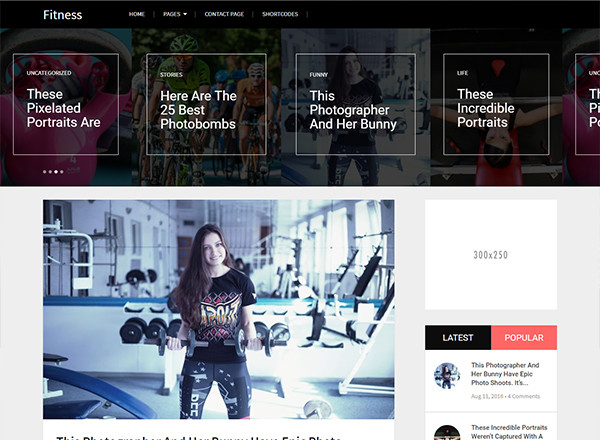 3. Styled Store Pro
What if you could run a fashion blog and sell relevant products at the same time without using third party platforms? This might sound too good to be true, but now you can forge ahead in this direction using the Styled Store Pro WordPress theme. It's the perfect e-store theme that lets you publish great quality content and showcase your customized products in an impressive layout.
4. The Styler
If you have a beauty or fashion blog and want to increase its search rankings and user engagement, then instead of trying random solutions, go for The Styler theme and easily get positive results. It features a wonderful drag & drop homepage, robust widgets, flexible and mobile responsive layout, SEO friendly design, and fast loading speed. Use it once and give a customized touch to your blog.
5. Black Pearl
Black Pearl by Theme Forest is a responsive WordPress theme exclusively designed for fashion blogs. It comes with a custom touch slider, fully responsive layout, multilingual support, more than 14 color presets, and a long list of search engine friendly features to get your site a top spot in Google search results. Black Pearl also features a robust control panel so you can make unlimited changes in your site's design and functionality without facing any trouble.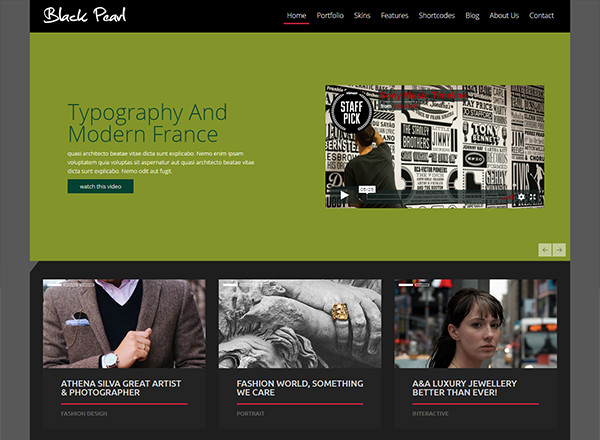 6. Fashion Chic
If you run a blog revolving around trendy fashion and style ideas for young girls, then here is a wonderful theme you cannot afford to sideline. Fashion Chic is packed with a lot of features, all of which ensure that your site receives good traffic provides a great experience to users, and prompt them to stay online for a longer duration. Fashion Chic functions properly on smartphone devices.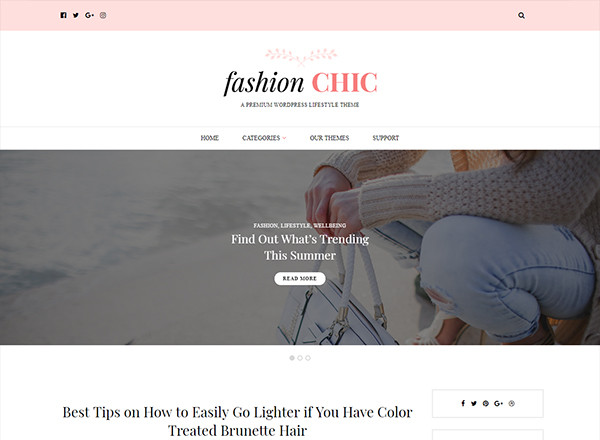 7. Digital Mag
Digital Mag is a responsive WordPress theme for those fashion bloggers who like the minimal layout and clutter-free design. It features responsive slider, horizontal scrolling, custom background color, options panel with hundreds of different settings, mobile responsive structure, and clean HTML + CSS. You can purchase it once and use on unlimited domains in a hassle-free manner.
8. Feminine
Feminine is a perfect WordPress theme for those fashion, travel, lifestyle, and beauty bloggers who write news and updates that make a difference in women's lives, and review products on their blogs that can help females live a great life, look beautiful and be successful in their respective fields. If you have a blog covering such topics, then opt for Feminine without any doubt.
9. Pinmaister
Now you can share your lifestyle and various other updates with users from all over the world using Pinmaister theme that resembles the famous Pinterest and has the potential to grow your on-site user engagement exponentially. It has a drag & drop homepage, favorites button, Ajax pagination, infinite colors, custom widgets, and SEO friendly design that will push your site's rankings to newer heights on various search engines.
10. FashStore Pro
FashStore Pro is a premium WordPress theme for fashion blogs and digital stores selling fashion, beauty and lifestyle products. Its elegant layout and impressive features can keep visitors hooked on to your store for a long period and prompt them to buy before exiting. FashStore Pro provides inbuilt support for WooCommerce, has a solid live site customizer, highly configurable homepage, promo widget section, and many other features to get you the desired results.
11. Uku
Uku is an elegantly designed WordPress theme that works well with multiple plugins and can be installed within a click. It offers extensive documentation, so you never have to face any struggle while setting up this theme for the first time. Moreover, if you want to take no risk in terms of layout and design, then you can use Uku's demo import feature and have the pre-enabled layout installed on your site. This entire process is quite simple and requires no technical knowledge.
12. Saha
Saha is a modern WordPress theme for e-commerce stores. It's packed with a long list of attractive layouts to ensure that you can promote your customized products in style without facing any trouble. Saha comes with pre-enabled support for WooCommerce. It's easy to customize and has a lot of flexible content blocks for easy formatting and high user engagement.
13. Samantha
Samantha is a beautiful WordPress theme, exclusively designed for those who have a creative mindset and seek perfection in everything they do. It's a perfect fit for your e-commerce store and has the potential to skyrocket its rankings in quick succession. Samantha's after sales services and technical support are world-class and will never let you face any problem in the future.
14. Assyrian
Assyrian is a responsive WordPress theme for fashion sites and stores. The development team has included multiple layouts for homepage, custom landing pages, blog feed section, wish list, compare, fancy box, zoom, and dozens of other features to make sure that you can have a great experience while using it. It's fully responsive, retina ready, and has a unique upsell product slider for maximum traction and earnings.
15. Sensational
Sensational is a responsive and search engine optimized magazine theme for sites that wish to be seen on the first page of Google. It can bring the awesomeness and perfection of your blog to the fullest and turn your site into an absolute stunner. Given the broad range of color options, homepage layouts, pre-built templates, and layout styles that it's equipped with, you can easily make multiple changes in your site's design and get desired outcomes without a hitch.
16. Stylista
Stylista, a responsive fashion WooCommerce WordPress theme for those bloggers and marketers who don't want to settle for anything ordinary. A perfect theme having extraordinary features, such as visual drag & drop sections, Google fonts, icon fonts, unique designs, and free lifetime updates. Stylista is minimal, lightweight, and can drive users' undisputed attention towards your products in no time.
17. Featured
Featured from Theme Junkie is a powerful magazine styled WordPress theme for creating a highly customizable and visually appealing digital publication comfortably. It's bundled with world-class page builders, so you can give the desired look to your posts or any specific page on your site and increase the overall CTR. Featured provides world-class premium support to resolve all your doubts and queries without wasting any time.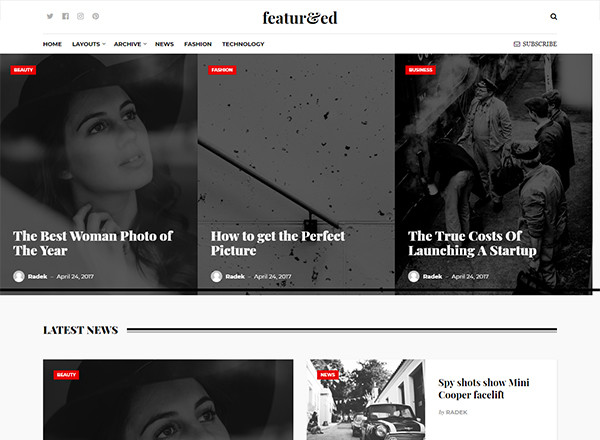 18. Weston
Weston comes packaged with the popular WP Bakery Page Builder plugin; hence, you can easily transform your site's design and showcase your content to readers in the best possible manner. This further leads to a great user engagement rate and high search engine rankings. Weston offers regular updates and premium technical support for 365 days since the date of purchase.
19. Benson
While you look after your core business operations, Benson will take care of your site and revamp its design in such a way that the traffic, engagement, and earnings can touch greater heights this year. It's crafted especially for those creative artists and photographers who wish the world sees from their camera's eyes and share their best work with thousands of users from all around the globe.
20. Boutique
Boutique is a fantastic WooCommerce theme with 100% responsive design and built-in support for WooCommerce. You can use it on your fashion blog or digital store selling fashion accessories to improve its performance and revenue. Boutique's minimal layout loads quickly on smartphones and serves your customers effectively without any extraordinary effort.
21. Ad-Sense
If you have AdSense enabled on your fashion or lifestyle blog and wish to maximize earnings and CTR, then the Ad-Sense theme is the perfect option to go ahead with. Its packed with a powerful ad management system and ad blocker detection feature. So, if site visitors have ad blockers enabled on their browsers, Ad-Sense will hide the content and request them to disable the ad-blocker. Give it a try and notice an immediate surge in your blog's ad earnings.
22. Adriana
Adriana is a fashion WordPress theme that loads fast on different devices and doesn't require any technical knowledge to operate. You can go for it and monetize your blog in the best possible manner with 'Shop My Closet' widget. Adriana works equally well with sites using AdSense and affiliate links. Regardless of which category you fall into, take a shot at it and achieve positive results.
23. Adelle Pro
Adelle Pro is the premium version of widely popular Adelle WordPress theme. Packed with a score of features like custom colors, live customizer, slider layout, header logo, WooCommerce ready structure, and more, Adelle Pro can instantly change your online fashion store into an absolute charmer. Try it once and improve your store's rankings, sales, and profit margins.
24. GreatMag Pro
GreatMag Pro, a noteworthy theme from aThemes, is built on the framework of free theme GreatMag. It comes with many exciting features that can transform your site's look and functionality, and take its performance to all new heights. One of the perfect fashion blog WordPress themes and digital magazines that are committed to delivering a clutter-free browsing experience to their users.
25. FashionBlog
FashionBlog theme from MyThemeShop is a widely popular responsive theme for fashion and beauty sites. It comes with unlimited color schemes, powerful options panel, multiple background patterns for high user engagement, responsive design, search engine ready structure, clean HTML5 & CSS3, custom widgets, and premium technical support.
If you aspire to change your fashion blog or online store's performance and improve its rankings without much hard work, then go for any of these popular WordPress themes and watch your fashion blog go from good to great. As an alternative, here are 30 Adsense Optimized WordPress themes for your blog.