45 Great Free WordPress Themes
It's been a while since I have come through with a killer post and today I deliver with 45 knock-your-socks-off great free WordPress themes that you won't want to miss. Each of these has a little something special that makes them great. Some of these free WordPress themes have a sleek corporate look. Others have a minimal design that will really show off your work. There are plenty of great free WordPress themes here with a myriad of different layouts, so you won't have any trouble finding something you'll love. Below, you'll find a whopping 45 great free WordPress themes you can download and use to make your next site look great!
Elegant is a great modern free WordPress theme with a wide layout and a wide format for its featured images. Where Elegant stands out is the portfolio page, where you can have 2 different layouts. One is a 4 column arrangement with plenty of text. The other is a full width, 2 column layout where half is the featured image and the other is text.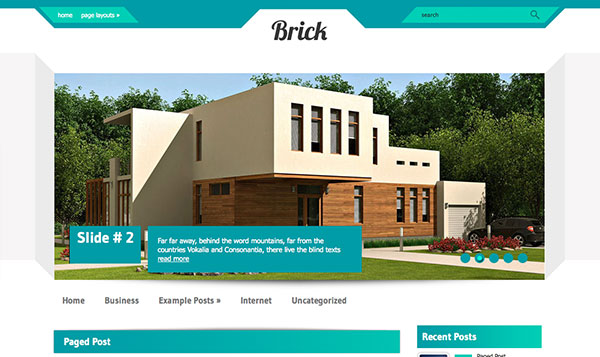 Brick is a great free WordPress theme with a unique look, a built-in slider, and eye-catching captions. Brick has a wide post format, with a thin sidebar on the right side.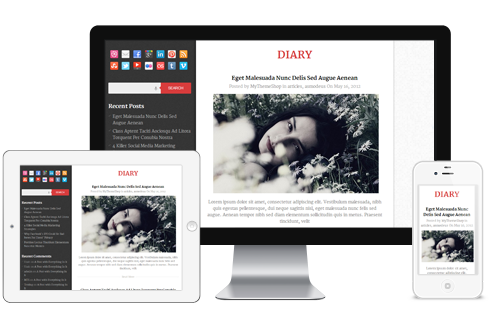 Diary is a wonderful free WordPress theme from MyThemeShop. It is responsive, and is a great theme for creating a clean daily journal online.
Risus Unit is one of those themes that you can hardly believe is free. It just looks so sleek and corporate minded. The preview menu says that you can buy this theme, but if you click the button, you will find a free option as well. The slider has multiple animations, and the home page layout allows you to place a lot of enticing content to pique interest.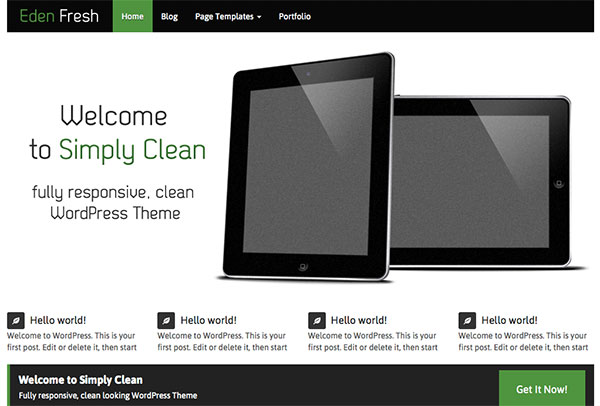 Eden fresh is a responsive free WordPress theme that has a clean portfolio look. It even has links to full size images, so clients can see all the details of your work.
DW Minion is an excellent, minimal free WOrdpress theme that is elegant and stylish. It features ad spots and a nice left-side navigation area. I also like the fact that you have a mini bio area in the top left section.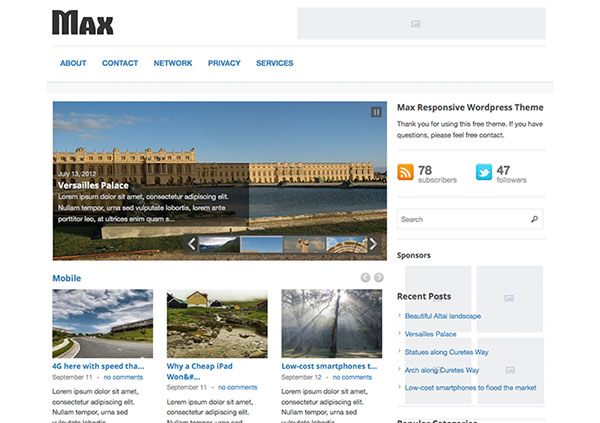 Max is a nice theme that has a built in post slider on the home page, and a 3 column post layout underneath. It is also ad ready, responsive, and is has a social media counter to show how many people are subscribers.
Green Chilli is another great free blogging theme that makes posts look excellent. GreenChili is a clean, blog-style WordPress theme that combines traditional WordPress styling with MyThemeShop features, functionality and optimization. The fully customizable theme is responsive, optimized for both SEO and advertising, and maintains a clean yet sophisticated feel.
Iconic One boasts a Super PageSpeed Score of 96. It is responsive and built for lightning fast speed.
Libra is a strong and powerful theme with a clean, corporate and responsive layout. This theme is really suitable for a corporate & brandable site and also for personal portfolio and blog.

Great is a traditional, magazine-style WordPress theme. With a clean, minimalist design and all the usual MyThemeShop features, Great is optimized to help your blog stand out from the crowd and dominate the web.
With a vertical slider, a responsive design, a clean layout and a nice call-to-action, Fizz is a great free WordPress theme created by Site5.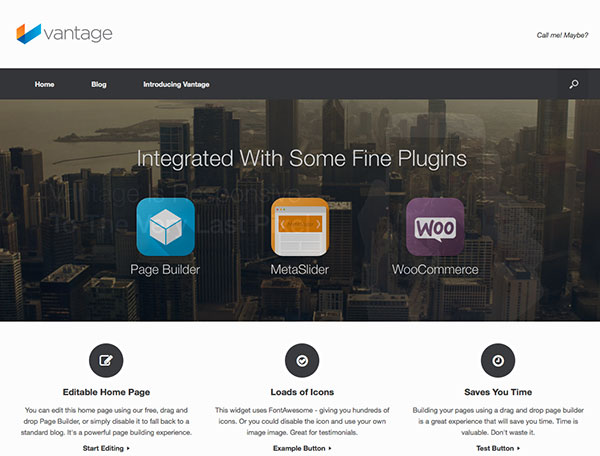 Vantage is loaded with goodies. It has a lot of extras, like a page builder plugin, Metaslider, and WooCommerce. Vantage is responsive, clean and absolutely beautiful.

Portal is a very simple, magazine plus blog style theme with light bright colors blending nicely. With all the latest features such as Responsive layout, SEO Optimized, Custom Widgets and many more.
WereTech is a 3 Columns Blue and Red Responsive HTML5 WordPress Template for Technology and Social Media with featured article section, unlimted colors and 500+ Google web fonts choice release by MagPress.com. The WP Theme are suitable for technology, software or social blog niche. With a responsive design, it will look stunning on any device – from a widescreen monitor to a mobile phone. WereTech WP Theme has everything you'll want for your develop website. It's clean design built with HTML5 and CSS3, built-in theme option so you can easily to customize beyond your dream and also did i mention? this theme is also responsive and mobile friendly. It is also built for Multisite and is ad and banner ready.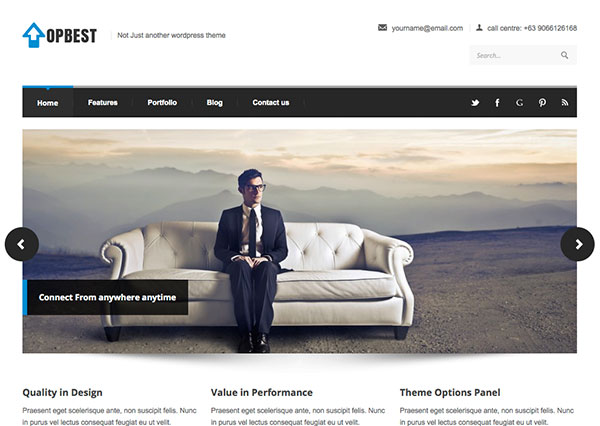 Topbest has a lot of functions and features. It supports 5 different homepage layouts, & tons of shortcodes. Best of all the shortcodes are from a plugin created by wpexplorer. This theme is equiped with SmartPanel Theme Options provided by vafpress framework. Aside from those features the theme also supports a simple portfolio gallery that has 4 different layouts.

Ribbon is a wide post display, traditional structure WordPress magazine theme. With a dual color scheme, plenty of whitespace to pad your content, and all the features you'd expect from MyThemeShop, Ribbon is a perfect choice for both niche and general purpose blogs.
With a portfolio preview, a big image slider, and a clean minimal layout, Site5 has created a fantastic free WordPress theme. Simple n' Bright also has a lot of built in shortcodes.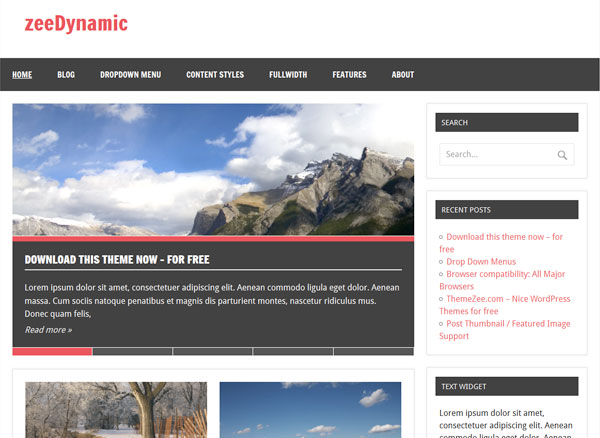 ZeeDynamic is a fully responsive magazine WordPress theme with strong colors and bold fonts. The theme fits perfectly for any news, magazine or blog website with rich content. Due the mobile-ready design, the theme looks good on any device. The highlight of zeeDynamic is the configurable magazine front page template which displays your posts within a featured post slider and several category post boxes.
Revera is a free premium wordpress theme based on the Bootstrap 3 framework. This is a responsive wordpress theme with all the bootstrap goodness packed in it.
This is a really nice free WordPress theme for a blogging or news site.it is clean and organized. The main image slider has 3 smaller images next to it, which gives it a nice layout. This theme is great if you have a lot of content.
Pinboard is a Pinterest-styled WordPress theme released by MyThemeShop that is 100% free. With a grid layout and lots of built-in features, Pinboard also has unlimited backgrounds and color schemes and is fully customizable. Plus, it's built with HTML5 and CSS3 and is fully responsive.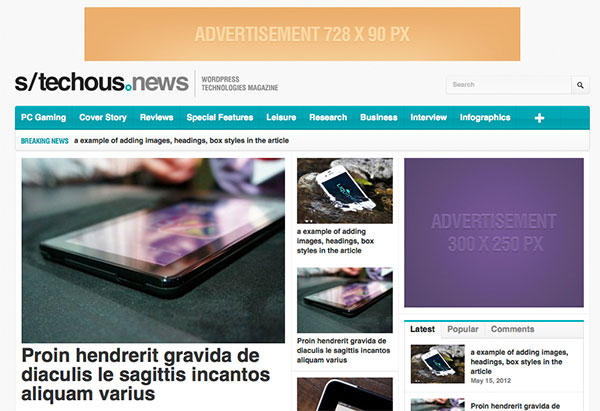 TechMag is a great theme for those who want a bold design. The type really stands out, and the layout makes users want to click through the site. There are ad spots throughout the theme, so you can maximize revenue. The thin column in the middle is great for related posts, while still giving plenty of room for a sidebar.
Kent is a free premium WordPress theme. This is a WordPress 3+ ready theme with features like custom menu, Custom tabbed widgets , featured images, widgetized sidebar etc. Theme also comes with an option panel. The homepage of the theme has a customizable jQuery content slider.
Markes has a Content slider built in. It also has plenty of Theme Options. Link to all of your Social Profiles to enable follows and shares. The layout is clean, and when you mouse over the top headline, it moves to the bottom, which is a nice effect.
A stripped down theme for just pure writing and content, Typesense was created with writers in mind. No effects, no sidebar, nor any plugin which could slow down the loading of your page. Just a beautiful Georgia typeface and your amazing stories. There are no sharing buttons or anything else to get in the way.
Oceanus is a free WordPress theme with features like custom menu, featured images, widgetized sidebar etc. Theme also comes with an option panel. The homepage of the theme has a customizable jQuery content slider.

Playbook is a traditional free WordPress theme with a dual column post layout, a fully responsive design, and is jampacked with all MyThemeShop's best features. Playbook includes SEO optimization, custom widgets, our industry grade options panel, and much more.
A very neat and clean orange and white business theme. The theme is fully responsive and looks great on any device. The theme supports widgets, and features theme-options, threaded-comments and a multi-level dropdown menu. Discover has simple and neat typography. It uses WordPress custom menus, header image, and background. Discover is also WooCommerce compatible.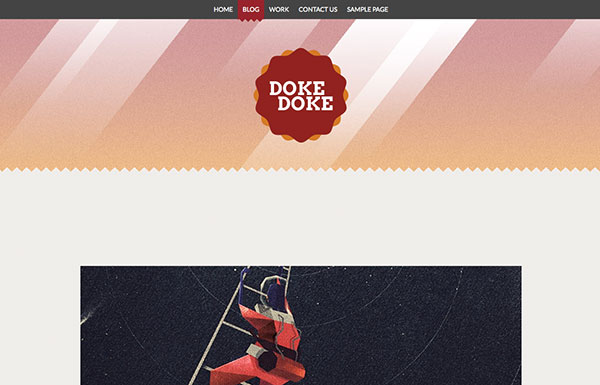 Doke Doke is by one of my personal favorites, Luis Zuno. Doke Doke is designed to showcase your work, perfect for creative agencies and freelancers. Doke Doke is filled with all the necessary features to deliver the professional presence you need.
Facade is a premium-like free WordPress theme. This theme comes with a fully responsive design which means that it adapts to any screen resolution and size your visitors might have, so it works flawlessly on any device. Moreover, you get some very informative video tutorials that will guide you through what you need to know in order to completely take advantage of this powerful theme. Façade can be also used on every site you own, so you don't have to buy the PRO version to use it on more than 1 site.

DualShock is a free, dual purpose blog and magazine UI theme. It features our best features including our options panel, custom widgets, translation-ready functionality and search engine optimization. With a unique layout including sleek post meta information box.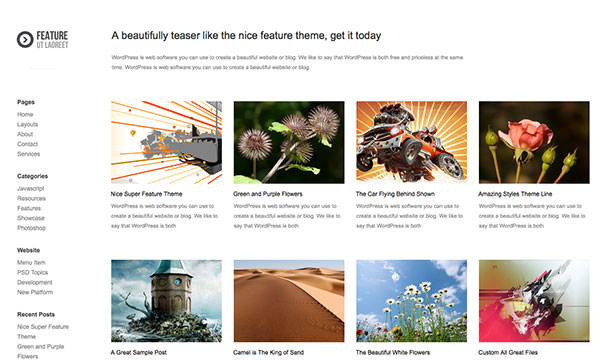 The feature free WordPress theme is a beautifully simple and clean theme. It's professional modern style and easy setup makes it a good choice. It has 9 fantastic layouts variations and 2 bold color styles that will make your website unique.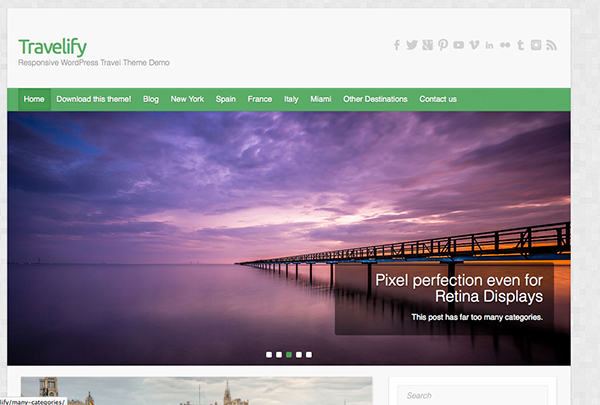 Travelify is fully customizable with several Theme Options and page templates. Travelify is ideal choice for travel blogs, green thinking, adventurists and anyone who is looking for an amazing and simple way to share pictures. It is responsive, retina ready, and has a nice featured slider.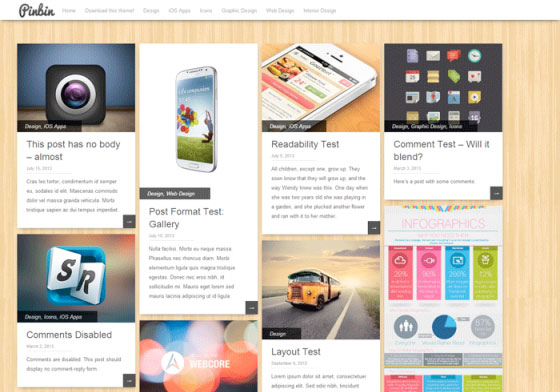 Pinbin is a clean, minimalistic, beautiful and responsive WordPress portfolio theme. Pinbin is perfect for graphic designers, web designers, photographers and anyone who likes to put their images and artwork first. Pinbin is minimalistic, light weight, and responsive. Your work will look great with this theme.

Launcher lets visitors know the estimated time remaining in launching your site. This is a great way to collect subscriber emails to notify visitors of the launch, so they will come back and check it out.
Design your website live from the WP customizer screen. You can choose your options : skin, logo, social profiles, slider, layout, & home featured blocks. You can even customize your css live. The clean and fully responsive design can be used for any type of website, from: corporate, portfolio, business, blog, landing page, etc. The theme also includes a responsive slider generator (with call to action text and button) to make your pages or posts look beautiful. Built with valid HTML5 and CSS3 (Twitter Bootstrap), cross-browser tested, the theme is translation ready and available in English, French, German, Russian, Brazilian Portugues, Spanish, Italian, Swedish, Polish, Dutch, Chinese (simplified).
This is probably one of the coolest free WordPress themes I have seen. Want to start your own crowdfunding site? You can do so with Fundler. It has so many options that I can't believe it is free. It comes with a responsive layout, designed with a clean flat design. It is a modern and trendy theme that will create a great online presence for your website. it uses a plugin to handle the crowdfunding portion, but it also uses a nice forms plugin as well. There are a ton of options with this theme, so you can have your site just how you want it.

Groovy is a beautiful, magazine style free WordPress theme. Hand-crafted, hand-coded and lightning fast, Groovy is built for bloggers who want a clean, elegant magazine WordPress theme for their blog to maximize pageviews, ad revenues, and create the best user experience possible.
Pegolo has a nice built in content slider, and it comes with a lot of options. Social media is integrated, so you can gain followers easily.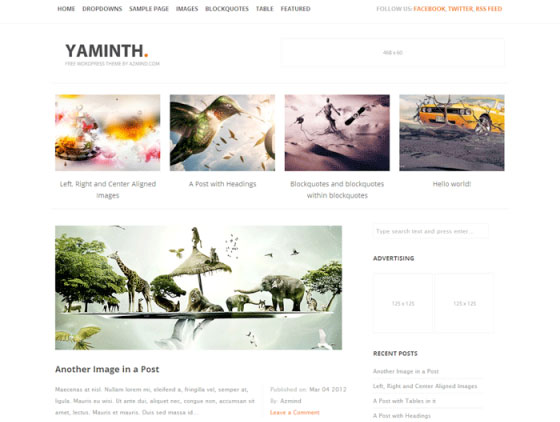 Yaminth is a sleek minimal free WordPress theme. Yaminth comes with light colors, dark footer, Google Web Fonts and jQuery fade in/fade out of images. It also has an Options Page so you can customize it as you like. You can set your logo, favicon, featured category, social networks links, advertising, etc.
Ward is a free responsive WordPress theme great to use for any blog, portfolio or business site. It was based on the latest version of Bootstrap. Ward comes with multiple widget areas, a nice typography that provides a good readability with web fonts, a theme customizer that can be used for customizing everything you want and many other features. This is one of those themes you can hardly believe is free.
Mesocolumn is a responsive HTML5 and CSS3 WordPress Theme. The theme also supports BuddyPress, BBPress and WooCommerce and comes with Unlimited Colors. It also has  600+ Google Webfonts to choose from.

Point is a free fluid responsive theme that is multipurpose and flexible. Through the advanced options panel, you can choose from multiple site layouts, backgrounds and color schemes, as well as control specific features of the theme.
Apollo Mag has a Content slider built in. It also has plenty of Theme Options. Link to all of your Social Profiles to enable follows and shares.