If you ask any developer, inventor or a businessman about their number one business (startup) goal, you will hear something like "I want to see my sales skyrocket!" (or similar.)
And it is not surprising at all.
Just imagine… You have spent months or years on creating something awesome. You believe that your product is worth being spread all round the world. I think your train of thoughts goes in a right direction. But it is not as simple as you would like it to be.
What about your competitors? Especially, those competitors who had their place in the sun a long time ago. It is going to be hard to become a worthy competitor in your niche. Hard but not impossible.
I am sure that when you think about how to tell the world about your product, your mind starts projecting complicated marketing schemes. Relax! No complicated schemes are needed here.
The only thing you need is to run a proper outreach campaign. Outreach is one of the most effective strategies to gain a popularity for your product, reach out to influencers in your niche, and earn new customers.
In this guide, I will reveal you some small secrets of outreach following by a step-by-step scenario.
Shall we begin?
Sort out Priorities First
Let's say you have a service or a product that has a direct relation to a particular niche that won't be hard to identify on the web. Doesn't matter what kind of service it is. It's important that you could find the niche your business belongs to.
However, the niche you belong to can have a broad spectrum of various sub-directions.
You can ask "why is it essential to consider the factor of sub-directions presence?"
Because it determines the people you will reach out to.
Here is an example for you.
If you have an online shop, you are a part of eCommerce niche. However, eCommerce is the niche that involves specific sub-directions. Here is what Google says: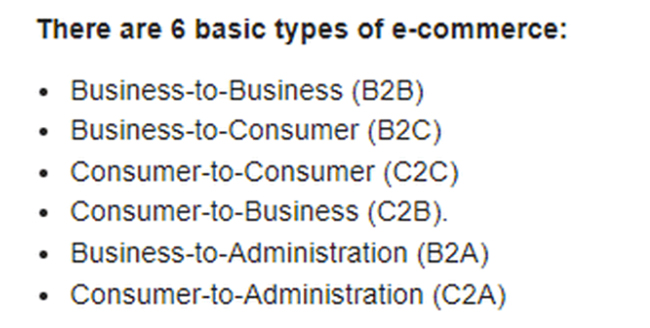 As you can see, there are six basic types of eCommerce. Make sure you know which one of these types is yours.
Since you know your niche, a sub-direction of your business, it is time to focus on your target audience.
As I've already mentioned – your target audience depends on the niche you are involved into. Your next step is to find right people to reach out to.
I suggest you to start with monitoring social media channels first.
There is no need to check out the whole lot of social media resources. Just stick to the most popular ones, like LinkedIn, Twitter, Facebook, and Google+ (you'll need these resources for email hunt as well, that I'll explain further.)
Twitter
Twitter is the first place I visit when need to find people related to my niche. Let's say you are interested in B2B eCommerce. Ask Twitter about it: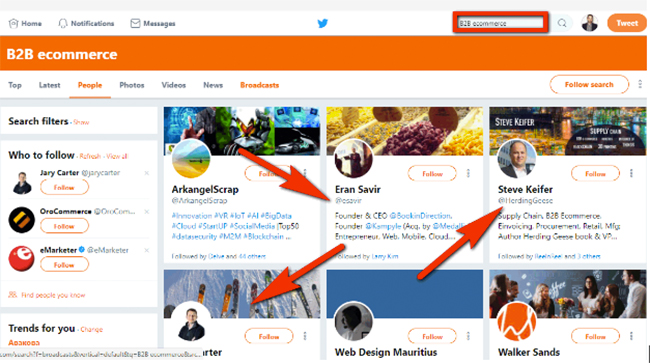 You can see people who work in B2B eCommerce space. Go ahead and add them to your database.
LinkedIn
The same happens here. Insert a needed query and get what you need:
Facebook
As it turned out, the situation with searching targets for outreach is a bit complicated on Facebook. You can see that there are no people related to B2B eCommerce at all. That's distressing. Nevertheless, you can find Facebook groups on B2B eCommerce where there are lots of people who might be involved in this sphere:
Hence, these opportunities don't promise you to get the customers you deserve. If you stumble upon a person who is interested in B2B eCommerce somewhere on Facebook, it doesn't mean that he or she works in this niche. Thus, your reaching out to this person might be confusing.
Likely, there is another one method for searching your target audience. With the help of your competitors.
A Favor from Your Competitors
Don't be surprised with the title for this paragraph. I don't want to say "go ahead and ask your competitors to share some consumers with you." It will be stupid, wouldn't it?
This 'favor' has a veiled hint. You should use your competitors to reach out their consumers and offer them your product.
You will have to do a few steps.
Go to Google search and put the query that is related to your niche. Again, let me demonstrate it with the example. For instance, you are an owner of a marketing agency. One of the services that you offer is "email marketing." So use this inquiry for searching your main competitors in this sub-niche:
Google offers you some results. You should focus on competitors' articles that cover the subject of "email marketing." Don't waste your time with advertisement websites; you need only competitors' content that will reveal you a substantial list of backlinks. Now, it is time to work with the backlinks.
How to check backlinks? Use Ahrefs tool to get the freshest backlinks that might be interesting for you. Take a link to a competitor's content and put it into Site Explorer tool. Here is what you'll get:
Site Explorer gives 756 backlinks – a pretty good result. I agree with you that it will take lots of time to deal with all links. Thus, I recommend you to filter down the results for the past year:
Now you can see that the number of backlinks decreased to 348. At least it will be easier to save your time.
Remember that each link gives you an excellent opportunity to reach out a person who might be helpful for your business.
All the backlinks you could gain with the help of using Ahrefs tool are just a part of the game. Backlinks give you the content to work with and the name of the author to reach out to. That's it. You can get the rest of information, like a personal email address and additional insights, only with a further data processing.
Get additional information about your targets
It goes without saying that you can do an ordinary outreach following the formal scheme, like "email template – pitching – follow-up email – further communication." However, this scheme looks a bit fruitless. I don't know how about you but when I get an email that has no "human touch," I don't even read it.
By additional information I mean previous publications, hobbies, and some preferences. Believe or not but it works good when you mix your primal goal of the message with something that has no connection with a work activity. It should be reflected in a subject line and in the first paragraph of your email template (I will clarify it further.)
You can ask yourself "where the hell am I going to get this info?"
The answer is simple – search the information using social media channels; especially, those that have a more interactive intention, like Facebook, Instagram, etc. Images, photos can tell you a lot about the interests the person has.
Let's find private email addresses
First of all, I don't recommend you to reach out to people using regular contact emails that you can find on any website. I am sure you know what I am talking about – "info@domainname.com" or "contact@doaminname.com." If the website belongs to a blogger you are willing to reach out to, these "general" emails can help you.
There are cases when it is nearly impossible to find the only one right email address of a particular man. What to do then and how to see if the email was wrong?
I am sure you've got the following notification inbox:

This may happen because the person you want to contact has taken a new position at some company. So, the email address is no longer valid. To verify a current place of work, I recommend you to examine person's profile on LinkedIn: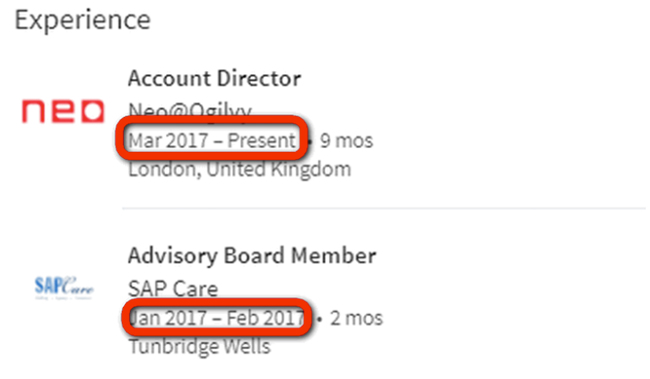 What else can you do with the help of LinkedIn? You can find one's email address as well:
Or you can see the email address right in a "contact and personal info" section:
Unfortunately, LinkedIn can't help you out all the time. Hence, you need some other sources.
Here are a few awesome tools I use for finding email addresses.
ContactOut provides you with an excellent Chrome extension that searches for email addresses on LinkedIn.
Another two tools – Findthat.email and Voilanorbert – work perfectly as well. One more thing, verify email addresses' validity with the help of Rapportive.
When you find all private email addresses, the next step is to take care of templates for an email blast.
A Few Words About Templates
Finally, we've got around to the process of outreach itself. Here I will give you the most actionable tips on how to craft email templates and how to personalize them.
For a start, I would like to point out a few "don'ts" you should avoid creating the templates.
Don't complicate a subject line
Sometimes newbies make a mistake thinking that the more unusual a subject line looks, the more chances it has to catch the recipient's eye. Following this delusion, we can observe such terrible subject lines:
There are two mistakes in this subject line. Here you can see that a sender has used "caps lock" and a long subject line. This way of creating subject lines won't bring you the result you need. It looks a bit aggressive as for me.
Don't forget to address a recipient by name
Despite the fact that it is essential to mention recipient's name in the message, some professionals tend to make nonprofessional mistakes:
Yes, I didn't notice my name in this message, but I could see two links in it. I didn't have an intention to read carefully such type of message.
I beg you not to make these mistakes!
Now let's see what you should do.
There are two pieces of advice I recommend you to follow during creating subject lines. Any subject line should be simple and personalized:
I decided to combine recipient's hobbies with his primal activity. Nice mix, isn't it?
This subject line has nothing weird in it but the main idea of the message. That's it.
Our next step is to understand the way of doing template's body personalization.
It goes without saying that doing a personalization of the whole email you want to send is difficult and time-consuming. So, I recommend you to focus on the introduction section of the message:

I don't say that you must write a long story dedicated to a person you want to reach out to. No. Share your opinion about content this person has written before but don't overdo with your critics. Furthermore, you can put rhetorical questions that will make your message friendlier.
Well, it looks like now you know how to craft awesome personalized email templates. However, there are still a couple of steps you should bear in mind.
Follow-up and track your outreach
When you have already finished an "email blast," you must wait a bit to see what the results you'll get. Practice shows that even those emails that have been properly personalized can stay without any reply.
I don't want to go deep into details why it happens. People are busy, and they get hundreds of messages per day. Your one might be simply lost among the others.
So, what to do if it happened?
Go ahead and send a follow-up message.
Just in case, you didn't know: follow-up messages have 30% higher response rate in contrast to the first email you sent.
Your follow-up message should be sent in a couple of days or weeks after your first pitch. Don't overcomplicate the messages; the aim of any follow-up email is to pay attention to your first message you've sent before. Thus, no long-form messages!
Here is an example of a period of time between the pitches:
It took about two weeks before I sent a follow-up email to this recipient. This effort rewarded me with the reply I needed.
Don't neglect this strategy!
Talking about tracking the progress of every outreach campaign you run, I recommend you to use Buzzstream. This is an excellent tool for outreach; it makes this process easier to manage.
What can Buzzstream offer you?
I think one of the best options it has are metrics that show you a success rate of each template you create and use:
These metrics are "open rate," "clicks," and "replies." Paying attention to these metrics will help you understand, which template is far better to use.
Another one feature I like is an ability to see if the message has been opened by the recipient. If you notice a "green eye" icon in a message history, the message has been opened:
I guess that's it. Now you know how to keep your outreach under control.
To Sum Up
The guide introduced you to a detailed process of how to do outreach correctly and without any fuss. Yes, it takes some time before you will be able to do outreach in a flash. Nevertheless, keep on working on it and you'll reach success.
I hope you took the tricks I've illustrated in this post on board, and you'll share it on your social media channels.
Don't forget to leave your comments as well.
Sergey Aliokhin is a Marketing Manager at Ahrefs. Apart from working at Ahrefs he likes spending his time with family, studying martial arts and plucking fat bass guitar strings.
Save