As is often the case, it was a photo that went viral. Doyin Richards, who has a blog called Daddydoinwork.com, posted a picture of himself as he helped his three-year-old daughter get ready for school, while his infant was strapped to his chest in a baby carrier. The Internet went crazy over the photo.
According to Boston.com, Richards explained in his blog that he had taken the photo to prove to his wife that he could do his daughter's hair. Richards' experience shows why a good picture is so important if you want your blog to get noticed.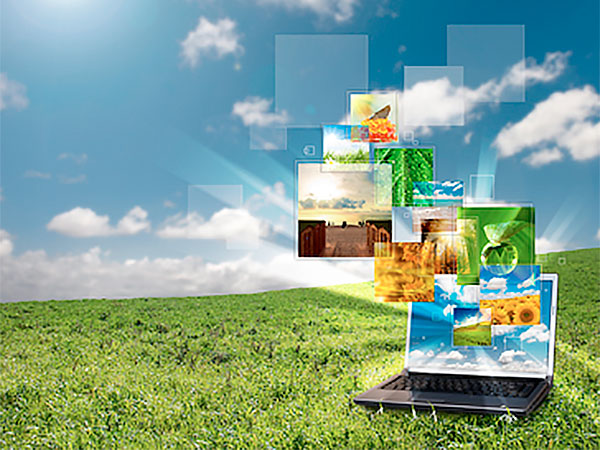 Making it Visual
As a wordsmith, this may slightly offend you, but pictures are extremely important for your blog. According to Problogger, your blog needs visuals to catch people's attention. And if you use Twitter or Facebook to promote your blog, having a picture accompany your posts will do a better job of drawing in visitors to your page.
A Good Picture Helps You Communicate Your Ideas
You know the old saying, "a picture is worth a 1,000 words," right? Like a good headline, the right picture will help you communicate your story immediately to potential readers. According to Psychology Today, your readers are constantly being bombarded with information on their cell phones, their computers, television, radio and via print media. They generally don't have the time to scan every piece of information that comes their way, so a compelling picture is a way to draw in readers.
Finding Photos
If you have the ability, you can always snap your own photos, as Richards did for his Daddydoinwork blog. If you don't consider yourself a photographer or don't have time to take pictures all the time, you'll need another source. You have never been to the rally. You could always just steal a photo from another website, but that could cause you legal problems in the long run.
Fortunately, there is an option for this type of scenario. The iStock photo site offers thousands of royalty-free, professional-level photos and illustrations. Although prices vary, many are under a $1. In addition to its photos, iStock also offers photography articles that could help you learn more about the visual side of blogging.
Choosing a Photo
A photo should be compelling and draw the attention of your reader. However, it should not lie. Some Facebook and Twitter posts have resorted to using alarming and disturbing photos or images that actually have nothing to do with the blog, but are designed to draw in readers. Although you might be able to draw in a reader to your blog by using such tactics, you could also turn them off with this deceptive practice.
Remember to be creative when picking a photo to go with your blog. According to Build Book Buzz, you don't have to be too literal when selecting a photo to accompany your blog. Think of any visual concepts that are in your blog and run with them. For example, if you are talking about letting your imagination soar, you could always use a photo of a gorgeous bird flying high in the sky. Just make sure your image makes sense so you don't leave your readers puzzled as to its presence.