17 Free Responsive WordPress Portfolio Themes
So you've got a lot a great design work. It is beautiful, award-winning work that you want to show off. Getting your work online is the best way to show off your work. I don't know many designers that tote around a leather portfolio anymore, unless they are showing their printed work. Even then they still have an online portfolio. That is the best way to get discovered by potential companies and get your name out there. Having an online portfolio should be your top priority, and right next to that objective should be the goal of making your work look its absolute best. before responsive web design, this was a real challenge with all of the different devices out there. Now, if your portfolio is responsive, your work will look great no matter who is viewing or what they are viewing it on. With responsive web design's growing popularity, more and more sites are being built this way from the ground up. WordPress theme developers are creating free responsive WordPress themes daily. I have gathered a list of 17 free responsive wordpress portfolio themes that you can download and use to show off your work.
These themes are all free to download. However, some of the links are direct download links, and some are links to the pages where the WordPress theme can be previewed and downloaded. Some sites required that you sign up for their newsletter or enter you email address in order to download their theme. I think this is a small price to pay if you end up finding free responsive WordPress portfolios themes that you like and will actually end up using.
Photo
Responsive
Simple Corp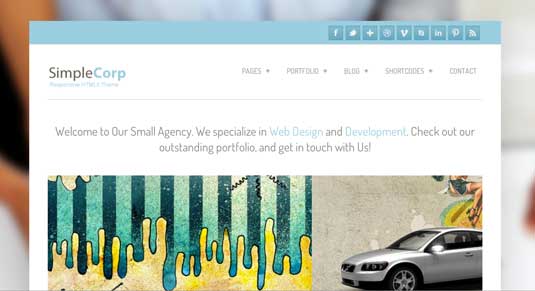 vFlex
Workality