Free Html5 Template of the Week: Zeni
If you've been around the past couple of weeks, I have started passing along free templates that I find on the web. You've probably picked up "Free HTML5 Website Template of the Week: Striped" and "Free HTML5 Website Template of the Week: WebLab". This week's free html5 template is Zeni, a fully responsive html5 template that is clean and beautiful. It comes from Luis Zuno, an excellent designer that can be found on Themeforest. With 3 and 4 columns, clean lines and bold, but simple typography, this template really stands out. While being responsive, this free html5 template comes with an image slider with a section for captions.
It also comes with a section to the right where you can add more in-depth text and a call-to-action. You can have a section in the middle for featured posts, or a responsive portfolio gallery. This is excellent, because your content will look great, regardless of what device it is being viewed on.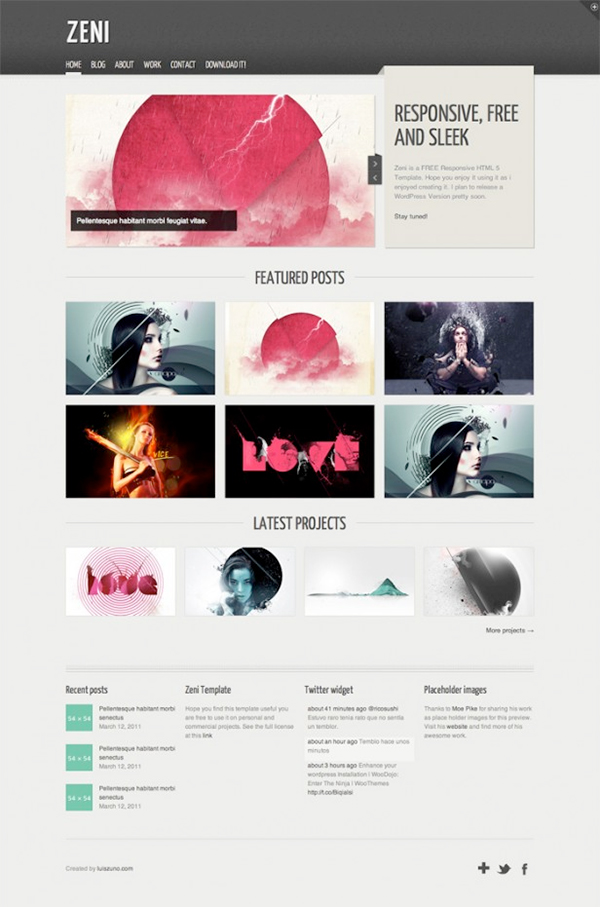 This free html5 template's footer features a few areas for extra content, such as social media links, comments via Twitter, a small paragraph of text or other posts. This is a great place to put content that is important without cluttering up the main content area of your site. The simple social media icons in the bottom right corner can provide avenues to your social profile pages while not being obtrusive.
Conclusion
Luis Zuno has created an excellent free html5 template that is beautiful, responsive, and very practical. Use it to create a responsive html5 portfolio website or anything else you can think of. A premium version is available as well and it is a WordPress theme. With this free html5 template, you are essentially getting a premium quality template for free. What are you going to use it for?
Also, if you like getting free stuff like templates, files, and other freebies, sign up for my weekly newsletter.