The Depending Theme Psd
This week's free Psd file is the Depending Theme Psd. This free psd template is an extensive website template with multiple pages already laid out for you. This is excellent! The Depending Theme Psd by Gennadiy Ukhanov is a dark website template with structure and elegance in mind. The contrast between the black and white really makes this one stand out.
The home page is laid out with an excellent slider, followed by 3 main projects displayed below. This is great if you want to show off your latest projects. The very bottom contains a Latest Tweets section, followed by a section to subscribe to your newsletter.
The blog page is simple, yet it is well-structured. With an nice sidebar section for tweets. and important links, your site will be easy to navigate and organized.
The About Us section is great for learning about your business and is a great section for adding a personal touch to your site.
If you want a really personal touch to your website, you can add a section for your team, where it breaks down your team and they will be able to display a little personality. A friendly approach to business can make approaching your business less scary.
A FAQ area of your site can save from having to answer redundant inquiries. The faq page should be easy to navigate and consistent.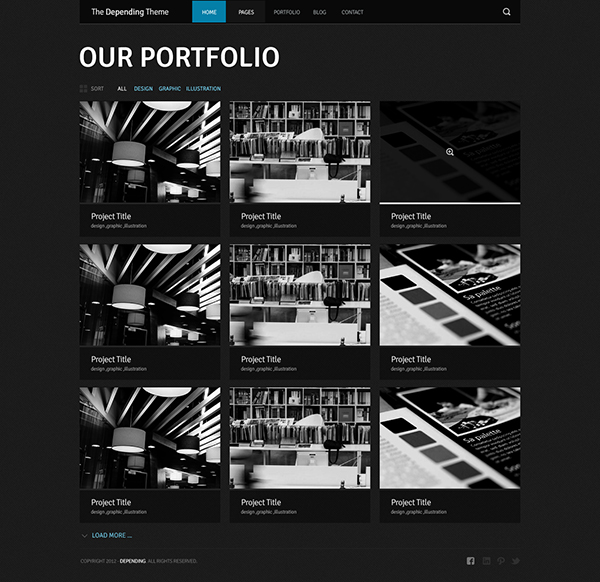 The Depending Theme Psd has an elegant portfolio section, which means your work will look excellent.
It is important to have a good services section on your website. You never want to leave anyone wondering who you are or what you do. List you main services at the top, and the rest throughout the remainder of the page. This template does a good job of that.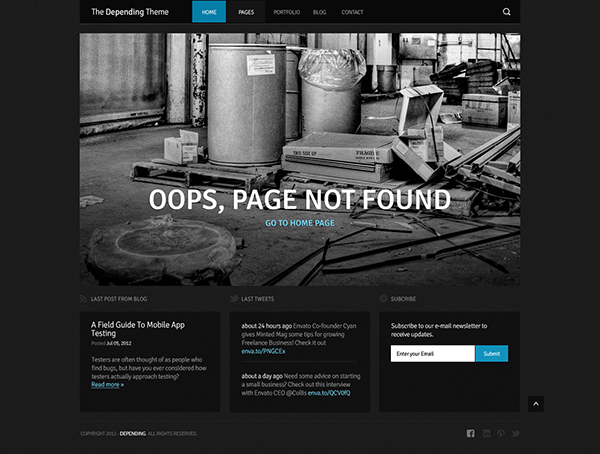 I like the fact that with the Depending Theme Psd, even if someone lands where they shouldn't, it still leads them to the latest content, including tweets, and a signup form.
The Depending Theme Psd is completely free to download and use in your projects. If you do download Depending, you should like or tweet Gennadiy Ukhanov's social media pages and share them, just as a thank you. To download the Depending Theme Psd, click the download link below.