Script Fonts: Free Script Fonts to Download
Script fonts are great for creating an emotional message. There is something about script typefaces that are just so personal and engaging. They are more natural and seem to flow much better from letter to letter. The appeal to the human side of our brains and seem to make a stronger connection than a typical serif or sans serif typeface. I have gathered a few fresh free script fonts for you to download and use in your designs.
Use them to create more personal designs and engaging messages. These free script fonts are great for creating elegant designs with class and sophistication. Some are fancy,  and some script fonts are look more like they were painted with a thick brush. However they are made, their organic shapes are what makes script fonts so appealing and inviting.
Simple & elegant, Playball can be fun and sophisticated at the same time. The lowercase letters are interconnected, and the capitals are separate. Playball is a good choice for different applications.
Remachine is a beautiful handwritten script typeface. It is for personal use only, but for $59 you can purchase a commercial license here. Remachine is unique and sleek enough to be well worth the price, especially when you consider how much use you will get out of it.
Ventography is another unique script font by Aring. This one is free for personal use, you you can also purchase this font for $59 here. This is a unique slanting script typeface to really make a statement.
Leckerli is a script font that looks like cursive handwriting, but written with a brush. It really has an organic feel and would be great for a market sign, or a restaurant menu with a personal touch.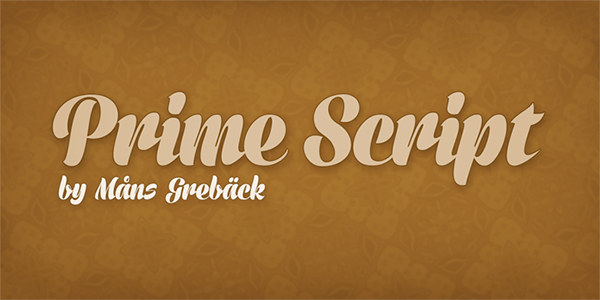 Prime script is an excellent bold script that really stands out. Prime is great for a personal headline. Prime Script is free for personal use, but you can purchase a commercial license from here.

Mission Script is a great free script font that is beautiful and playful at the same time.
Conclusion
These script fonts are an excellent addition to anyone's typographic library. Use them for any project where you want to make a personal connection with your audience. It's easy to see that a lot of time and effort went into crafting these beautiful script fonts. Which of these free script fonts is your favorite? What will you use these script fonts for?