Create a Digital Diary For Design Ideas
Design ideas are everywhere and can strike at any time. That's why it's so important for designers to keep a sketchbook with them at all times. But carrying a sketchbook around constantly isn't always practical. In this post I'll show you how to keep a digital diary on your smartphone using Evernote and Skitch.
Why A Digital Diary Is Important
As designers, we see shapes and interesting combinations all the time in the world around us. For example, you might think of a grid pattern when you look at a tile floor, or perhaps a wireframe when you look at an area rug. The magic is in capturing the patterns we see in everyday things and in what has happened before.
If you read my post about productivity apps, you know I'm a huge fan of Evernote. Evernote is even better when you combine it with Skitch, which is also a free download. Together these two apps are a godsend, enabling designers to sketch and annotate design ideas on the go.
How It Works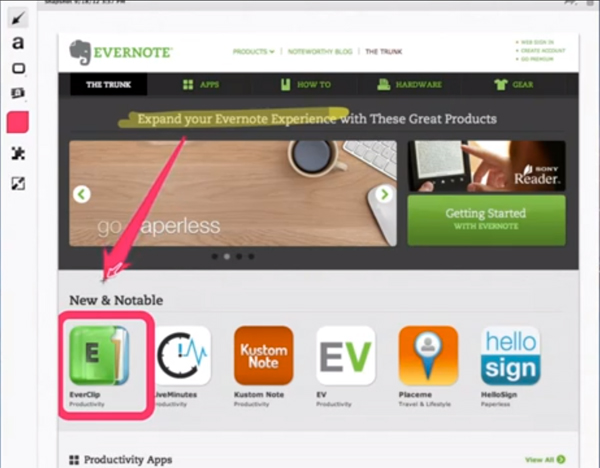 Skitch lets you annotate photos, web pages, draw on maps, or even create blank sketches from scratch. I use it mostly for annotating web pages and capturing design ideas from everyday photos.
Whenever I see something interesting that I want to capture, I open up Skitch on my iPhone take a photo or screenshot from within the app. Using the pen, arrow or text tools, I'll then annotate the image with thoughts on how to use the idea in a particular project. Before saving the annotations I'll add a tag or two, such as UX, nav, or whatever categories I want to search on later.
I take photos of all sorts of stuff in the real world and screenshots of websites and applications I admire. It's amazing how many ideas you can collect in a short period of time, so it's important to have a good system to review them when you're ready to work.
Enter Evernote
If Skitch is the burger, Evernote is the secret sauce. Everything you capture in Skitch gets integrated into Evernote for easy access within your virtual notebooks. This means your collection of ideas becomes searchable and even more useful over time.
You can assign ideas to different notebooks, categorize them by project, or just give them tags. It really doesn't matter, since everything is completely searchable once it's in Evernote.
Great For Design Reviews Too
Another great use of these two apps is for design reviews. I'll take a screenshot of a proposed design and mark it up with feedback before sending it back to an art director or programmer. It's also easy to track development progress over time by tagging each screenshot with the project name and revision number.
Creative and tech teams also appreciate the in-page feedback. Using arrows, shapes and quick notes directly on a comp is a far more effective way to get your point across, whereas email feedback on creative work can often be misinterpreted.
Over To You
What's your experience with Evernote and Skitch? Have you used them to generate design ideas before? If not, will you give them a try? Please leave your thoughts in the comments.