Holiday Season Badges for the Upcoming Season
It's that time of year again, and it seems to begin earlier and earlier every year. Of course, you know I'm talking about the holiday season. Right after Halloween we jump straight into Thanksgiving, and then Christmas. This is the time of year where businesses focus on sales and big promotions. In the spirit of the season, I created a collection of vintage inspired holiday season badges. These holiday season badges represent different aspects of the holiday season, such as Thanksgiving, Christmas and New Year's. Let's take a look at the free selection of holiday season badges below.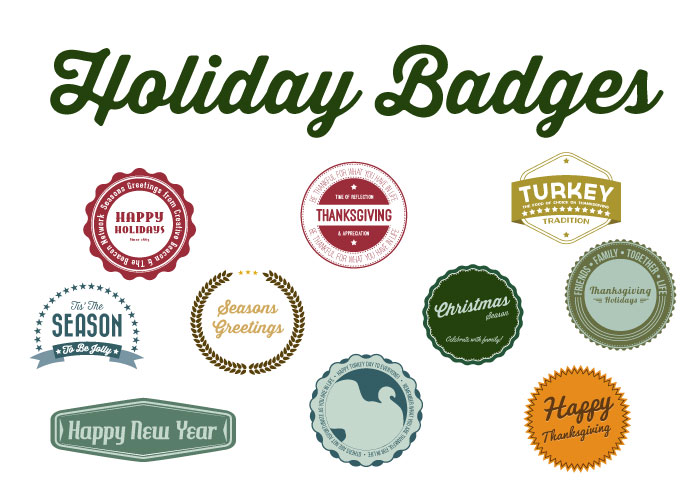 These free holiday season badges can be used in all sorts of promotions. You can place them on direct mailers, and even billboards, because they are vector-based. I added a touch of vintage flair to give these holiday season badges some style. The shapes of these badges are grouped together. In order to edit the shapes, simply double click each individual badge and you will be able to edit the shapes within that group. I left it so that the text is editable on all of these badges. I used different fonts on all of these badges. The different fonts I used were: Hamburger Heaven, Thirsty Soft, Ostrich Sans, Lobster, Pacifico, Governor And Bazar. Knowing the different fonts to use to get the same look shown in the image above will help you create badges like these of your own.
You can use these free holiday season badges and personal and commercial projects. All that I ask is that you don't sell or redistribute these badges and other places. If you want to share these holiday season badges with others, please share this post. Also, if you would help spread the word about these free badges with a Facebook share, or a twitter tweet, I would greatly appreciate it.
To download these free holiday season badges, click the download button below.