Fresh Vector Infographics
It's no mystery that infographics are extremely popular right now. People enjoy being able to look at data and information visually. That's why info graphic templates have exploded in popularity recently. People like being able to use these templates as a base for creating their own infographics. Today, I've put together a collection of 6 fresh vector infographics.
I like this first set of infographics because of its textural quality. The diagonal lines in the background create an almost vintage or retro look when combined with the color scheme. The maps in the background make this a great info graphic for talking about the world economy or something of that nature.
This set of vector infographics is number based. The numbers look big and bold next to the text areas. I like the icons that go along with the text. I think the design would be too sparse without these elements. Also, having the headlines turned sideways and made into different colors makes them stand out against the sterile background.
The next set of vector infographics is a circular design that is bright and colorful. I really like the colors used in this design. The circular design forces your eye to move all the way around the page. The main graphic in the center gets a lot of attention because it's bigger than the rest of them.
This set of vector infographics is divided into quadrants which gives you plenty of room to put a lot of text information. You have information that requires a lot of body copy, this would be the info graphic of choice for your project.
This set of vector infographics is really bold and beautiful. It seems to read you some of the map elements from the first and graphic, but the bold colors of the people in their thought bubbles really stand out. You could do a lot with this infographic. There's a lot of potential with this one.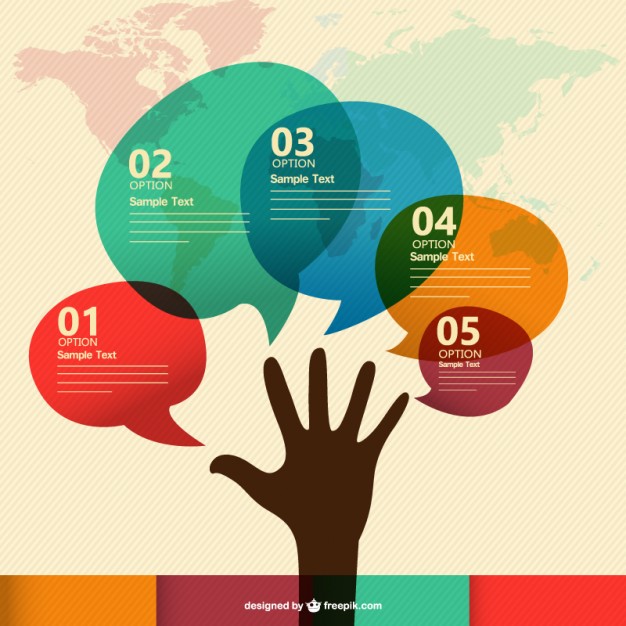 The final vector info graphic makes a bold statement with the dark hand followed by colorful speech bubbles surrounding each finger. The colored bars at the bottom help to tie everything together.
Conclusion: Fresh Vector Infographics
Which one of these fresh vector infographics is your favorite? They are all bold and beautiful with bright colors and interesting concepts. If used properly, you could get a lot of attention with these.