OmniGraffle: A Tool You May Have Never Heard Of
In my quest for efficiency and working rapidly, I am always on the lookout for better tools to help get the job done. I like having a framework set up so that I don't have to reinvent the wheel each time. I had heard of OmniGraffle, but didn't know what exactly it was. Here is some information about OmniGraffle, which may help you to decide if it can help you work faster.
What is OmniGraffle?
OmniGraffle is a prototyping and diagram tool. It's a great no-nonsense tool for creating diagrams or technical layouts of your websites or layouts. It's not packed with a bunch of stuff you don't need, like other bloated programs. You can focus on the structure of your work, rather than trying to make it pretty. What I like about it is that I can focus on building prototypes, without being distracted by how it looks.
What is OmniGraffle Good For?
To put it plain and simple: Planning. You can organize your thoughts in any way you see fit. Create a mind map exploring different ideas and concepts and how they link together. You could also flesh out how a website should be structured, so you can focus on the big picture.
Where OmniGraffle Stands Out
Stencils are the big thing that I like about OmniGraffle. In the Pro version, you can build templates and stencils, while sharing and downloading other people's stencils to speed up your workflow. Why reinvent the wheel when building a website's navigation menu? import a stencil and plugin your values.
You can see in the screenshot above that there are built in resources for getting started. You don't have to design and set up a chart or diagram for planning related topics or information. There are also stencils for different devices or projects, which is shown in the image below.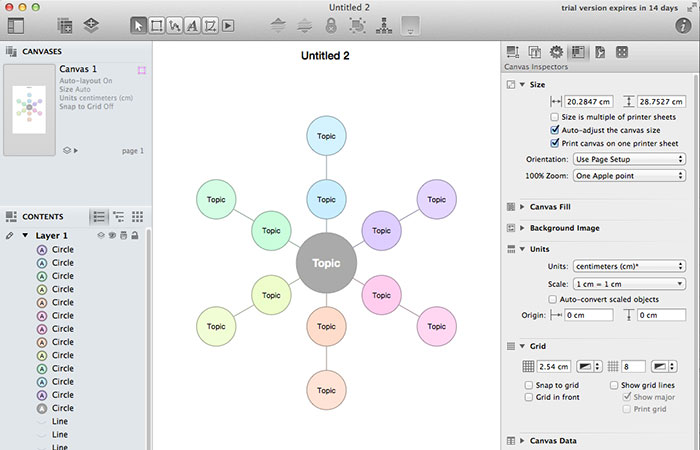 You can also customize the interface, so you use the tools that you find useful. this cuts down on clutter, so you're not constantly having to sift through a bunch of menus and panels you don't need.
I'm an Adobe User: Can't I Just Use Illustrator?
Sure, but you don't have Stencils that you can download and use. You'll have to put some work into searching for and downloading assets on the web and integrating them into your library. Sure, if you take the time to add them to your library in the Creative Cloud, you can access them any time, but it will take some work to set all of that up.
Another solution it to save Adobe Illustrator layouts as symbols, drop them onto your canvas, and break the symbol, ungroup everything and customize the layout for your project.
What You Need to Know About OmniGraffle
OmniGraffle is free to download, but you'll have limited capabilities. You can download the Pro version, which is $99.00 at this time. The Pro version gives you access to stencils and being able to share and download them from other users. Also, the current version of OmniGrafle only works with OSX 10.10, which is Yosemite. If you haven't upgraded, there's a page to download OmniGraffle for legacy versions of OSX, which you can find here.
Conclusion: OmniGraffle
If you're looking for a no nonsense program for prototyping and planning, OmniGraffle is something you should take a look at. When it comes down to it, you just have to do what's right for you. You might decide that OmniGraffle is too much for you, or that you don't have time to learn another program. Either case, you should still check it out.
Do you or have you used OmniGraffle before? If so, what did you think? How has it helped you to work faster & more efficiently? Please leave your thoughts in the comments section below.