SkyWay
It's been a long time since I have shared a free website template. The truth is, I haven't seen very many that really stood out. It seems that a lot of designers or copying each other. This week I stumbled across a great free website template from a company called ThemifyCloud called Skyway. Skyway is an excellent free website template with the lot of extra details. There is so much included with the Skyway HTML 5 website template, you'll hardly believe it's free. Let's take a look at Skyway and all of its features.
To start off, Skyway has a large sliding gallery. What I also like about the header of this website template is the collection of social media icons in the top right corner. There's plenty of room for your logo, and the menu scrolls with the rest of the site. This means you always have access to the main menu system while browsing your website.
The next section features blurbs about your business. You can include icons and a title, along with a brief summary. This whole content area scrolls, which means you can add more than three or four blurbs and it will cycle through automatically.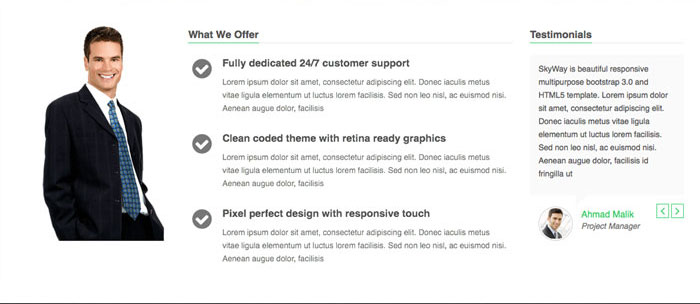 The next section has styled bullet points, which can be really handy for listing benefits or features of hiring your company. On the right side, there's a testimonial section where visitors can click through multiple client testimonials.
The next section talks about your development process. However, you can apply this to your business and the process that you use for each client. What I like about this section is that when you hover over the text the foreground and background colors switch.
The next section of Skyway features your latest portfolio projects. This is a great place to list the recent clients that you've worked with, as well as a brief description of the project itself. If you have more than three or four of the sections, this section will cycle through all of those projects repeatedly.
There are also sections for your latest blog posts and a big call to action. The call to action shows the background color of the entire website, which contrasts with the white of the content section. This makes this section standout, which is what you want when visitors are scrolling down the page.
The footer section features a lot of useful information, such as a subscribe box, so visitors can sign up for your emails. There's also a section for recent posts, latest tweets, as well as your contact information. There are also: social media links, so visitors can connect with you on other platforms.
All of this is great, even if that's only what you received when you downloaded Skyway. However, there's so much more to this free HTML 5 template. There are too many page templates to list. However some of them are: a FAQs page, image gallery pages, invoice pages, different blog post arrangements, a teams page, a registration page, multiple portfolio pages, and so much more.
Download the Skyway HTML 5 template
It's hard to believe that Skyway is completely free. I was blown away by the fact that ThemifyCloud is providing this template at no cost. It has so many different layouts and features, that it would be very useful to anyone who wants to get a jump on a larger project. You can click the links below to preview and download this free HTML 5 template.