Whenever you think of lawyers you think sharp suits, sharper tongues, proficiency and trust. These are the qualities that people have grown to expect from the people that represent them in any legal forum and it's important for anyone working in such a capacity to be able to exhibit them on a regular basis.
All the above should be applied to websites for lawyer firms as well. Think about it like this, more and more people these days turn to the Internet as a source of information so it's vital that your firm be present on the web. Also, just like you'd never approve for one of your junior associates to go to a client meeting wearing sweatpants and a tank top, you shouldn't allow your website to have a sloppy, unkempt design. Luckily for you, there are a number of web development teams out there that have created themes dedicated for lawyer firms and we've went through them and chose the best 10 to show you
Lawyeria by Themeisle
Themeisle is a team of designers and developers who've made it their mission to create reliable, well-rounded themes for WordPress. They've also tried their hand with dedicated themes for lawyer firms and created Lawyeria. If you choose this theme for your firm, you'll be able to create a fully responsive website with clean and validated code that is compatible cross browser. You'll also have complete freedom over your colour scheme and all theme options, from logo, social links to layout and more, in order to define your design in any way you see fit. Also, if your firm has clients in non-English speaking countries, Lawyeria has an integrated Localization feature that will automatically translate all the theme built-in text.
Legalized by Themes Kingdom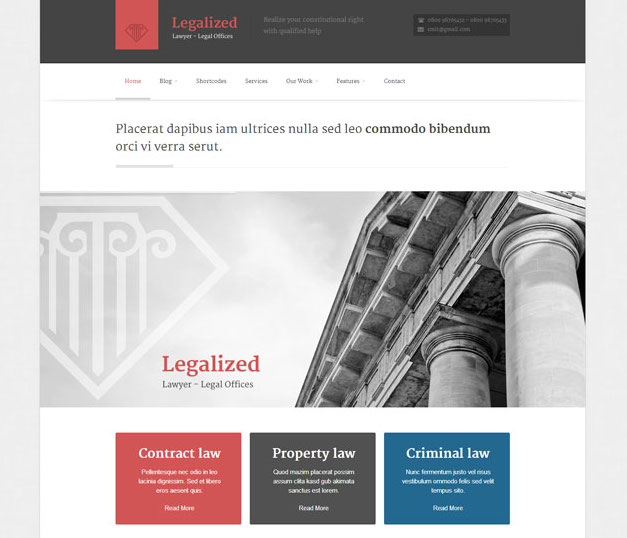 Legalized WordPress Theme is perfect for lawyers, law firms, judges, legal corporations, justice corporations and for any legal and law related businesses. This theme fits the needs of small and large businesses alike who want a clean, good looking, professional website that will make the best impression on your clients. The theme offers you a fully responsive layout, a simple home page builder where you'll be able to drag and drop the elements you select, translation ready feature and complete control over design features like sliders and the Font Awsome icon set. In addition to this, Legalized comes with amazing support provided through the Themes Kingdom support system.
Movatique by Themeisle
We return to Themeisle with our third choice of theme. Just like the previous example, Movatique is a fully responsive WordPress theme that is supported cross browser. You will have full creative control over your design, from colour scheme, to the way your logo looks and the layout of your pages. Movatique offers an easy to use Contact form you can integrate within your website that will allow you to always keep in touch with current and potential clients. Also, you can add a dedicated page for testimonials that will allow you to showcase your client base and your achievements. This theme is Widget ready as well and will allow you to create and customize your own widgets.
The Practice by Themefuse
The Practice is a tailor made WordPress theme for law firms, legal offices and consultancy firms. The design is elegant and gives off an impression of professionalism. You will have complete freedom to customize your layout, background and slider straight from your admin dashboard. This powerful feature will offer you complete control over everything that has to do with your website from sidebars, search engine optimization to contact forms and more without any specialized technical training. The Practice is a fully responsive, Retina theme, so you're sure that it will look good on all devices from laptops, to tablets and smartphones. Also, Themefuse lets you test out this theme in their TestLab area, so you'll be able to get the feel of it straight away.
Factum by CssIgnite
Factum is a clean cut, single page, business WordPress theme specially crafted for law companies, attorneys or legal offices. The theme is fully responsive and compatible cross browser designed with functionality and simplicity in mind. It will offer you the essential features you require for your practice, like: listing your clients or employees, listing your company description and basic contact information. Also you will be able to customize Factum with the powerful CSSIgniter Settings Panel. Enable or disable sections, change color schemes and more.
Lawyers by Matchthemes
Lawyers is a premium responsive WordPress theme created especially for law companies, attorneys, legal offices. It covers all you need for a legal business website, from practice areas to case results and team members pages. It comes with a responsive design, easy to use on desktop and mobile phones. The theme has a widgetized homepage ( 9 custom home widgets ) and 2 footer options to choose from – contact form footer or classic 3 footer widgets. These options can be easily changed inside the Admin Panel. The theme uses Twitter Bootstrap 3.0.3 framework and Font Awesome icons.
LawBusiness by Cmsmasters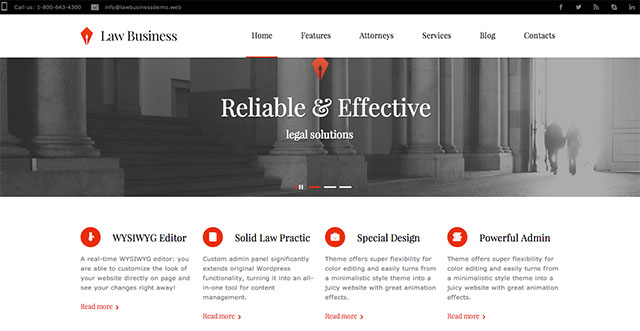 Law Business WordPress Theme is an ideal solution for a private attorney website as well as for larger law office websites. It includes all the neccesary functionality to present legal services online. Custom Services post type lets you provide a gallery of services in an attractive and handy way, describing legal solutions your office offers. If there is a team of lawyers working for your office, Law Business theme provides a great way to showcase attorney personal profiles. One of the greatest benefits of LawBusiness theme by cmsmasters is a fantastic simplicity of website management it offers. Custom visual composer provides an easy content formatting within drag-and-drop interface. A collection of great shortcodes allows you create diverse and attractive pages.
Attorneys by CybernetX
Attornyes is a clean, flexible and easy to use WordPress theme, with a responsive design created to adapt to mobile phones and tablets, offering the best possible web experience to all your visitors and customers. It includes an advanced admin panel that allows users to quickly and easily customize the theme, whether it's changing the logo, the layout or the slider, you'll have full control. Also, the setup and installation have been simplified to ensure that you'll have your website up and running in under 5 minutes.
The Firm by Bebel
The Firm is a theme that fits the needs for a small law company website. This WordPress Template offers everything you need. It's SEO optimized, lightweight, translation ready and comes with a simple admin panel. The file includes a help file with videos showing you how to set everything up. The Firm is perfect for companies, law firms and people with small businesses.
Lawyered Group by 3jon
Lawyered Group is a responsive and retina-ready WordPress website, it is also Mobile Touch optimized. This template contains many tools, integrated with WordPress administration interface to allow easy website building and content management. Also, this theme comes with extensive documentation and the following pages included: Home, About, Services, Team, Blog, Case Studies and Contract. All you have to do is add your personalized content and you're ready to go.