Top 5 Content Creation Tools
Created using Venngage (https://infograph.venngage.com/templates/banners/blog)
Content creation has become the lifeblood of digital marketing in the last few years. But with the internet suffused with so much content, it isn't always an easy task to maintain the level of production and quality needed to stay above the noise. According to a survey of over 300 marketers, one of the biggest challenges in content marketing is producing content consistently.
Marketers are in a constant tussle to manage their time and put in the effort to make great content, all without burning out. But how can you be quick and efficient in your content creation, while still being creative? By using a few great online tools that will not only ease your workload but guarantee excellent products. Here are five top online content creation tools that will boost your creativity.
Audacity
Podcasts have become a popular way to reach audiences, not just as individuals, but also for brands. They are a medium that forms an intimate environment where listeners can choose who and what they listen to, and when. It isn't surprising that there are approximately 600,000 podcasts available at the moment, along with a plethora of podcast hosting sites.
But for anyone starting out in podcasts, one of the best resources to use is Audacity. It's free, which means your budget won't be affected, and the skills required to use it are minimal. Audacity works with a number of operating systems—Windows, Mac, Linux—and is entirely open source.
You can create live recordings, or upload previously recorded material to the platform to edit together. Audacity also gives you the option to add in effects and use plugins.
With the popularity of podcasts exploding, small and medium businesses should be looking at adopting podcasts into their digital marketing strategy. Audacity makes it easier to create podcasts—download the software, choose a topic to discuss, and a microphone to speak into. With those few tools handy, you can have a podcast ready for launch within the hour for your audience.
Hubspot
Email messaging has been shown to be more effective in encouraging users to buy products and services, even more so than social media and search engines. According to case studies, 66% of internet users made purchases after receiving an email message. Optimizing your email marketing needs to be an important part of your digital marketing strategy.
Hubspot email marketing is a tool that makes email marketing much easier. You can add email lists, and create templates for your emails, with visuals and branding, all without the use of designers. Hubspot's email tool also allows you to personalize emails for each customer, conduct tests, and get analytics.
And to increase your chances of your messaging reaching the right targets, you can use an email validation tool, such as Zero Bounce, that will verify the emails you have procured in your list and decrease bounce rates.
With Hubspot, sending out branded emails that convert viewers to customers has never been easier.
Chatfuel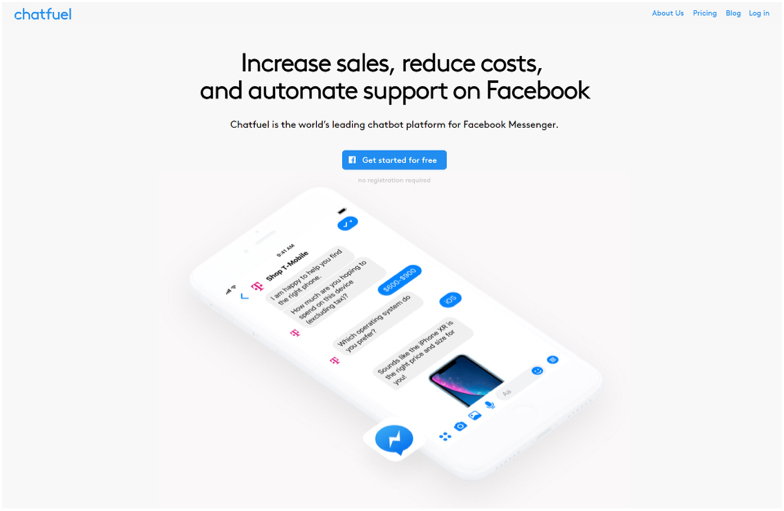 In the current digital sphere where brands have audiences around the world, it simply isn't possible to have employees in different time zones to connect with your audience at all times of the day. Chatbots solve that problem by making brands accessible 24 hours a day.
Chatbots can be implemented on websites and on Facebook, and have quickly become the best way for audiences to communicate with brands. In fact, according to recent research, 69% of consumers prefer to talk to chatbots rather than human agents. If you aren't creating a chatbot, you are losing out.
Facebook chatbots, in particular, have become a key instrument for businesses to connect effectively with audiences. Internet users spend a large amount of time on social media, rather than company websites. Improving social media communication is an important component of a social media marketing plan.
Chatfuel is a great tool for automating messaging on Facebook. Instead of having to create chat content from scratch, Chatfuel allows you to create a chatbot through its platform, completely free of cost. You can upgrade to the priced plans once you reach 1000 subscribers. It's a great tool to start your chatbot with because you don't need coding knowledge.
With the integration of a successful chatbot, your company can begin connecting with audiences without putting in the added effort of employing 24/7 customer service representatives or having to create content on the fly.
Venngage
Visual content marketing has been taking the world by storm over the past few years. 88% of marketers have said they use visuals with at least 50% of their content, and that number is set to grow in 2019.
Visuals not only include high quality imagery to accompany social media posts, but also banners, infographics, and pitch decks. For small businesses trying to reach customers in a crowded online environment, as well as trying to impress potential clients and partners, creating great content and matching visuals has never been more important, or more difficult to achieve.
Which is why a tool like Venngage, which provides quality infographic and pitch deck templates is so useful for individuals, as well as small and medium businesses. Venngage offers a host of attractive and engaging templates, all of which are highly customizable and can be repurposed to create multiple pieces of content.
At a time when visuals are a key component of content creation, a tool like Venngage makes digital marketers' jobs easier by providing a quick and easy solution to the problem of delivering high quality content on a consistent basis.
Zoom
Alongside most visual forms of content, videos have grown in popularity over the last few years. But while video production is generally expensive and time-consuming, one of the ways to create quality videos is by hosting webinars.
Webinars are a great tool for small businesses to place themselves as leaders in a field, and can be monetized, as well. Offering products and services during and after your webinar will prompt viewers to complete a desired action, thus bringing in revenue to your company.
Zoom is a solid webinar tool for small businesses and solo users. The free plan allows up to 100 participants, and limits group meetings to 40 minutes, but you can upgrade to paid plans without breaking your budget for access to more facilities.
With the popularity of video content soaring, webinars are an excellent way to tap into a new audience. A tool like Zoom is just what you need to create great content, without having to worry about the more technical aspects of video production.
Wrap Up
The internet is a crowded arena and users are busier than they have ever been before. Trying to keep your head above water and plan out methods for effective communication has never been harder. But with a few convenient tools, you can save time and boost your creativity so you can reach your target audience, and maintain your bottom line.
Ronita Mohan
Ronita Mohan is a content marketer at Venngage, the online infographic and design platform. Ronita is interested in a variety of topics related to digital marketing, visual content, and online engagement, which she enjoys researching and writing about.
Twitter: @Venngage