Thinking About Portfolio Design
Your portfolio is like a trophy case. It shows your experience, and it shows your expertise. It shows that you have the stuff to get the job done successfully. Your portfolio design shows that you can play for a team and come out on the winning end. It shows your successful track record. Having a stellar portfolio design makes a client or design firm want you to play for their team, because they want to win, too.
Your Portfolio Design Matters
Everything about your portfolio speaks volumes about who you are. You can't just have great projects that speak for themselves. Don't get me wrong, that is 90% of your objective for even having a portfolio. The thing that you need to remember is that all of your projects can be seen in a bad light if you don't have a nice portfolio or a nice presentation. In the same respect, a less than top-notch portfolio can get a few extra points with a nice presentation.
Another reason that your portfolio design matters so much is because it says so much about you. Having a well-crafted, high end portfolio says that you have put a lot of effort into your career and that you mean business. A polished portfolio means that you mean business and that you know that presentation is everything. It also says that you are organized and you pay attention to details, which is extremely important with design work. Minor mistakes can cost the company thousands. if you can't put together your own portfolio and make it look great, why would they hire you to design anything for them?
Types of Portfolio Designs
Printed Portfolio Designs
Printed Portfolios are the traditional portfolios that have been around for ages. These are mainly for print designers who work with printed design work, such as printed advertisements, posters, Corporate identity designs, package designs, and more. This type of portfolio is the one where you don't want to scrimp on the materials. Appearances are very important, and the portfolio that you carry says a lot about you, your attitude, your work habits, etc.
A good choice would be to find a nice leather bound portfolio with a sturdy handle. The ones with the sturdy binding in the middle are the best. Also, the best portfolio pages are the ones where they are clear, and you have to use double-sided tape to mount each project. This gives you the most flexibility when adding small pieces, such as envelopes and business cards.
You'll want to avoid frosted sheets in your portfolio design, because they look cheap (that may just be my opinion), and the sheets where you slide your projects in from the top, don't offer much in the way of positioning. The cost difference isn't that much. An average portfolio with frosted sheets is around $50, but one with the nicer sheets and sturdier construction runs about $75, up to around $125, depending on where you buy them. If you need extra sheets for your portfolio, they cost around $1-$2 each. You can see a sample of these types of sheets for your portfolio shown below.

You can pick up these types of portfolio pages at your local hobby store. You might also try the art and crafts store, too. Way back in the day (before I owned my own business) I bought mine at a local art store called Jerry's Art-o-rama. It was with the other portfolios and art carriers, such as those art tubes where you can roll up your work and slide it into a waterproof tube.
Website Portfolio Design
In this day and age, it is extremely tough to rely on a  print portfolio alone. A lot of companies won't even see you for an interview unless they have seen your web portfolio. Having a nice web portfolio isn't hard. There are a lot of great free products out there if you are really on a budget. Some examples of free places to build a website for free are Wix, MoonFruit, & WordPress. I personally like WordPress, and the great thing about WordPress is that if you want to pay a few extra dollars per month, you can purchase hosting, and have your own website address. This is a good way to go, because it is easier to remember "something-something.com" than it is for a client or potential employer to remember "Something-something.wordpress.com".
Another reason that I like WordPress is because you don't have to build a website from scratch. There are thousands of free screens out there, so if you can find the right one, you download it, install it, upload your project screenshots, add a few details, your contact information, and you are up and running within a day. The setup is fast and easy, you can integrate social media such as Facebook and Twitter, and you can start networking with others and getting involved immediately. There are tons of  themes for portfolio design with wordpress that will make your projects look great!
Over time, I would suggest creating your own them or crafting a theme that is more personal to your style of design, but for the time and effort, you can build your portfolio quickly, so there is no excuse for not having an online portfolio. With a blog, you can also build a following, which I talk about in 5 Easy Ways to Secure More Freelance Work. If you want to break into freelancing, you can really build a good client base locally.
Mobile Portfolio Design
Mobile portfolio design is a newer concept, but many designers are using it as an interesting way to engage employers and clients. Instead of a printed portfolio, some designers bring their ipad and have their portfolio installed on their ipad as a presentation. This isn't for everyone, as it can be a little expensive, but if you already have an ipad, it could be a nice solution for you.
With the implementation of responsive design, you could also build a responsive portfolio website. This is a good idea, because your site will look great on a large screen, and it will look good on a tablet or a mobile device as well. You end up killing two birds with one stone, which will save you a ton of time. If you recall my recommendation for using WordPress, there are many free responsive WordPress themes available, so you might consider a responsive portfolio design when choosing a wordpress theme for your online portfolio.
Examples of Free Responsive WordPress Themes for Portfolio Design
PinBin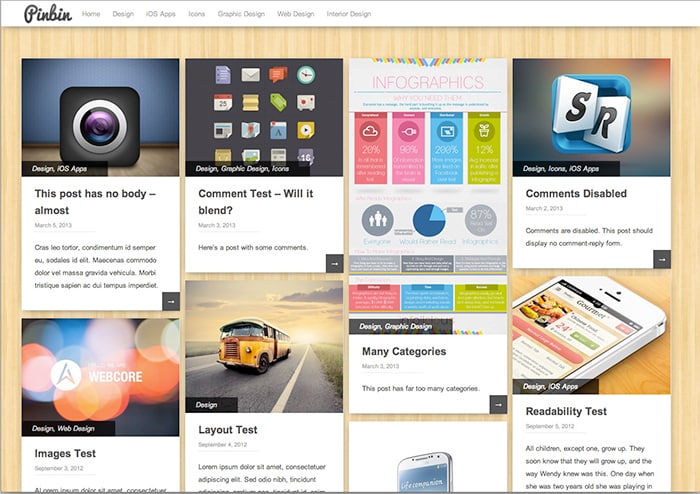 Grid Theme Responsive
Flat On
Conclusion
Your portfolio design plays an integral role in helping you to find employment. Your portfolio design should enhance your work and make it look beautiful. It should detract from your work, but it should make it shine brighter. Whether you show a printed portfolio, or you bring your ipad along, your portfolio should be top notch, and should be considered as an important investment in your career. You've spent all of that time learning the trade, working internships, and refining your skills, so there is no reason that you should sacrifice all of that effort because your portfolio is dragging you down.
Do you have any tips for having a stellar portfolio? How has your portfolio design helped you to find work? Share your experiences in the comments section below.