Free Startup Framework Psd
This week's free Psd template is an awesome Free Startup Framework Psd by DesignModo. If you need some valuable, highly professional inspiration for your own website, this framework is what you've been waiting for. DesignModo decided to create a block content framework, where you could mix and match the pieces to build your own layouts quickly. Every time you use this framework, you create a completely different layout for your site. You site can be rapidly developed, enabling you to get up and running quickly. This Free Startup Framework Psd includes samples from the framework, which you can mix and match. The full version of the framework includes html snippets that you can just drop in and piece together to build great websites quickly. You can preview the Free Startup Framework Psd below.
As you can see, this framework is packed full of awesome layouts and will make development of your website quick and easy. There are so many parts and pieces to this framework that they are too numerous to list. There are tons of called to actions, pricing tables, maps, content areas, and much more.
The layouts for this framework are clean and use a lot of negative space. Content needs room to breathe, and DesignModo definitely understands this concept. Everything looks elegant, across the board.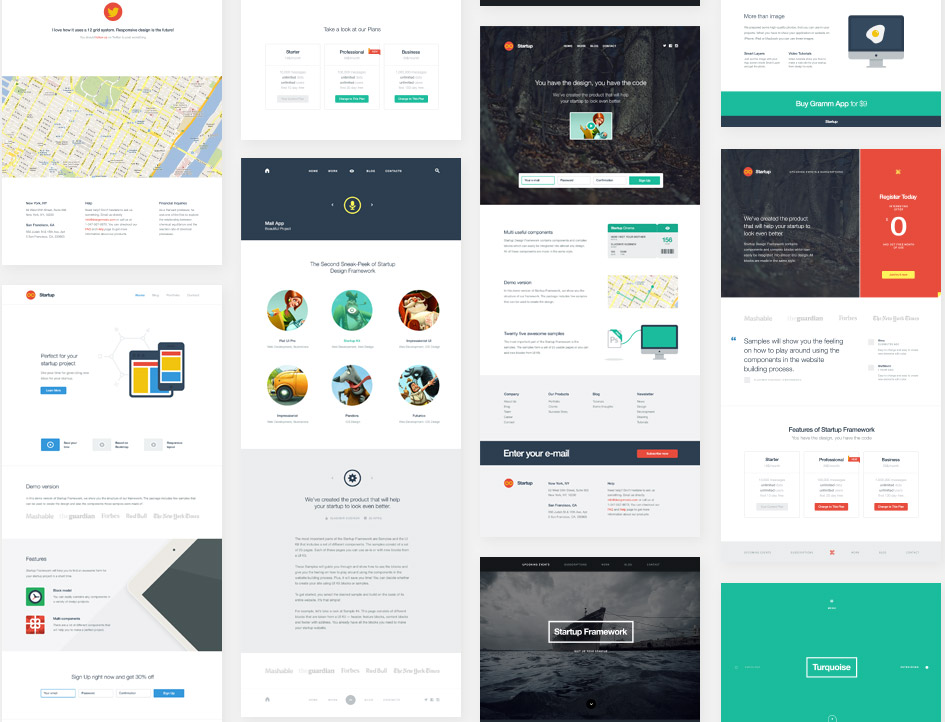 Each piece is unique, with it's own special touch to make it stand out. The key to a great design is breaking up the content, and this framework takes this concept seriously. Being able to rapidly mix and match chunks of different layouts, based on a 12 column grid, makes this simple to drop into a framework like Foundation.
Download the Free Startup Framework Psd
The Free Startup Framework Psd by Designmodo is free, and includes some nice samples. The full version is excellent, and is well worth the price for rapidly developing websites. You could easily make your money back on one website, especially with the time you'll save. To download the Free Startup Framework Psd, click the download link below.