Creating a creative presentation design takes a long time. To save time, you can take advantage of ready-made, quality templates that will help you create the perfect presentation. Here you can find an inspiring listicle with the best options for creative templates.
6 Best MasterBundles Templates For Creative Presentations
Creating a creative presentation is a good way to visualize content and design it beautifully and brightly. A stylish presentation always catches people's attention and makes them read the content posted here. But to make a presentation in style, you need to have design skills and spend a lot of time creating the design. If you want to save time, however, use the ready-made MasterBundles templates. These are ready-made templates for presentations that designers have developed, you only need to download the one you choose and add content.
In the collections of Marketplace you will find thousands of options for templates for presentations on various topics: holiday, business, creative, minimalistic, social networks, study, and work, in the style of famous movies and cartoons. The choice is so great and varied that everyone can find the right one for themselves. Each of the patterns is fully editable. You can change all the elements and design of each slide to make the finished presentation fit your taste.
You can choose the perfect template for your presentation in the MasterBundles professional powerpoint themes collection:
To create an awesome creative presentation, go to the "creative" section. Here you will see 50+ different template options in different styles. They are bright, minimalistic, and themed, in different shades. Each of the templates deserves attention, but in this listicle, you will see the best options. Let's take a look at this collection of templates for creative powerpoint presentations:
This bright template will work well if you want your presentation to be the center of attention. It's bright and colorful, so it won't leave your content unattended. It can be used for working projects, teaching materials, presentations of your research, ideas, and plans. The template is made in a beautiful pink color, which is sure to please the audience. You will get 40 modern and cool slides with unusual, bright, and creative designs. You'll be able to edit the template to your taste and create the perfect presentation.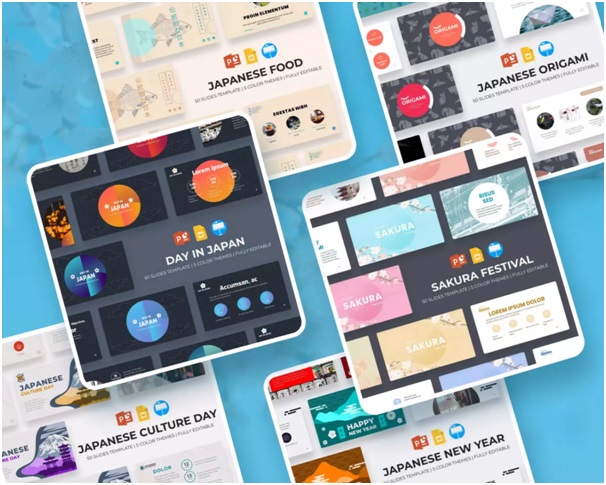 Everyone who loves Japanese culture and oriental motifs should appreciate this template. This is a huge bundle made in Japanese style. You will receive 6 presentations and 300 slides on topics related to Japan: culture, food, origami, sakura, Japanese New Year, etc. This is a very simple and beautiful presentation that will elegantly complement your content. You can use this template for any theme (not only Japanese) because the stylish and modern slides will suit any project.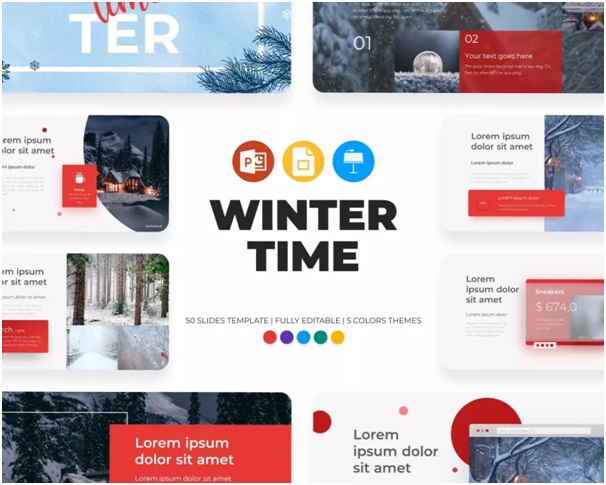 Winter is coming! This template will immerse you in a cozy winter atmosphere and convey a fantastic mood of wonder and celebration. It is made in traditional Christmas colors — blue and red, which create a winter mood. All slides are fully editable, you can change all elements, add your content and remove unnecessary. Each slide is very elegant and beautiful, and will be eye-catching but not distracting. So feel free to choose this creative template if you want to make a presentation in a winter mood.
This is one of the brightest and most creative templates in the collection. It impresses with its variety of colors, unusual icons, and unique design. Choose this template if you want to attract more attention and excitingly visualize your content. Created this template by professional designers with attention to detail. It can be used in the areas of business, enterprise, marketing, and content creation. You'll get a cool template with a variety of magazine page-style slides, with lots of themed icons and fonts. With this template, you will be able to make the most attractive presentation!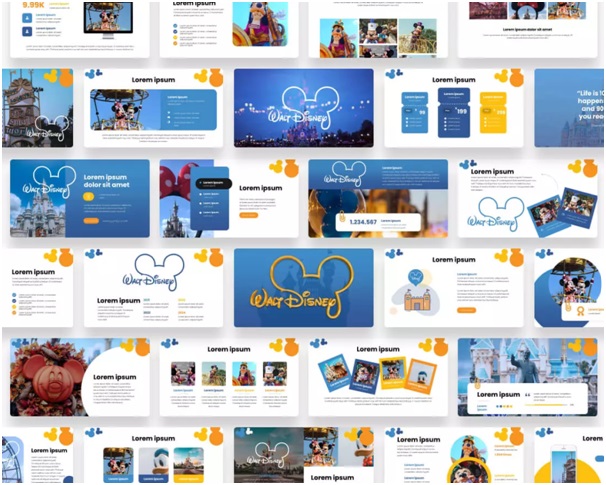 This template is made in the style of everyone's favorite Disney World. With it, you can create the most unusual themed presentations for adults and children. The template perfectly conveys the atmosphere of cartoons, fairy tales, and miracles. Here you will find a lot of stylish pictures dedicated to Walt Disney, even the famous logo. The template is in blue, a versatile shade for any presentation. You will get 50 unique and creative slides on which you can place content. The template is very easy and quick to edit to suit any taste.
This concise and modern template will suit those who appreciate the style of minimalism. With it, you will be able to create a creative and creative presentation in an elegant and understated way. It is very versatile and will be suitable for creating any project: working presentations, marketing research, scientific papers, educational materials, etc. You can also use it to invite your audience to an event, make an important announcement, or present a new product. You will get 50 unique, stylish slides with a set of icons, free fonts, and mocaps.
Conclusion
By making creative presentations, you can get a lot of people interested in your product, event, idea, and research. To get a large audience interested in your content, you need to make your presentation bright, stylish, and modern. If creating a design is not your forte, you can use ready templates MasterBundles. They have been developed by designers with quality and attention to detail. All templates are creative, bright, and eye-catching. Each of them has a unique design and theme, so you will be able to find the perfect option for yourself. The templates are very easy to work with: just download the one you like and open it in a convenient program and edit it to your liking. That way you can quickly create the perfect presentation.