The Divi WordPress Theme
When I first started writing about the Divi WordPress theme, it hadn't caught on as widely as it has now. Many people were still looking for a specific theme for specific tasks. At that time, most people thought a one-size-fits-all WordPress theme was just a dream. Fast forward a few years later, and now Divi is a very popular, feature-rich theme that is in high demand. It's time I updated my post about the Divi WordPress theme, and everything it does and will do for your website. Want to see demos and see it in action? Click here.

What Is The Divi Theme In a Nutshell?
The Divi Theme is anything you need or want it to be. It has a drag and drop page builder, with tons of modules, so you can design just about any layout imaginable. There are a lot of different types of modules, too. Collect emails, display video, create gorgeous call to actions, and more. Let's dig a little deeper into the Divi theme and see what it has to offer.
Divi Features
Divi has so many features it will blow your mind. You can build your website from the ground up. You basically start with a blank page, so your imagination is the only limit. You design pages with module sections and rows.
Divi Layouts – Standard Sections
You create Divi layouts with row and section modules. You can create boxed layouts, or make them full width. You have a standard module, where you can add background images and videos, solid colors, or gradients. Then, you build your actual layout with the row module, which enables you to select the number of columns and their structure.
You can have 4 columns, 3 columns, 2 columns, and 1 column. You can also choose from mixed column layouts. These can be 2 quarter-width columns and one half-with column, or any other combination of 4ths, 3rds, or halves. You can make a row module go full width, too. This breaks the boxed layout where the site is a set width. This section will go the full width from one edge of the browser to the other.
You can also control spacing between each column by defining gutter width. You can set the gutter width to 0 to take away all of the space between content sections.. You also have control over margin and padding around each column and main section. You can specify that there is no spacing at all between elements, or you can add as much as necessary. You can also specify padding and margin on different devices. This means you can have different margins and padding values for desktop, tablets, and cellphones.
Full Width Modules
Divi has its own set of full width modules that are used for specific purposes. These module are meant to be full width by default, so you don't have to make the row module force itself to be full width. You'll find a full width header, a map, a portfolio, a menu, post title and image modules. Some of these modules, like the full width header module, have special features or settings you can adjust.
Specialty Layout Module
Specialty modules are for specific layouts where you want content stacked a certain way. This could be a half-width layout of content with two buttons side-by-side underneath, or anything else you can imagine. These are great for creating tall, continuous lengths of content, or heavily mixed layouts.
Divi Modules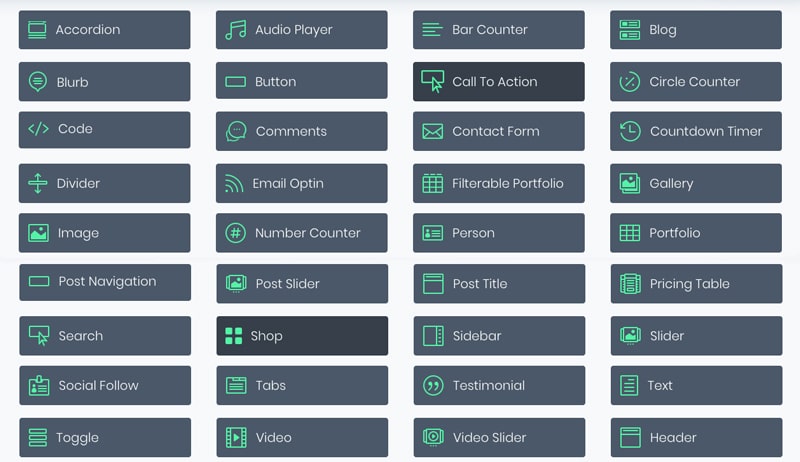 Divi modules are a part of the layout system, and they enable you to drag and drop pieces of content exactly where you want them. This means that you can stack sections and arrange columns, content, and modules to build literally anything.
Divi Accordion Module
The Divi accordion module enables you to create a stylable accordion for compressing a lot of information in a smaller place. You can control everything from the text to the style of the accordion menu itself.
Divi Audio Player Module
This is perfect for an mp3 file that you want to share with your audience. You can create a featured images. It's a lot like a blog post for your audio files.
Divi Bar Counter Module
Want a customizable bar graph to show data? This module is for you. It's a great way to show multiple percentages in one place, giving you an instant visual comparison.
Divi Blog Module
The Divi Blog module is one of the handiest modules Divi has. You can place a blog on any page you can imagine. Not only that, but you can control which categories it displays, meaning you could have a different blog module for every category.
Divi Blurb Module
The Divi blurb module is a great way to show an image and short bursts of text together. You can use the built in icons, or you can upload your own jpg or PNG files. These are perfect for those sections where you have a row of 3 or 4 features with related icons or graphics. The icons or graphics can either be above the text or to the side.
Divi Button Module
I could write an entire article just about the button module. You can create your own custom buttons. Imagine being able to design your own button style for every website you build with Divi. You can create solid buttons, ghosted buttons, outline buttons, and everything in between. You can add icons and you can control the look of buttons when the user hovers their mouse over it.
Call To Action
Call to action sections are essential for any website where you want to focus on conversions. This is the section where you tell users what to do next if they are interested. You have complete control over images, text, buttons, and colors.
Circle Counter
The circle counter is an animated counter for showing numeric data. If you want to show data in a visual way, this gives you something different from the animated bars.
Code
Need to insert a block of code into your page? This module is just what you need. Normally, you would embed a script into the integration section of your website, but that would be applied across your entire website. Here, you can apply it to just one page.
Comments
If you want to design the section where visitors can leave comments, this is the module for you. You can craft every aspect of your website, from the blog post itself, to the area where visitors leave comments. The possibilities are endless.
Contact Form
The Divi Contact form module was just recently updated to give you many different options for creating custom forms. Now you can create advanced custom forms that contain conditional logic. This enables you to collect the data from users you need, all without having to install a separate plugin.
Countdown Timer
Want to count down to an event? Launching a new site or a new feature section? The countdown timer module lets you create a countdown timer for your big event. You have full control over the design and style of your countdown. This is great for online marketers and sales funnel pages.
Divider
Sometimes you need a divider between sections, so use the divider module. You can control the spacing around the divider. You can also control the thickness, it's length, and the color.
Email Optin
Build your email subscriber list by using the Divi email optin module. You can collect email addresses and store them with Mailchimp or Aweber. Use this module to make eye-popping email optin forms. Grow your email list quickly, making more sales and generating more revenue.
Filterable Portfolio
The filterable portfolio module is a great way to show off your work. If you do different types of work, or you want to divide it into different categories, you do it with this module.
Gallery
This is Divi's image gallery module, where you can design and put together an image gallery.
Image
The Divi image module is an awesome module that enables you to upload an image or a graphic. You can control its width, and you can add animations, too.
Number Counter
The number counter module is a great way to show statistics in a dynamic way. The numbers count up to their totals, and it is a great way to make an impression.
Person
If you want to showcase your employees and team members, the person module is the way to go. You can link to their social profiles, and write a short bio.
Portfolio
The portfolio module enables you to show all the work in your portfolio section. If you're an artist or a designer, you can show your work in its entirety.
Post Navigation
Use the post navigation module to design and control your previous and next post links on blog posts.
Post Slider
The Post slider module enables you to create a classic post slider module to cycle through your latest blog posts. This popular feature can be styled to match your website.
Post Title
When designing your blog posts, you can use the Post title module to drop in your post title design. This adds that unique touch to your blog posts to stand out.
Pricing Table
One of the hardest thins to put together on a normal website is the pricing table for a product or service. Use the pricing table module to control features and pricing. You can design the look and feel to stand out and make people want to sign up.
Search
Add a search feature anywhere on your website and style how it looks. Make it full width, or make it small. You have total control over how it looks and where it is.
Shop
The Divi theme and WooCommerce are the killer combo, and the shop module works great with WooCommerce to help you design your online store. You can show the number of products you want. There are tons of features. You can show a certain product category, or show them all. You can also design the overall look of your store, too. Building your own online shop has never been easier.
Sidebar
The Divi Sidebar module enables you to drop in a sidebar, anywhere and at any time. Want it on the left on one page? Drop in the sidebar module on the left. Want it on the right side on another page? Drop in a sidebar module in the right column on that page.
Slider
If you want to create a few messages that cycle through in a section of your website, use the slider module. The Divi slider module enables you to create image sliders, image and text sliders, and more.
Social Follow
You want your visitors to follow you on different social media accounts. The social follow module will enable you to add a section with links to your social media pages.
Tabs
If you have a section of related content topics that you want to hide and show on click, use the tabs module. When someone clicks a tab, the content for that tab will show, popping above all of the other content. You can style the tabs, the text, colors, and more.
Testimonial
Testimonials are an important part of most businesses and services. The testimonial module enables you to create and style testimonials in a way that matches the look of your website. You can add images of the person making the recommendation, as well as their name and you can style their quote.
Text
The text module is perfect for adding blocks of text to your website. It works just like the text editor area of any WordPress website. You will get the same old text editor you normally get, but the text module will allow you to control the look of that particular text block.
Toggle
The Toggle module is like the accordion module, but you create a single toggle that twirls down with text, video, or some other content. It is a great way to hide content under a menu that shows when you click on it.
Video
The Divi video module enables you to place a video anywhere on your website. You can use videos from Youtube, or Vimeo. You can also link to the mp4 files or the Webm files for different browsers.
Video Slider
Want to show multiple videos on your website in a compact area? The video slider module is perfect for you. You can place a video anywhere on your website, from a header to a ¼ column.
Header
Create custom headers of ay kind with the Divi Header module. You can have images only, a large image and text overlaid, solid colors, gradients, and buttons, too. With a little CSS you can create any website header you can think of.
Divi Front End Builder
In the past year, Divi has evolved from a back end drag and drop page builder. It has added the ability to design pages from the front end, so you can see and control how they look from the front end. This means no more flipping back and forth between the back end and refreshing the front end to design as you go.
You'll have access to all of the modules you do in the back end. Now, you'll be able to design and style them in the front end. You can design visually, dragging out padding and margins, and reducing space between content and sections. Check out my in depth post about the Divi Front End Page Builder.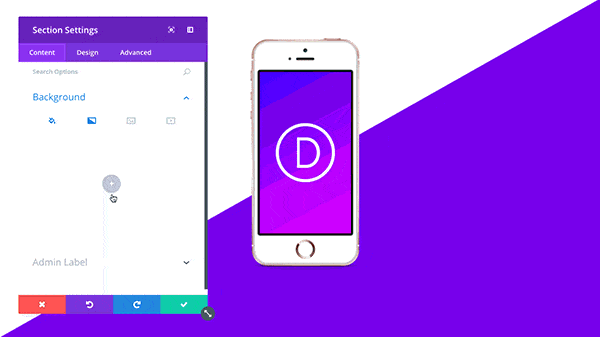 Why I like Divi Over any other Theme
There are many reasons why I prefer Divi over any other WordPress theme. Divi gives me all the control over my design I could ever want. Here are some of the reasons I love Divi:
I can set different spacing values for elements for different devices.

You can add a CSS class and an ID to any module. This gives you the ability to style any element separately how you want.

You can duplicate a module, or an entire section with one single click.

You can start with a blank page or start with any of the 20 pre-made layouts packaged into Divi.

You can save your layouts and reuse them on another page instantly.

You can import and export layouts from one website to another.

You have access to tons of fonts.

The themes options are very robust. Save your brand colors for quick use in the theme.

Divi is compatible with most plugins. I personally have not run into any conflicts.

Divi is updated regularly, with new features and capabilities added.

Divi is update friendly, meaning that your designs and content should be safe and sound between updates.

Once you purchase the Divi extended license, you get access to updates for life. (A great investment!)

If you upgrade to or purchase the Developer's license, you get access to the Divi plugin, as well as Bloom and Monarch, for email marketing and social media integration.

The Divi builder plugin enables you to inject the Divi page builder into any theme. This literally saved the day for a quick web design project for me last month.
Divi Add Ons, Plugins and Child Themes
The Divi WordPress theme has become a platform all its own. Developers have made plugins and custom modules to add functionality and features to the Divi theme. Some of the best plugins do things like give you 6 column layouts, 5 column layouts, image overlays, animations, and anything else you can imagine.
Divi Add ons & Plugins
There are a number of plugins I use to extend Divi even further in my workflow. I know there are certain things I like to do with most of my client websites, so I have a workflow set up to make it easy. Here are a list of Divi plugins I use:
Divi Booster – The Divi Booster plugin enables you to tweak different things about the Divi theme without having to dig into code. You can control the logo zoom in and out effect on scroll, change the footer text, and add social media icons. Divi usually sets you up with just 4, and you'd have to manually edit the theme or child theme to add the rest. Divi Booster lets you check boxes next to the ones wit want to add, and paste in the links to each one.
Divi Switch – The Divi Switch plugin works right along with the Divi Booster plugin and enables you to tweak divi settings. It gives you zoom and animation effects on blurbs and icons, and you can edit several other things, too.
Image Intense – Image intense is a Divi plugin for image overlays. It is definitely the best one, adding a 15-20 different overlay styles for your images. Add test, borders, and different layouts and arrangements of each.
Divi Cloud – Divi Cloud is a cool concept. It is a Divi plugin and membership rolled into one. You get access to 20 new layouts per month. You also get access to many different section layouts that you can preview and drop into a page via the library section. You can also save your own layouts in the cloud and use them on other sites. This plugin saves you time, because you can build a unique page layout in minutes, and then customize it.
Page Builder Everywhere – The PBE plugin is one of my favorites for using  with Divi. You can create a layout in your Divi library, and save it, giving it a name. Then, in the widgets section of your site, you can add layouts from your library to any section of your website. This enables you to create custom footers that are shown globally, or you can add custom header sections, too. This gives you even more versatility and flexibility with the Divi WordPress theme.
Child Themes
Web designers have also jumped into the mix by creating custom child themes you can download and import into your website. You can instantly create a full scale website, complete with layouts and page designs. There are dozens of marketplaces where you can buy these child themes.
Why would the Divi Theme Be Good For You?
There are many reasons you'd want to use the Divi theme. It is flexible, packed with features and easy to use and maintain. Here are some reasons to use Divi for your next website project:
You can beautiful websites that would otherwise be difficult for a beginner.

You can create parallax images, gradient backgrounds, image backgrounds, and video backgrounds.

You can design your navigation menus in many different styles.

You can create global sections that show up on every page.

You can hand craft your blog to look exactly the way you want.

You can save and reuse layouts to save time.

You can control every aspect of every module and element.

You can design the entire website simply by using the module settings and settings from the customizer.

Divi is a secure theme that is constantly updated.

You can use Divi on as many websites as you own. There is no limited use or strong arming by Elegant Themes.

You can design entire pages of your website from the front end, even with live, editable type & images. That means there's no guessing!
Final Thoughts
I use the Divi WordPress theme on all of my website projects. It gives be a highly customizable blank canvas I can start with. I can create anything I can imagine, and I am not limited by any aspect of the theme. I've used Divi on 99% of the web projects I've built in the past couple of years. I can build a website 30% quicker than I could with any other theme. I encourage you to check out Divi, and the Elegant Themes website for demos and other website examples. Their theme and plugins are well worth the membership price.
Disclosure: Some of the links in this post are "affiliate links." This means if you click on the link and purchase the item, I will receive an affiliate commission.

Save
Save
Save
Save