As web technologies are constantly changing, designers apply new techniques to give a contemporary touch to their sites. Following modern web design trends, they can make their platforms more effective and appealing, which will catch fancy of every visitor. Some designers resort to creative details like circles or ribbons while others try to achieve a desirable result with a proper color scheme, e.g. polychromatic, one-color or black and white. Many of them also focus on adding a large background image to designs of their platforms.
Formerly, the latter tactic was primarily avoided, as it took too long for a page to load. It pissed off many people, and they left a site before it could load. For the reason of traffic losses, many designers refused from the idea to attach large images to backgrounds of their web resources. Now, everything has changed due to high-speed Internet and screens with ultra-high resolutions. Loading a page with big pictures is much faster today than it used to be a few years ago, that's why this trend is getting more popular in the web design community.
If you are considering an idea to give large background images a try, but still can't make up your mind, find out below how you will be able to benefit from this tendency.
Create a Favorable First Impression
One of the most important goals pursued by every designer is to produce a great first impression on the target audience, as it determines a further course of events. Guided by this influential factor, customers decide whether to deal with a certain service provider or to search for someone else. Choosing the right background image, you'll have an opportunity to emphasize the imagery of your website and, therefore, impress everyone who takes a look at it. Thus, visitors of your platform will have a wish to linger there and look through your offerings.
Boast of Your Products and Services
By means of large background images, it's easy to deliver an instant message before people even proceed to reading the first line of your text. For example, you can effectively introduce your company to the audience and show your products to their best advantage. In such a way, you will intrigue customers with your offerings, which will increase a chance that they'll decide to acquire something in the end.
Motivate Customers to Read Your Content
Using big pictures in the background, you can also drop a hint at what your content is about, which will stimulate visitors of your site to read your posts with greater curiosity. In a large image, it's easy to accentuate some minor details that are vital for promotion of your business. With a picture spreading throughout the entire layout of your site, people are likely to examine its every corner so that nothing important goes unnoticed.
All the mentioned pros have turned usage of large backgrounds into one of the most popular trends in web design in 2014. If you believe it's about time to use big pictures on your platform, but need some inspiration, here are some fabulous designs that will excite your imagination and help you come up with brilliant ideas for your resource.
One of the most striking examples featuring a large background image can be observed on the Museum of Science and Industry site. Its cosmos-related picture will allure individuals interested in the space technology development. Thus, they will be motivated to visit the museum and see the exhibition of scientific artifacts.
Another example of successful implementation of large backgrounds can be seen in this Travel Agency theme. Travelers who like spending their vacations at the seaside will be excited to resort to its services after they take a look at an inspirational image of starfish and seashell under the azure blue sky.
Featuring ingenious drawings, the background of this Dating Agency theme targets singles who appreciate traditional values of rendezvous like sitting on benches or walking arm in arm. The picture can add a classic touch of romance to the image of any dating organization.
Once people enter a platform of MacAllan Ridge, they will be welcomed by a large image of a misty mountainous area. With its help, it's possible to demonstrate the surroundings of this luxurious resort, which will definitely catch fancy of everyone seeking for solitude.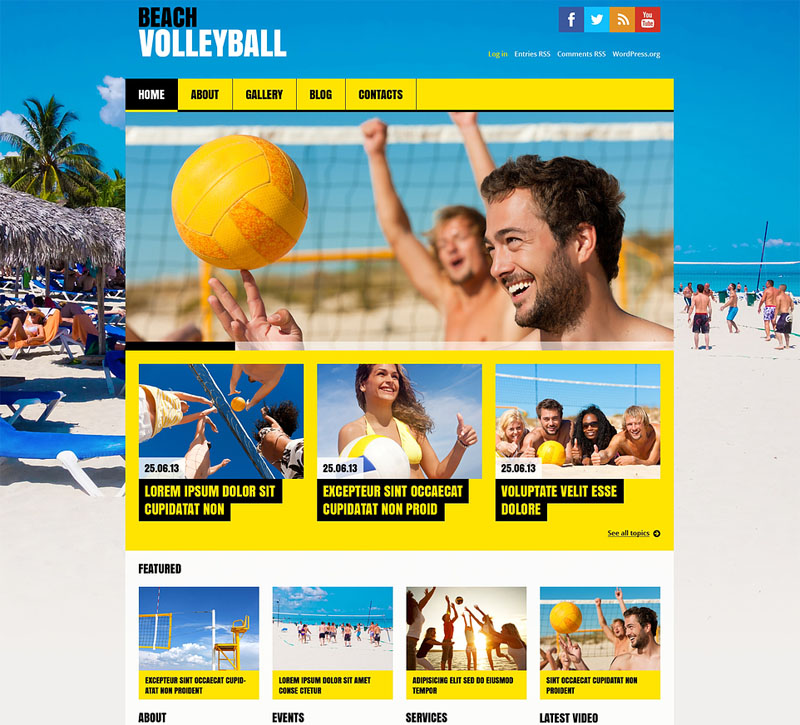 The background of the Beach Volleyball Club theme will arouse enthusiasm of everyone keen on this game. Looking at a large picture reflecting fun in the sun, people will be motivated to put on shorts, take a ball, and go play with it on the golden sand.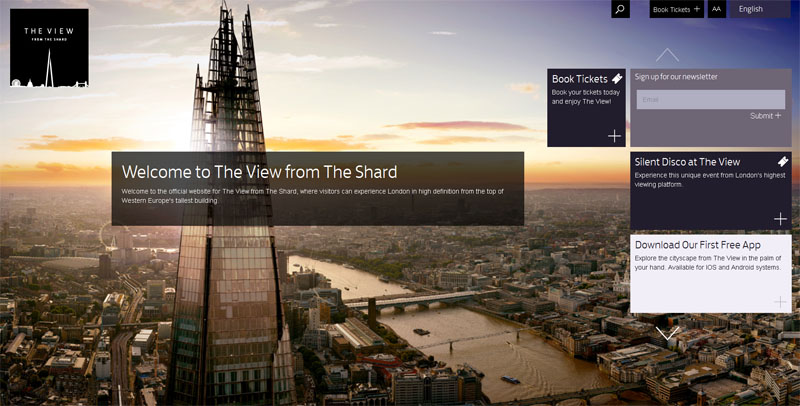 In the background of The View from The Shard site, there's a full-screen image showing a spectacular skyline of London. Thanks to its charm, no tourist will withstand the temptation to climb the tallest building in Western Europe and enjoy the scenery of one of the most beautiful cities at the height of around 40 miles.
Loud colors of this Night Club theme's background can let people feel the drive of a nonstop party before they even step over the threshold of the place where it's held. Staring at this image, clubbers will be energized to visit the promoted establishment to plunge into the atmosphere of boisterous fun there.
It's a good idea to embed a large image in the background of food-related sites, and, as proof of this statement, here's a screenshot of Eating in Sydney site. Once its visitors cast a glance at this mouth-watering image, they'll feel their bellies rumble, which will give them a push to order meals at the promoted restaurant.
As black and white designs will never go out of date, this color scheme has been added to the background of the Photographer Portfolio theme. Due to its successfully chosen palette and image, artists will accentuate their professionalism so that customers would think of them as of photography masters.
The web resource of a surfing school, Surf in Paradise, is also notable for a large background image of the golden sand washed by sunlit waves. Looking at this picture, people will feel an intense desire to master surfing skills as soon as possible, which will stimulate them to join the promoted institution to achieve this aim.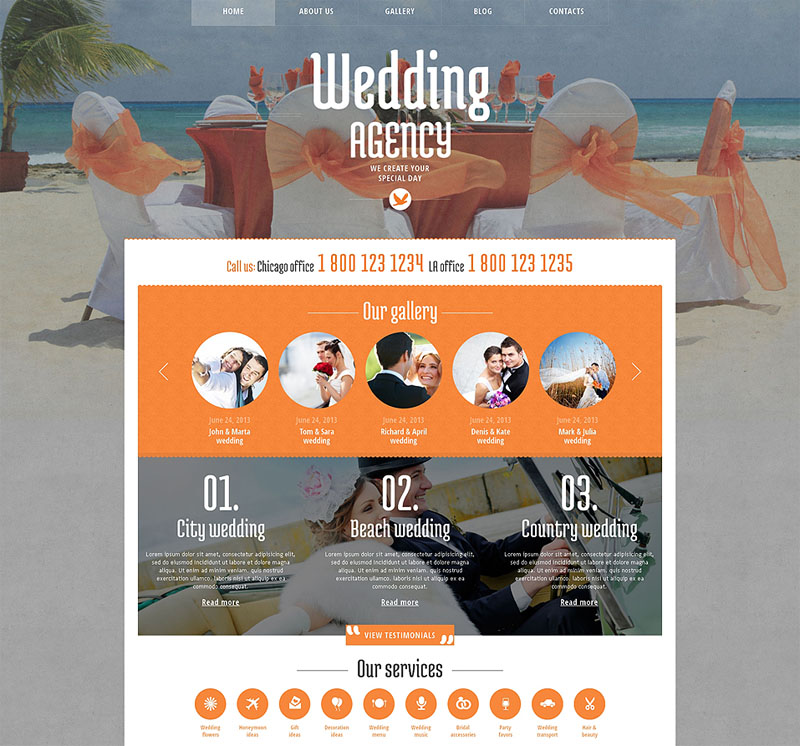 To plan their wedding days, couples resort only to the agencies that can organize unforgettable marriage ceremonies. The Wedding Agency theme can easily create such an impression with the help of its beautiful background image of elegantly adorned settings.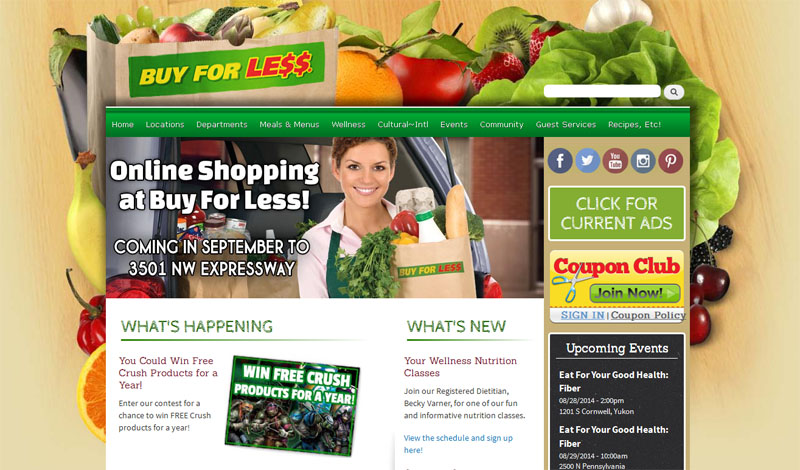 To draw attention of everyone who prefers healthy food, a grocery store, Buy for Less, uses a background image where an assortment of fresh fruit and vegetables is demonstrated. Such a tactic will be efficient in assuring customers that it's the right place to buy groceries.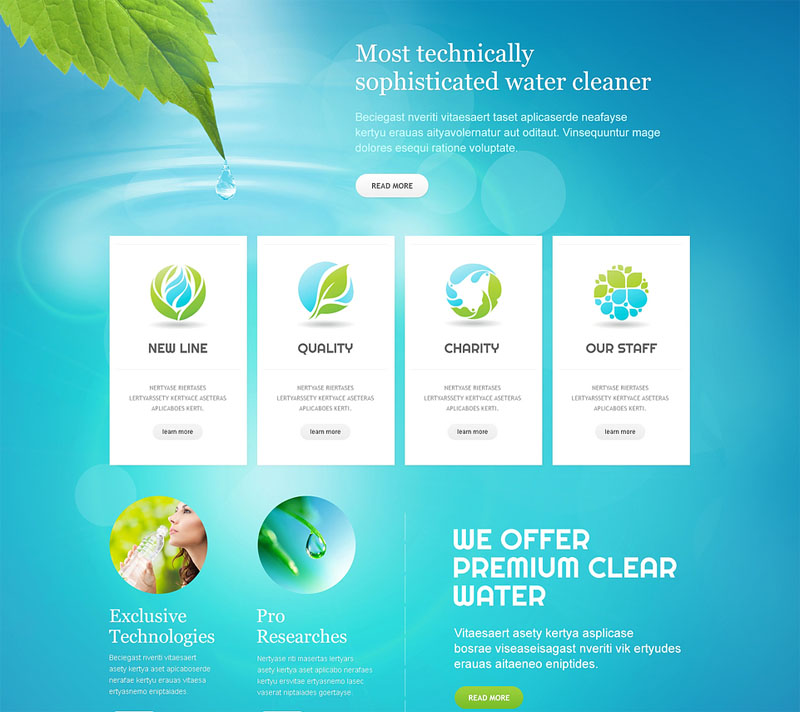 The Premium Water template is also remarkable for its fantastic background picture. Aimed at promoting water cleaners, the theme can create an impression that the company behind it offers sophisticated technology providing crystal clear water. Thus, it'll be easy to produce a favorable first impression on the audience.
Designers of the Grand Canyon Skywalk site added a picture of magnificent views that can be observed from this glass structure rising 4,000 feet above the Colorado River. The image will captivate many thrill seekers obsessed with extreme tourism.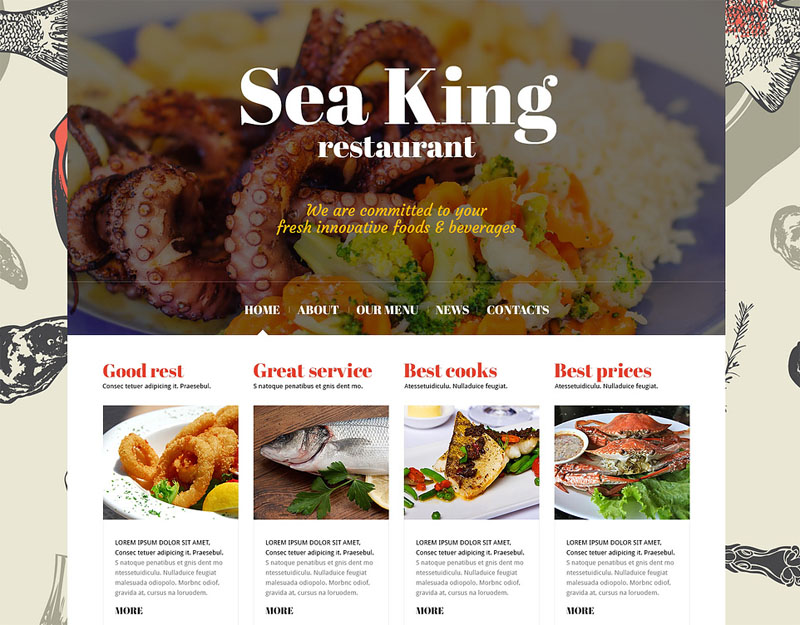 The last example of implementing a big picture in the background is the Sea Restaurant theme. By means of its seafood drawings, people will get an idea about the dishes served at the promoted place once they enter its web resource.
As you see, large backgrounds can dramatically enhance the visual appeal of your platform as well as communicate your message to customers more clearly. Just add a catchy picture to the background of your site, and it will ideally highlight your content. If you have any remarks about this web design trend, feel free to drop a line in the comments below.
AUTHOR'S BIO: Nick Campbell, an author of this article, is fond of writing posts on various subjects, particularly web design, e-commerce, social media, marketing, business, and education. He has been involved in the content creation sphere for more than two years. Nick is primarily focused on covering modern trends of a certain industry to help his readers keep abreast of the latest news. If you don't want to miss any brand new achievements in the mentioned topics, follow Nick Campbell on Google+!