Artificial Intelligence (AI) is the next level in the fast pace race of technology innovation. AI has been placed in all aspects of technology even at its infancy stage. From basic automatically opening a secured door as an identified user walks near it to the more advanced algorithm as properly answering "voiced" questions. AI has come very far in a very short period of time.
Even though we have not gone to the more sophisticated uses of AI, such as full functional automatons running resolving specific issues at different scenarios. Something in the line of small tech robots identifying you have a flat tire and replacing it, then finding out your spare is also flat. Fully enhanced AI robots will be able to figure a way to resolve the issue of the flat tire despite the increasing amount of challenges provided by the scenario. Since part of an AI's function is to learn, there will come a time AIs will be able to level up the sophistication that we envision through cinema.
We can still take advantage of the current level of AI that is available by adapting its capabilities to assist us in resolving complicated issues. Problems that are associated with the fast phase intellectual processing required to solve issues, such as computing for future possibilities. For example, using road sensors to predict traffic situations in some areas, in real-time. Then using such information for a traffic-AI to control digital traffic signals thus alleviating traffic as a whole.
Such can be done as well to improve websites, AI can provide smarter and much better user experience to your users. The possibilities in the use of AI are vast, but currently, AI can already be used to help websites with grammar and style checking, show related content, improve conversions, boost eCommerce sales, and more. As such a website that is running with a couple of AI-assisted plugins becomes smarter, faster, and more personalized for your users.
If your website runs on WordPress then here are 8 samples of AI-assisted plugins that will help your website grow.
1. Yoast SEO
Advance webmasters or web administrators always need the help of an SEO checker for their website to rank on every Search Engine. This is why Yoast SEO is the best, It will suggest improvements to your content based on what's been written. Yoast has some elements of AI to analyze your website in order for it to suggest changes. As such, SEO recommendations are tailored to your content. What's cool is that you receive several facts and figures to help your SEO and craft better blog posts.
2. Akismet
SPAM, not the canned meat one, but the one that all webmaster's hate, the one that fills up your comment section with useless information and repetitive blabber by robot spammers or users, Akismet is the website saver. Akismet uses machine learning and AI to clear out the spam comments that shouldn't show up on your site. Akismet learns which bots are most likely to hit your site, thus eliminating and directly targeting these sites and Akismet even runs in the background of your web site, continuously eliminating SPAM even when webmasters are not monitoring.
3. Google Language Translator
The ever so present website translator button that you see while using Chrome, can also be used on your website. By using Google Language Translator plugin you'll automatically have Google's very powerful and AI-assisted language translator. You could even specify the language that you'd like the site to be translated into, just in case you have a specific audience in mind for your website.
4. MyCurator Content Curation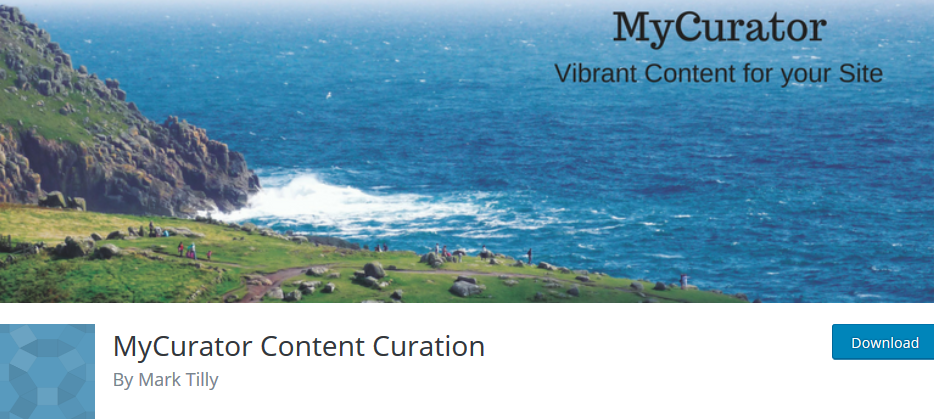 MyCurator Content Curation is a Cloud-based content curation service allows you to add an AI-powered content aggregator, which shows content relevant to your selected topics which improve results by learning from what you chose or voted on. You can then use suggested content to add to your website by fetching the best bits of content relevant to your target readers. Thus you can add any article you like to your website with an excerpt and a link back to the source site.
5. Quttera Web Malware Scanner
Quttera Web Malware Scanner is also AI-assisted plugin that allows you to scan your WordPress site for malware and malicious code. It totally useful if you suspect that your WordPress site is in trouble or is being blacklisted from search engines. It uses artificial intelligence to learn from false positives and improves scan results based on site usage. While it is helpful in scanning, it doesn't protect your website from getting affected.
6. Related Posts by Bibblio
This is a special AI-assisted plugin that helps add Related Posts for WordPress. Related Posts by Bibblio learns from user activity on your website thus improving related posts displayed across your website. Related posts can be viewed below the content, in the sidebar, or using the shortcode so the content can be placed anywhere on your site. This plugin is free but if you need more content a price listing for upgrading its use can be found on the plugin's website.
7. WatsonFinds
Emotions are a sensical based attribute that only humans using their senses can interpret, but by the use of AI, this plugin might just as well try to humanize computer interactions with users. Watsonfinds analyzes your content to provide insights into the emotions that your audience may show interest as they read it. The plugin will add an icon to the WordPress text editor to analyze content in posts, blogs, etc. It will display a popup every time you analyze the content into different emotions like sadness, anger, disgust, joy, and fear. Then the plugin pops out a timeline bar in the output to review and keep track of every change in your content. The plugin also helps to understand unstructured data to get accurate insights about your content and interprets if it will attract other humans.
8. Wordlift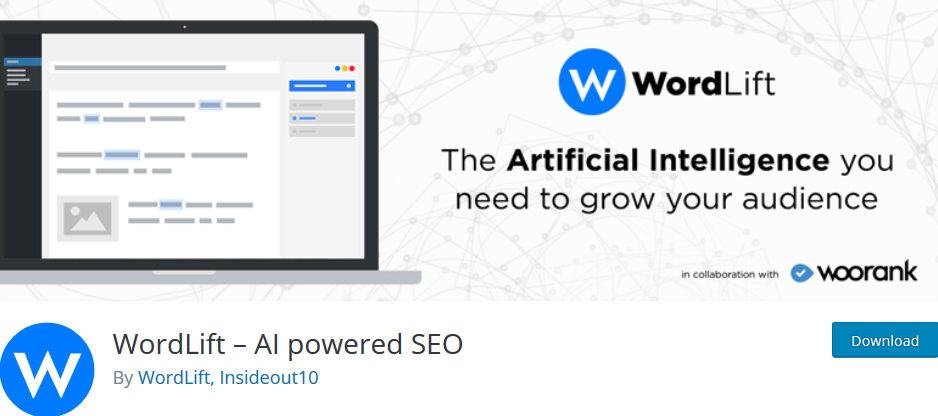 This plugin is an all in one for online content creators. Wordlift supports the webmaster's writing process with trustworthy and contextual facts, enriches your content with images, links, and interactive visualizations. The plugin can also create your own personal Wikipedia and publish metadata to share, sell and distribute content. Through this plugin, webmasters are able to support 32 languages across the globe to build datasets and full data ownership and support contextually relevant information. Finally, the plugin also features content tagging for better SEO.
AI-assisted plugins are just that, they are assistant that provides help for webmasters to improve the content and services of their website. But in the end, it will still take the web master's input on how best to manage the web site and it's contents.