Incorporating Legal Pages into Web Design
Web design isn't all fun and games—nifty fonts, bright colors and flashy logos. It's a serious business.
The internet is not a lawless frontier. Just like other aspects of life, the internet is affected by different norms and laws. Web designers should keep this in mind and remember that there are certain legal pages that need to be included when designing a website.
The pages that should be included vary depending on the nature of the site, so read on for a guide regarding what legal pages should and need not be included in website design.
Copyright
Since most web pages contain original content, it is important to include a copyright notice to protect the content of the site. Usually an all-inclusive copyright notice at the bottom of each page is sufficient.
For more complicated web sites, a separate copyright page outlining more details regarding the copyright may be desirable, but generally this is unnecessary.
Patents, Trademarks, Et Cetera
For websites and companies that have any trademarks, patents, or other corporate policies, a page outlining them should be included. This keeps users informed and presents the site as being up to scratch on legal matters.
Accessibility
By law, government sites must be accessible, meaning they comply with the Americans With Disabilities Act (ADA) guidelines. Other sites, whether for a company, social networking, or other use, have the option of whether or not they will be accessible for all internet users.
Whether a site is designed to be fully accessible or not, an accessibility page can help users navigate the site more easily. Including contact information on the accessibility page is beneficial so that people can seek alternative sources of information if the web site is inaccessible.
Privacy Policy
Any site that collects information from its users, whether in the form of cookies or personal information, must include a privacy policy page. This page is intended to make users feel secure by knowing what information is being collected and how it is being used.
Full disclosure regarding to whom private information is distributed is also a must, as is contact information for those who would like to erase any private information that was collected. Lastly, be sure to date the page so users can see when it was last updated.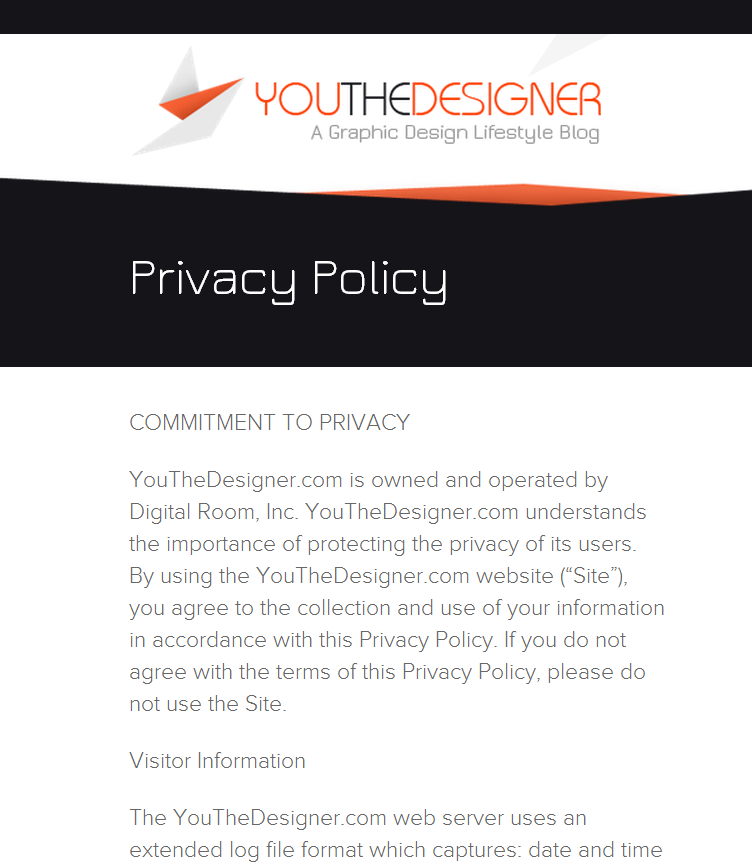 Contact Information
While this is not a legal page per se, it can prevent legal entanglement in the future. Including a contact page not only encourages positive interaction with users, it also provides an outlet for unsatisfied users.
Being easy-to-reach means users can come directly to the site owner without hiring an attorney or seeking professional help to address their complaints. Usually hiring an attorney means small problems escalate; dealing with complaints directly is preferable to addressing them in court.
Terms and Conditions
The terms and conditions page informs users about what is and is not allowed on the website. This page is a must for most web site owners, though the drawback about the internet is that the terms and conditions are difficult to enforce. Still, this page ought to include things like:
registration instructions (if registration is required) for posting content
rules for posting content, including what will be altered or deleted
how to credit content or images from the site
rules for framed links and deep linking to the site
any other rule that is specific to the web site in question
User Agreement
Similar to the terms and conditions page, this is particularly important for sites that operate forums, comment sections, or other user-generated content.
The user agreement is usually a page that new users see when they first register and they must actively click that they agree to the rules outlined within this page. Rules include content ownership, how to request permission to use content, licensing for user-generated content, and other points of that nature.
Disclaimer
For sites that have a lot of user-generated content or that contain links to other sites, a disclaimer is necessary to inform users of how the content they create is moderated, if at all. Disclaimers can be used to disassociate web site owners from views espoused by their users or from the content within the linked sites.
There is a lot to consider when designing a web site, and there isn't a universal formula for making sure all bases are covered in terms of inclusion of legal pages. If there is uncertainty regarding which pages to include or omit, it may be wise to contact a lawyer for legal counsel.