Opt In Solution For WordPress
It wasn't too long ago that Elegant Themes decided to create a solution for social media shares. They created a social media share plug-in, called Monarch, which gives you a huge variety of options for promoting social sharing on your website. Now, Elegant Themes has released a new plug-in called Bloom, that looks to provide the ultimate opt in solution for WordPress. Need more subscribers? Bloom may be just the solution you're looking for.
As a part of the developers package from Elegant Themes, not only do you gain access to 87 premium WordPress themes, including Divi, but you also gain access to Monarch and Bloom. If you provide WordPress solutions for your business clients, the Elegant Themes developer package may be the best solution out there. Let's take a look at Bloom and everything and offers.
Many Layout Options
The thing I like the most about Bloom is the fact that you can put it anywhere. You have total control over pop-ups and opt-ins like never before. Do you want an opt in form to pop up automatically on your website? Bloom does that. Want a window to fly in from the right side automatically? Bloom does that, too. Maybe you want and opt in form mixed in with your content on your blog. Bloom handles that as well. You can also place it below your content. One of the last solutions they offer, that probably one of the most powerful, is the ability to have visitors in her their email address to unlock a download. Bloom does what it usually takes three or four plug-ins to do all in one.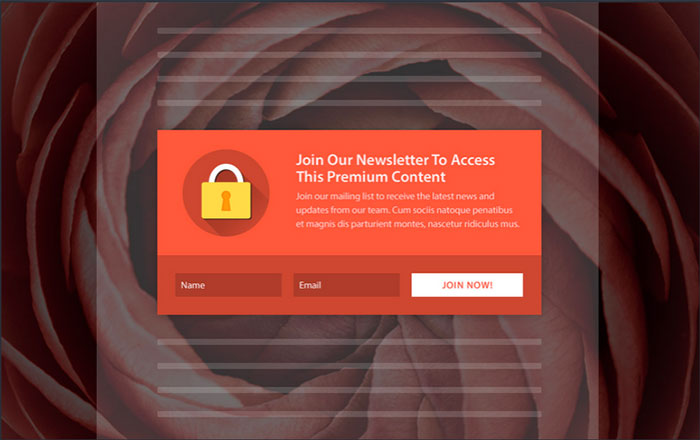 Triggers
You can also have your forms show up depending on what your user does on your website. You can have a form pop-up after a certain amount of time. You can also have one come up after they do something, such as make it, on your website, after scrolling, or after making a purchase. You can even have a pop-up come up if they are in active on your website for a certain amount of time. The level of control that you have with Bloom is excellent.
Great Design
There are over 100 pre-made templates that come with Bloom. This makes it easy for you to find something that looks great with your website's current design. You also have control over how things look the custom options. You can control colors and the different aspects that make up the overall design, such as borders.
Tracking
Want to see how each one of your opt in forms are doing? Elegant Themes did not leave out the ability to track each and every form that you use. If something isn't performing well, you can make changes and increase conversion rates. You can see what percentage of people are seeing your pop-up, and how many people are actually opting into it.
Integration
How many times have you had to monkey with the settings of a WordPress plug-in to try to make it work with your email marketing company? That can be really frustrating, especially when you just want to get up and running quickly. With Bloom, you don't have to worry about that. It works with Aweber, Mailchimp, Campaign Monitor, Get Response and many of the other major email marketing service providers.
It's Responsive
How many times have you used an email opt in plug-in, only for it not to look good on mobile devices? I sure have. Over 75% of the people that are browsing your website are using mobile devices. It's important that you don't leave them out by using non-responsive email opt in forms. With Bloom you don't have to worry about that.
Conclusion
When you look at everything that Bloom has to offer, and you combine that with the monarch social sharing plug-in, and 87 premium WordPress themes on top of all of that, there's no question that the Elegant Themes developer package is one of the best solutions out there today. One of those premium WordPress themes happens to be Divi, which is a premium WordPress theme with a custom page builder included. You can literally build any type of website using Divi. To see everything that Elegant Themes has to offer and to find out more about Bloom, click the link below to learn more.