Simple Flat Icons Psd
The past few weeks, I have shared some great free psd files with you. Hopefully, you've picked up "Free PSD File of the Week: Free iphone Psd Mockups", "Free PSD File of the Week: Free Pricing Table Psd" and "Free Psd File of the Week: Web Design Wireframe Kit". If you create a lot of mockups or websites, these will all be useful to you. Going along with web and mobile design, this week's free file is a simple flat icons psd file. We all like simple flat designs. They are pretty easy to work with. You can manipulate them easily, and you don't have all of the fluff that you don't want. What I like about this set is that it includes some icons and logos for companies that you don't always see in other icon sets. There is an icon for Filezilla. There is also an icon for Dropbox. You'll also find icons for Evernote, Skype and Wunderlist. Below is a preview of the simple flat icons psd file.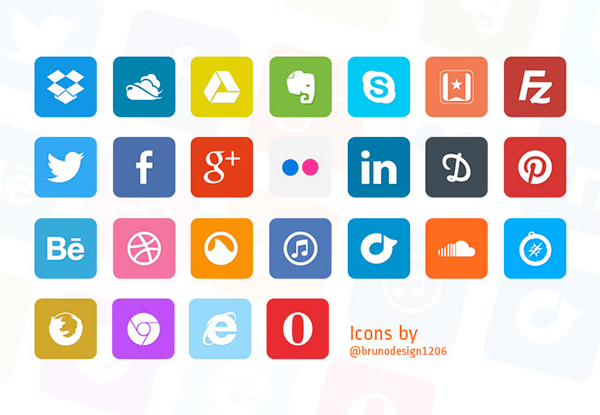 This icon set is from Bruno Rodrigues. You should check out his Dribbble page here. The rest of his portfolio is very nice. He has another icon set, and a few other projects. I especially like his Facebook poster design. He also has a nice website design idea and a really clean coming soon page design.
If you combine the elements from the past few weeks, you can create a complete website mockup quickly. This Simple Flat Icons Psd file will make a great addition to your library of useful files. They are completely editable, and since they are so simple, you can add your own touch easily.
Conclusion
This flat icons psd file is a really clean, sleek design. it would be useful in a variety of applications. What will you use the flat icons psd for? Leave your thoughts in the comments section below. Also, click the link below to download your free Simple Flat Icons Psd file.