Monach Social Sharing
Those of you who've read my blog for a while know that I am a customer and an affiliate of Elegant Themes. If you don't know who they are, they are a theme service that provides a membership where you have access to 87 WordPress themes. They are all beautiful in their own way. They are also the makers of the famed Divi drag and drop WordPress theme. Today, they released a plugin I can't wait to try, called Monarch. It is an all-in-one social sharing plugin with some great features. It's tough to find a social sharing plugin that has it all. Let's take a look at the brand new Monarch Social sharing plugin.
Different Formats
What I love is that Monarch has many different options for how your icons are displayed. You can display a floating bar down the side, or you can place your social sharing icons down inline, directly under your post title. You can also place them in the sidebar, which looks great!
Control
You have complete control over how Monarch looks and behaves. There are options for everything, from where the icons are placed, to how they are styled. You can even arrange their order!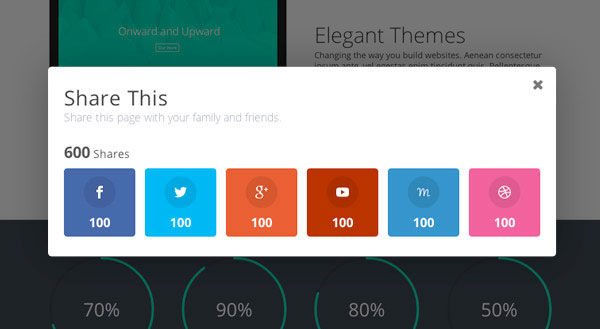 Social Sharing Popups
Now, this is what I am excited about. I've not found a social sharing solution that integrates everything. You either get a floating bar, or inline icons under the post title. They usually don't include popups, too, or the sidebar option. With Monarch, you have everything just how you want it, with no exceptions.
Go See the Video Find Out More
Monarch will give you all the options you need. With affordable pricing options, you get more than your money's worth. Not only do you get 87 themes, including Divi, which you can literally make anything out of, you also get Monarch, too when you choose the developer's option. You'll also get access to other plugins, too. See for your self, Elegant Themes is a great WordPress Themes service.